October is Careers in Construction Month (CICM)! Spearheaded by our partners at NCCER and Build Your Future (BYF) , CICM is an annual month-long celebration that brings organizations from all around the country together to highlight the skilled men and women who build America, provide information and resources for educators and industry representatives, and strive to inspire our youth to choose a successful career in the construction industry.
We are proud to be partnered with both NCCER and BYF to support construction trades, and we're honored to offer an exclusive scholarship opportunity to our members who are seeking further education in a construction-related field. This year, we'll be awarding five $2,000 scholarships to NTHS members who intend on making construction trades their ticket to career success.
Meet Ethan
With a brother working as a mechanical engineer at Lockheed Martin, and a father who teaches engineering at his high school alma mater in Harrisonville, MO, the love of construction, design, and engineering just seems to run in Ethan Kohl's family. That's why he chose to study Architectural Design at Judson University in Elgin, IL, where he is currently in his second year.
He is proud of his high school accomplishments – including being president of his local FFA club, and being named the Most Valued Player for his Junior Varsity soccer team – but he is most proud of the Career and Technical Education (CTE) he received that helped guide him to the career he's chosen to study.
"CTE is what enables America to work. It is the support system for everything anyone does in America and crucial that we have CTE for the backbone of the American system." Kohl says. "It has given me real life applicable skills that I have found myself referencing my experiences from or using as I go throughout my life."
With 41% of the current construction workforce retiring by 2031, and 1 million craft professionals needed in the U.S. by 2023, there is significant opportunity for students to enter the construction trades in a variety of fields. CTE can help your define your path early so that you can invest in the next step that gets you to the career you want – which could be through an apprenticeship program, on-the-job-training, a certificate program, a 2 or 4 year degree, or another educational opportunity.
"I believe that educating people on the alternatives to college is critical. People are constantly pushing kids to go to college, but that is not for everyone and is not supposed to be. There are great careers in the trades." Kohl says. In fact, BYF reports that only 3 out of 10 construction-related jobs even require a bachelor's degree, and almost 20 different craft careers average base salaries of over $60,000!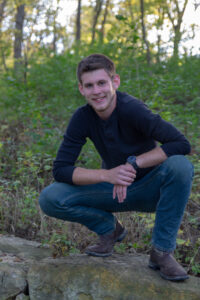 In 2019, Ethan was one of the fortunate winners of the NTHS/BYF Scholarship. "It has enabled me to attend college with minimal debt, and then springboard myself into pursing my career goals without the massive burden of having to pay off student loans ."
Students like Ethan, who are working so hard to begin a career in construction trades are the reason NTHS, and our partners at NCCER and BYF, celebrate Careers in Construction Month, and do what we can to support and advocate for those studying the craft trades. We're honored to be a part of his journey to success.
The NTHS/BYF Scholarship is OPEN NOW, and accepting applications until March 1st, 2021. For more information on this scholarship, as well as our other scholarship opportunities, click here.
For more information on Careers in Construction Month, and how you can get involved, click here, or visit BYF.org/CICM.
---
About NCCER – NCCER is a not-for-profit 501 (c)(3) education foundation created by the construction industry to develop standardized curriculum and assessments with portable credentials and certifications to help develop skilled craft professionals NCCER provides a comprehensive workforce development system that includes training, assessment, certification and career development solutions for the construction and maintenance industries.
About Build Your Future – Build Your Future (BYF) is NCCER's national image enhancement and recruitment initiative for the construction industry. Its mission is to recruit the next generation of craft professionals by making career and technical education a priority in secondary schools, shifting negative public perception about careers in the construction industry and providing a path from ambition, to training, to job placement as a craft professional. BYF provides a number of resources to assist industry, education and military organizations in achieving these goals, including a parent and educator focused website.