A Lasting Legacy
The Jon H. Poteat Scholarship is one of 280 scholarships we offer our members every year. Named in honor and memory of our Co-Founder, these scholarships are awarded annually to members who consistently exemplify the seven character attributes of NTHS – Skill, Honesty, Service, Responsibility, Scholarship, Citizenship, and Leadership.
This year, we'll be awarding $1,000 to 250 fortunate NTHS members. The deadline to apply for the JHP Scholarship is May 1st.
Meet Deandre
Deandre Smith is currently attending Polk State College, where he just received his Associates Degree in Social Sciences. In the fall, he's transferring to Florida Agricultural and Mechanical University, where he wants to pursue a major in Pharmaceutical Sciences. But that's where his big life plans just begin…
After he completes his pharmacy degree, he wants to pursue a Doctor of Philosophy degree in Diversity and Inclusion in Science, Technology, Engineering, and Math (STEM) Education. While he's working towards that, he plans to begin investing in real estate, and in economically distressed communities. "My life goal is to insure someone younger than me goes farther than me. Most importantly, I intend to build a resource center within those communities. Most youth do not have someone they can pitch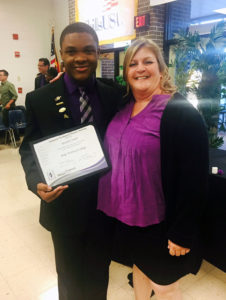 their dreams to, so they can make it a reality. I want everyone, regardless of what they have been through or were born into, to have an opportunity to make something of themselves, and leave something for the next generation."
Deandre is no stranger to the need for positive role models and mentors, and he credits his own personal and academic accomplishments to the mentors he's had in his own life, including his NTHS Advisor, Anne Hopper at Ridge Technical College. "Being a part of NTHS really kind of gave me another family. Ms. Hopper and several other tremendous people that I met helped push me to finish college with a 4.0 GPA. I was the Valedictorian of my technical college class, and giving my speech at the ceremony was definitely a moment I'll never forget. I had a lot of medals on, and I was so nervous, you could hear the medals shaking on my neck… But she helped me on days I wasn't motivated. If she didn't push me, I wouldn't be where I am today."
Deandre has very clearly excelled in his academic pursuits so far, but he considers his greatest achievement to date to be the work he's currently involved in with the Louis Stokes Alliances for Minority Participation (LSAMP). LSAMP is a program funded by the National Science Foundation that aims at increasing the diversity of students interested in, academically qualified for, and successfully completing STEM degree programs across the country.
"My biggest accomplishment and my biggest reward is honestly just being able to help young African Americans and Latinos who don't have all the resources at home, and go through so much by themselves. I want them to know that people do care, and that there is opportunity for them to be successful if they work hard and find the right role models to help them navigate through it. There are so many minorities out there that don't know, or don't have someone to tell them that. Helping them find a way to be successful is my biggest accomplishment."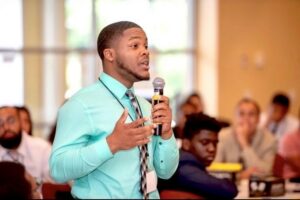 Deandre is the LSAMP Brand Ambassador at his school, and he travels around to local high schools and speaks to the students there to encourage them to seek career success through education in CTE and STEM. "A lot of times, I think the problem with kids who don't like doing math, or who hate science is not because they actually hate it – but because the person who's teaching it can't relate to them. But if they have someone they can relate to, then they'll understand it better. So my goal is to try to change their mindset about schooling, and help them understand that there are top paying jobs in CTE and STEM."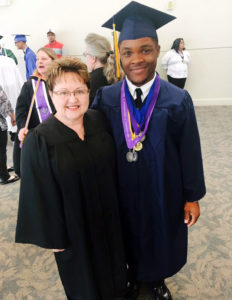 At the technical high school Deandre attended in 2017, he was able to earn both his high school diploma, and the most of the college credits needed to get his Pharmacy Technician Certification at the same time. But when he graduated, he was still about 3 or 4 months shy of completing the program. That year, Deandre was one of the fortunate recipients of the JHP Scholarship, and the funds he received from NTHS were enough to cover the cost of the rest of his certification program. "NTHS really truly blessed me, and I really appreciate it."
Students like Deandre are the reason we do what we do, and we are so very proud to be a small part of his journey to success!
Don't miss your chance to be a part of the JHP Scholarship legacy as well! Click here to learn more about the scholarship program, and apply today!