A Lasting Legacy
The Jon H. Poteat Scholarship is one of 280 scholarships we offer our members every year. Named in honor and memory of our Co-Founder, these scholarships are awarded annually to members who consistently exemplify the seven character attributes of NTHS – Skill, Honesty, Service, Responsibility, Scholarship, Citizenship, and Leadership.
This year, we'll be awarding $1,000 to 250 fortunate NTHS members. The deadline to apply for the JHP Scholarship is May 1st.
Meet Breanna
Breanna Mackey grew up watching her father program Unmanned Aerial Vehicles (UAV's). When she was given the chance to try computer programming out for herself in high school at Traverse Bay Area Intermediate School District Career-Tech Center, she quickly realized she wanted to make a career out of it.
Right now, Breanna is only about 3 semesters away from earning her Associates of Science at Greenville Technical College in Greenville, SC. Through her studies there, she's landed an amazing opportunity to intern at SYNNEX Corporation, a multi-million dollar global corporation that provides Business-to-business (B2B) Information Technology (IT) services. "I am really excited to get this position and learn about everything – from customer service to networking, security, data center, and cloud computing."
Breanna is not only a proud NTHS member, but she's also been involved in Girls in Tech, the Junior Achievement Youth Summit for Future Entrepreneurs, the IT Academy Olympics, and she's been honored as the Rotary International Student of the Week. "All these organizations allowed me to make connections, meet new friends, and become more confident in being a team leader and team player."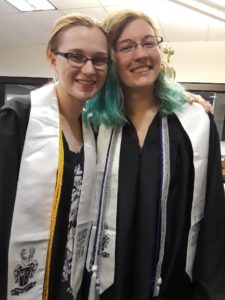 Breanna not only credits her path in Career and Technical Education (CTE) for the technical skills she's developed in her life, but the soft skills she's honed as well. "I think it's really important to get those soft skills while we're young (in high school mostly, and in college) so we can work into those careers that we want. It's about having connections that get us to where we want to go. Having soft skills like good attitude, communication, organization, and general work ethic helps us make those connections. These same connections build the path that takes us to our goals in life."
In 2018, Breanna was one of the fortunate recipients of the JHP Scholarship. "Obtaining the Jon H. Poteat Scholarship helped me feel more confident in going to college… It felt really good to know I could do it myself, and that other people recognized I had potential to do something great. It gave me the confidence and motivation to work hard in college, and follow my goals of becoming a software developer."
Students like Breanna are the reason we do what we do, and we are so very proud to be a small part of her journey to success!
Don't miss your chance to be a part of the JHP Scholarship legacy as well! Click here to learn more about the scholarship program, and apply today!