A Lasting Legacy
The Jon H. Poteat Scholarship is one of 280 scholarships we offer our members every year. Named in honor and memory of our Co-Founder, these scholarships are awarded annually to members who consistently exemplify the seven character attributes of NTHS – Skill, Honesty, Service, Responsibility, Scholarship, Citizenship, and Leadership.
This year, we'll be awarding $1,000 to 250 fortunate NTHS members.
Have You Heard the Good News?
The deadline to apply for the Jon H. Poteat Scholarship has been EXTENDED to May 15th! We want to make sure that all our Members have plenty of time to get their applications submitted, given the adjustments that everyone in education is making right now.
But that doesn't mean you should wait! Applying for the JHP Scholarship is so quick and easy. So make sure to log in, and apply today!
Meet Maya
Maya Hernandez loves to dance, play tennis, and make YouTube videos with her younger sister… But most of all, Maya loves technology. "My dad would always teach me new software programs, and I just fell in love with it." She is currently in her second year at El Paso Community College where she's working towards attaining her Associates Degree in Engineering Technology. Her dream is to one day work for an international tech giant like Google.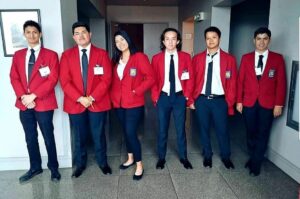 Maya is not only a proud member of NTHS, but she is also part of our partner organization, SkillsUSA. Out of all of her academic accomplishments so far, she is most proud of the SkillsUSA District Competition she and her team won last year in Chapter Business Procedure. "Being a part of both NTHS and SkillsUSA changed my life, because I got to meet so many new people in the same field as me. I was also recognized by several other scholarship programs because of my achievements in the SkillsUSA District Competition, and my NTHS membership."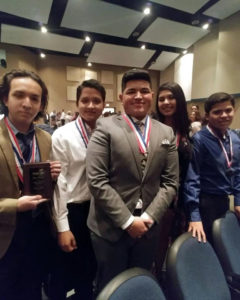 Maya thinks Career and Technical Education (CTE) is most valuable because it leads students to discover what they want to do at an early age. "You have to take challenges in your life. If you want to advance in your career at a young age, then do it! Because if you really have a passion about your field, then start now and take a huge step in life."
In 2019, Maya was named as one of the recipients of the JHP Scholarship, and the funds she won helped pay tuition as she furthered her education. She is extremely proud of this award, as well as her dedication to her studies, and her loyalty to her class officers.
Students like Maya are the reason we do what we do, and we are so very proud to be a small part of her journey to success!
Don't miss your chance to be a part of the JHP Scholarship legacy as well! Click here to learn more about the scholarship program, and apply today!