A Lasting Legacy
NTHS offers over 280 scholarship opportunities. The Jon H. Poteat Scholarship, was the first scholarship that we ever offered, and is very near and dear to our hearts. Named in honor and memory of our Co-Founder, these scholarships are awarded annually to members who consistently exemplify the seven character attributes of NTHS – Skill, Honesty, Service, Responsibility, Scholarship, Citizenship, and Leadership.
This year, we'll be awarding $1,000 to 250 fortunate NTHS members. The deadline to apply for the JHP Scholarship is May 1st.
Meet LaRobert
LaRobert Tisdale is in his last semester at Meridian Community College in Meridian, MS, where he's majoring in Hospitality Technology Management.
Not only is LaRobert an NTHS member, he's also a member of the National Society of Collegiate Scholars, the National Society of Leadership and Success, and Phi Theta Kappa, and he's also served as the President for the collegiate chapter of DECA at his school.
LaRobert has worked hard to overcome the disadvantages he's had to face during his pursuit for education and a successful career. He credits his education in CTE, and his high school involvement in NTHS as the bridge he used to cross the gap of non-inclusivity that he faced as a minority. "I've developed the work ethic I have not because it was easy, but [because] I had to in order to survive."
By being an active participant in his NTHS chapter, LaRobert developed leadership skills that he plans on putting into practice for the rest of his life. "I focused solely on the objectives that would help propel everyone in my [NTHS] chapter, not just myself. I threw out all the I's and incorporated "us" and "we". An effective leader leaves no one behind."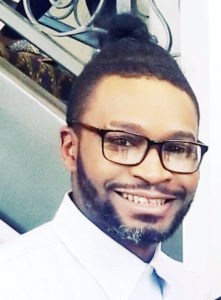 Through his involvement with NTHS, LaRobert found a school and a promising future career in which he felt like he truly belonged. "CTE and NTHS both provide inclusivity and diversity within their outreach, and provide the same opportunities to everyone…" He also learned through his chapter that "It is not [just] about the rewards, but the hearts that we leave footprints upon."
In 2019, LaRobert was a recipient of the JHP Scholarship. With the education these funds are helping give him, he hopes to launch his own restaurant concept when he graduates. "Receiving the JHP Scholarship helped take away the added stress of financials, so that I could focus more so on academics."
Students like LaRobert are the reason we do what we do, and we are so very proud to be a small part of his journey to success!
Don't miss your chance to be a part of the JHP Scholarship legacy as well! Click here to learn more about the scholarship program, and apply today!