A Lasting Legacy
The Jon H. Poteat Scholarship is one of 280 scholarships we offer our members every year. Named in honor and memory of our Co-Founder, these scholarships are awarded annually to members who consistently exemplify the seven character attributes of NTHS – Skill, Honesty, Service, Responsibility, Scholarship, Citizenship, and Leadership.
This year, we'll be awarding $1,000 to 250 fortunate NTHS members.
Have You Heard the Good News?
The deadline to apply for the Jon H. Poteat Scholarship has been EXTENDED to May 31st! We want to make sure that all our Members have plenty of time to get their applications submitted, given the adjustments that everyone in education is making right now.
But that doesn't mean you should wait! Applying for the JHP Scholarship is so quick and easy. So make sure to log in, and apply today!
Meet David
David Gilroy is the eldest of six siblings. He loves computer programming, woodworking, reading H.P. Lovecraft, and he's known since he was in elementary school that he wanted a career in engineering.
For David, the Career and Technical Education (CTE) classes he took in high school weren't just credits to help him earn his diploma. They were the inspiration and the knowledge he used to help him further pinpoint what he wanted to do when he graduated. "I made an effort growing up to learn more about it. I debated between electrical and mechanical for a while, before finally settling on electrical [engineering]."
"Being involved in CTE during high school helped me out a lot as I was making the transition to college. I had had a pretty good idea of what I wanted to study when I went to college but not what it would be like." David is currently in his second year at Oklahoma City Community College, and he is also part of the NASA Community College Aerospace Scholars (NCAS). As part of this STEM-driven program, David visited the John C. Stennis Space Center last year, where he and his team competed in and won a national robotics competition.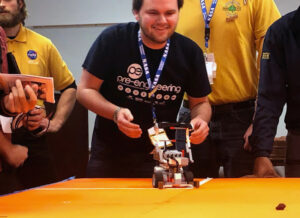 "CTE is a great way to get your foot in the door for the career you want even if you have already decided on what you are going to do. It offers insight into your future and lets you know if the career you're going for is really the one that is best for you."
In 2017, David was named as one of the fortunate recipients of the Jon. H Poteat Scholarship. "The JHP Scholarship helped me pay for my first semester, and helped allow me to get a taste for college." In the fall, David plans to transfer to the University of Oklahoma to complete his degree in Electrical Engineering.
Students like David are the reason we do what we do, and we are so very proud to be a small part of his journey to success!
Don't miss your chance to be a part of the JHP Scholarship legacy as well! Click here to learn more about the scholarship program, and apply today!