A Lasting Legacy
The Jon H. Poteat Scholarship is one of 280 scholarships we offer our members every year. Named in honor and memory of our Co-Founder, these scholarships are awarded annually to members who consistently exemplify the seven character attributes of NTHS – Skill, Honesty, Service, Responsibility, Scholarship, Citizenship, and Leadership.
This year, we'll be awarding $1,000 to 250 fortunate NTHS members.
Have You Heard the Good News?
The deadline to apply for the Jon H. Poteat Scholarship has been EXTENDED to May 31st! We want to make sure that all our Members have plenty of time to get their applications submitted, given the adjustments that everyone in education is making right now.
But that doesn't mean you should wait! Applying for the JHP Scholarship is so quick and easy. So make sure to log in, and apply today!
Meet Carl
Carl Zarcone first became interested in law while he was attending high school at Erie 1 BOCES, studying in the Criminal Justice program. "I learned everything possible about the law, and prepared myself for college. The experience provided many internships, all of which are vital to legal comprehension. I was fully submerged in my element, and it created a positive outlook on my potential and future."
"Career and Technical Education has changed my life. Without it, I wouldn't be the person I am today. In high school my future was unclear, and I didn't have a career path planned. My entire life, I was overlooked for awards, recognition, and acknowledgement. From kindergarten to [that point in] high school, every assembly, or awards ceremony, I sat in the auditorium and never heard my name called." When he was accepted to the Harkness Career and Technical Center for Criminal Justice, he considered it a "fresh start," and a chance to prove himself.
This accomplishment encouraged Carl to push farther and achieve more, and he was soon accepted into the Legal Academy. "Legal Academy was special to me, and such an amazing opportunity. It provided me multiple internships and connections I could take with me the rest of my life. I had internships at the Erie County Republican Committee, the Legal Aid Bureau of Buffalo at Family Court, the U.S. District Court for the Western District of New York, and the Niagara Falls Police Department. All of these internships furthered my education and provided me real-world experience."
Carl spent his high school career focusing on his academics and college preparation. He knew his family could not afford to help him with school tuition, and if he was going to further his education after high school, he needed to qualify for whatever scholarships were available.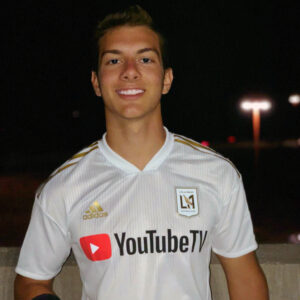 "When I finally made the walk at graduation, it was a day I'd never forget. My entire life of being regarded as average, as being the kid who never got the recognition, or acknowledgement I deserved, came to an end. At graduation, in front of every student and their families, I received 6 scholarships… It felt unbelievably good to finally show the world what I was capable of."
That year, Carl was also named as one of the recipients of the JHP Scholarship, and the funds he won, along with his other scholarships, helped pay his tuition as he went on to further his education. "It was unexpected and meaningful… Being involved in an honors level acknowledgement increased my persistence to continue working hard. My journey was never easy… I had to push and strive for excellence, and like all children's books, my story closed with a happy ending."
Now, Carl is a sophomore at Hilbert College in Hamburg, NY where he is majoring in Legal Studies , and preparing for law school. He plans on becoming a licensed trial attorney, and wants to work in Washington under the Attorney General in the Counter Terrorism branch.
Students like Carl are the reason we do what we do, and we are so very proud to be a small part of his journey to success!
Don't miss your chance to be a part of the JHP Scholarship legacy as well! Click here to learn more about the scholarship program, and apply today!