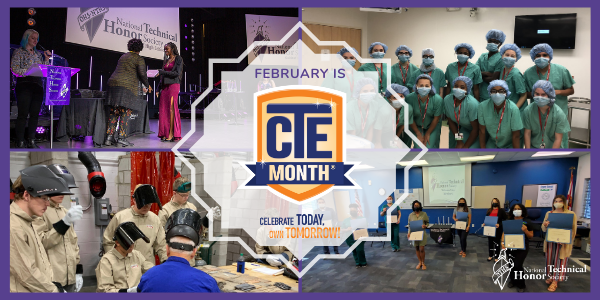 CTE Month has arrived! This month will be packed with events and recognition of all the amazing work happening in our career and technical education classes across the country. Throughout the month NTHS will be highlighting all our awesome Career and Technical Student Organizations as well as the great work that's happening at our local NTHS chapters from around the country. As we get CTE Month started, we want to answer some questions that you might have.
What is CTE Month?
CTE Month is a public awareness campaign that takes place in February every year. During this month we celebrate CTE and bring focus to the achievements and accomplishments of CTE students across the country. It was first established by the Association for Career and Technical Education (ACTE), the largest organization representing CTE in the United States. CTE Month is now recognized across the country and within all CTSO's!
How can I get involved?
We know how different your school experience may be this year, but that doesn't mean you can't recognize and celebrate all the work you do as a CTE student! Here are a few ideas to get involved this month:
Engage with your local government – Speak at a school board meeting, write letters to your representatives, ask a city council member to visit your CTE program. Let your policymakers know the important work that is happening in your CTE classrooms.
Reach out to business and industry – Ask a local business to speak at a class/CTSO meeting, schedule a tour of a facility or simply let them know about CTE and CTE month and how important it can be for their future workforce.
Use the digital resources available at ACTE to campaign on social media and bring awareness to the CTE programs that are available at your school!
Share the Honor Campaign – Celebrate CTE Month by recognizing an impactful individual in your CTE community with Honorary Membership into NTHS.
Last month we asked our NTHS members and advisors to let us know what their plans for CTE Month were. Here are just a few of their awesome ideas!
"We are using it to recruit students to our school, by showcasing our programs through virtual open house as well as post to as many social media platforms as possible." -Miller Career & Technology Center
"We are using our NTHS and other CTSO students to start to meet with rising 8th graders to teach them about our CTE program." – Destinations Career Academy of WI
"We're having our NTHS Virtual Induction to commemorate CTE Month as well as recruitment for SkillsUSA and NTHS." -Hopewell High School
"Honoring and recognizing the teachers and leaders in our community that have made an impact on the CTE community." -Muscle Shoals High School
What else happens during CTE Month?
While schools often use CTE month to raise awareness for their CTE programs, CTSO's do the same! Many CTSO's declare a national "week" for their respective organization and often even provide themes for each individual day!
We've gathered some info about each CTSO and when their respective CTSO week is:
A few CTSO's have their individual weeks in the fall:
DECA Week is September 27- October 1: DECA prepares emerging leaders and entrepreneurs for careers in marketing, finance, hospitality and management in high schools and colleges around the globe.
TSA Week is October 5-9: The Technology Student Association (TSA) is a national organization of students engaged in STEM (science, technology, engineering, and mathematics).
HOSA Week is November 7-13: HOSA is an international student organization with a mission of promoting career opportunities in the health care industry and enhancing the delivery of quality health care to all people.