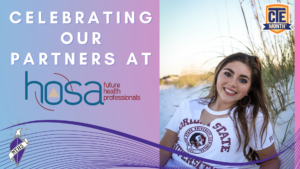 It's the final week of Career and Technical Education (CTE) Month®, we're continuing to highlight the life-changing work our partners in CTE are doing across the country. This last week of CTE Month® we're shining the spotlight on our partners at HOSA-Future Health Professionals.
HOSA's mission is to promote career opportunities in the healthcare industry, and to enhance the delivery of quality health care to all people. They work to empower their members to become leaders in the global health community through education, collaboration, and experience. With over 245,000 members since 1976, they strive to develop leadership and technical HOSA skill competencies through a program of motivation, awareness, and recognition, which is an integral part of the Health Science Education instructional program.
[youtube https://www.youtube.com/watch?v=l-6F7DCiaOY]
We are proud to be partnered with HOSA, and we're honored to offer an exclusive scholarship opportunity to our mutual members who are seeking further education in a Health Science career field.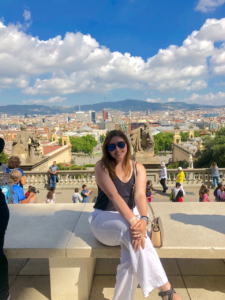 Jordana Jernigan is a sophomore at Florida State University studying Interdisciplinary Medical Science with a plan to be a Physician Assistant. "I chose this track because I was in the medical career academy in high school where my love for medicine first bloomed. I learned about this particular career track from shadowing at my local hospital where I got to see how PA's form more personal connections with patients while also performing the same job as a doctor."
According to Jordana, her time in NTHS and HOSA have even helped her get a head start on her career. "CTE and NTHS actually set me up to get a hospital job in my first year of college! Using my PCT certification and career skills I learned from NTHS, I will be getting my dream job starting out in medicine earlier than most students in order earn clinical hours to qualify for Physician Assistant School."
She also believes that CTE is doing important work in preparing students like herself for the medical field. "CTE is important because it makes you a more competitive applicant for jobs, internships, and clubs in college. This opens up networking opportunities that further your success in your chosen career. CTSO's diversify students to begin their careers while still in school. It encourages students to be confident in finding beneficial jobs in their future careers."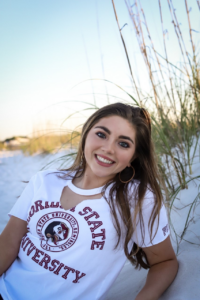 In 2019, Jordana was a fortunate recipient of the NTHS/HOSA Scholarship. "I was able to put that money towards paying for Physician Assistant school when I finish my undergraduate degree. This will prevent me from taking out tens of thousands of dollars in loans just to attend a two-year program. Finances will not be an obstacle in my way of success as a Pre-PA student!
Students like Jordana are the reason NTHS and our partners at HOSA do what we do, and we're honored to be a part of his journey as he works to change the world!
The NTHS/HOSA Scholarship is currently accepting applications until March 15th, 2021. For more information on this scholarship, as well as our other scholarship opportunities, click here.