To celebrate April and the arrival of springtime, we've chosen three Advisors of the Month – Regina Robbins, Kristi Weaver and Melissa Nadon. They've been co-advisors for their NTHS chapter for the past several years. They oversee the chapter at Adams 12 Five Star Schools in Thornton, CO.
Mrs. Regina Robbins is the Office Manager for FutureForward at Bollman and has been an NTHS advisor for 5 years.
Ms. Kristi Weaver has been the NTHS advisor for 2 years and serves as the advisor for all five comprehensive high schools in Adams 12 Five Star Schools: Horizon, Legacy, Mountain Range, Northglenn, and Thornton. She is in her second year as the CTE Director for Adams 12 Five Star Schools. They have 2 dedicated CTE campuses and five comprehensive high schools offering CTE programs. She taught business, marketing, and technology for 11 years has spent 10 years in district CTE administration.
Ms. Melissa Nadon is the Office Manager at the new FutureForward Washington Square CTE High School. This is the district's second CTE dedicated High School (FutureForward at Bollman was the first CTE dedicated High School, built around 1975). The district, with input from the community, realized there was a need for more CTE opportunities for their students, so they secured bond monies from the voters and built the newest facility, FutureForward at Washington Square. This is their first year being open, and Melissa is the newest NTHS Advisor.
This chapter is a little different than most NTHS chapters. As Ms. Weaver, the CTE Director stated:
"Our chapter is not structured in a traditional way. We have one chapter for the entire school district, and it was originally established at FutureForward at Bollman (formerly known as Bollman Technical Education Center). At that time, the Bollman Principal served as the CTE Director for the entire district and therefore supported CTE in all of our high schools. We now have two dedicated CTE campuses (FutureForward at Bollman and FutureForward at Washington Square) and five comprehensive high schools (Horizon, Legacy, Mountain Range, Northglenn and Thornton). The office managers at Bollman and Washington Square as well as the District CTE Director serve as the advisors of our large chapter. We consider all our CTE teachers as the advisors of NTHS, and we support them by handling all things related to membership and induction."
"We have approximately 30,000 students K-12 of which 10,233 are high school students.
We have approximately 5450 high school students who are enrolled in CTE programs this year across the district."
NTHS really appreciates these very busy people taking time out of their schedules to answer some questions for us. Please read through the wonderful things they and their members are doing, and you may find some ideas for your own chapter!
You induct a large group of students each year. What advice would you give to other advisors on how to grow their chapters?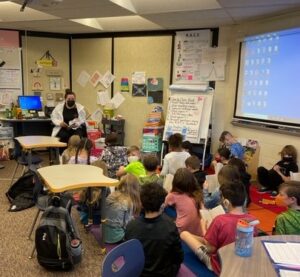 Regina: "Communication with all teachers and counselors is critical. At the beginning of the school year we try and meet with teachers in all our CTE Programs at all locations and present information on NTHS and explain the importance of the organization and the benefits to our students by belonging to NTHS. Then at the beginning of January we begin our campaign communicating with teachers that it is time to recommend and encourage all their students that meet the criteria for NTHS to apply for membership to NTHS."
Why is Career and Technical Education important to you?
Kristi: "I see CTE as the most economical and beneficial way to help students see if a career field is a good fit for them. As a former Business teacher, the number of high school graduates that planned to major in business that never took a business course in high school always baffled me. I loved it when I had students who were placed in my class due to scheduling issues but walked out of my class with a deeper interest and ability to talents and skills to be successful in a variety of business, marketing or IT careers. I also love CTE because it showcases critical skills and talents that all different types of students possess that may not shine through in a traditional classroom."
For your current members who will be graduating, what advice would you give them on how to make the most out of their CTE experience as they continue on to college or join the workforce?
Kristi: "Based on what my teachers have shared with me: Stay connected within the network of peers you have made in your CTE classes as well as with the industry mentors. You will be amazed how a simple correspondence with someone whom you have an established relationship can turn into a job lead or recommendation. Remember that your reputation is foundational in professional relationships so always make sure you are showcasing your best self."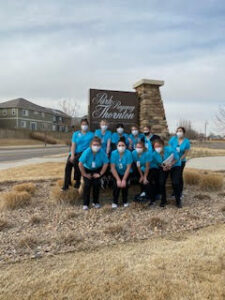 Have you done any activities, projects, campaigns, and/or community outreach with your NTHS chapter that you feel were successful? Tell us about them!
Regina: "We have had CNA students that have been able to go to clinicals at hospitals and Assisted Living Facilities and we have had Teacher Cadet students assisting in both online classrooms and in person classrooms with Mentor Teachers."
Tell us a little about yourself…Your family? Your pets? Your hobbies and interests?
Regina: "My family moved to Colorado 24 years ago from Pennsylvania. I have had the privilege of working in the Adams 12 School District for nearly 20 years, the last 6 years at FutureForward at Bollman. Both my husband and I are beneficiaries of a CTE education. My husband started his career as a Machinist and worked his way up to working for a billion dollar corporation traveling the world setting up Machining Facilities and I took business classes at an American Vocational School in Darmstadt Germany and eventually had my own small business for time. I have 3 grown children and 2 grandsons. My husband and I own a one of a kind C-7 corvette convertible that we love to take out with the top down and drive the winding mountain roads visiting different places in Colorado.
Kristi: "I am a transplant from NC and have lived in Colorado for almost 14 years. I enjoy being active, outside, and challenged. I have a hard time unwinding, so my idea of fun involves recreation that forces my brain to disconnect. Therefore, you will most likely find me in a river fly fishing, on a golf course, driving my RZR on a trail, or skiing down the slopes.
Professionally, I try to continuously push myself to be better, learn more, and think bigger picture. I welcome collaboration and I am always willing to help if I can."