The mission of NTHS to honor, celebrate, and empower the students who will become the leaders of tomorrow's skilled workforce is made possible through the commitment and dedication of our NTHS advisors.
Each month, we recognize one of our outstanding Advisors who has been nominated by their peers, students, family, or NTHS colleagues for the NTHS Advisor of the Month. If you would like to nominate someone to be featured as our Advisor of the Month, click here to let us know!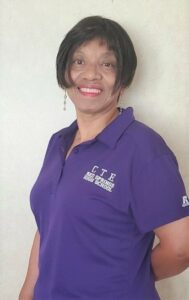 This month, we'd like to introduce you to our friend, Tianda Gray.
Tianda has been teaching and facilitating for 35 years and has served as an NTHS Advisor for 16 years. She is currently teaching Principles of Marketing, Marketing Applications, Entrepreneurship I and Driver Education to 9-12 grades at Red Springs High School, Red Springs, NC.
Why is Career and Technical Education important to you?
I began my CTE studies as a junior in high school. After watching my Fashion Merchandising teacher's interaction with her students and seeing the impact she made, I knew then that CTE was for me. CTE became my way of not only showing students their skills, talents, and creativity, but teaching them how to utilize those attributes. CTE plays such a pivotal role in the lives of students not only through academic, technical, and career development but it empowers them. Through CTE I am able to connect to the whole student. CTE stirs up that entrepreneurial spirit within the students. CTE provides the students with the kind of education they can take and act on almost immediately while in high school. Teaching and learning reaches beyond the classroom to part-time jobs, apprenticeships, internships, and CTSO's. They become contributors to the economy. CTE helps put America to work through the skills, talents, and aspirations of our students. Not only do they leave with a high school diploma but with certificates and credentials that are relevant to the job market. Thus, the students are more able to transition from high school career pathways to high-skill, high-demand careers.
As the leader of your school's NTHS chapter, what accomplishments (yours or your students') are you most proud of?
We are most proud of the accomplishments achieved through our Program of Works Projects (PWP) that encompass our school culture and school community. The student members decided some years ago to develop a PWP based on a point system. They have two years to earn a minimum of 95 points. At their Senior Pre-Graduation Awards Ceremony, they are awarded the NTHS Stole or the NTHS medallion in front of their parents/families along with community leaders, businesses, school board members, colleges, peers, the entire school, and others. For the student members, that is not only a prideful moment but a humbling experience. Each year the current members are to revise and modify the PWP accordingly by adding a new activity. This year we added visiting a museum or national monument to the field trip activities section. We want to include tasks that develop the "whole" student. A partial list of individual activities include: new members drive and recruiting at least three underclassmen, visit and tour college of your choice, assist a feeder school (elementary or middle school) with one of their community projects, volunteer with another organization or club here at school with one of their activities (i.e. HOSA blood drive, Prom committee), take the SAT,ACT, and or ASVAB, donate to a charitable organization, demonstrate student leadership (i.e. CTSO, SGA, JROTC, class officer, team captain), job shadowing, part-time job, and apply for scholarship. We also have activities that the members do as a team such as CTE relevant field trips, meetings, hosting visitors, Read America, voter registration, and adopting a family. Students document their progress throughout the year. They enjoy doing the task because they see how it holds them accountable to the NTHS pledge while developing character, and learning what it truly means "to be of service to others."
Have you done any activities, projects, campaigns, and/or community outreach with your NTHS chapter that you feel were successful? Tell us about them!
Our most recent campaign is the "Robeson County Vision Zero." Our goal is to eliminate traffic fatalities. This objective is not only a county concern, but state and national as well. Each high school formed a team of students to represent their school community on behalf of the NC Governor's Highway Safety Program. Our team, comprised of NTHS members, attend the county's Transportation Highway meetings gaining valuable knowledge from law enforcement, highway transportation engineers, attorneys, Southeastern Health and others. The NTHS Vision Zero team reaches out to their peers and community through peer education. They promote the need to buckle up, child car seat safety, bicycle safety, move over law, and sharing the road, while reiterating no need to speed, stop being driver distracted, and don't text and drive. We make our presence known by wearing our safety visible vest and T-shirts in the parking lots as the faculty, staff, parents and students are coming to school. When school lets out, we hold up posters reminding them to buckle up and hand out Robeson County Vision Zero statistic cards. I collaborate with other teachers at our school and at our feeder schools for the NTHS students to come in and make a brief presentation on seat belt safety and bicycle safety. Based on data collected, we feel we have been successful. The year we got involved in this campaign, Robeson County had 48 traffic fatalities. A year later, in 2019, traffic fatalities were down to 43. They have come to understand that peer education saves lives. We will continue to move forward with this campaign after the Pandemic.
Tell us a little about you… Your family? Your pets? Your hobbies and interests?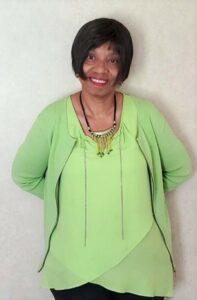 ​I am a mother of 4 and proud grandmother of 12. In and through them I am able to cherish the loving memory of their father who was killed in a car crash. In 1995 we established the Willie Hayes Gay Memorial Scholarship and since have been awarding yearly scholarships in the amounts of $500.00 to $1000.00 to CTE students who have also lost a parent. I am now engaged and soon to be Mrs. Mitchell. I enjoy encouraging others through teaching and speaking engagements. I am currently going back to college studying Biblical Counselling. I have written one children's book, "Little Freddie Goes to Heaven," which captures the love for life my 7-year-old nephew had prior to losing his battle to cancer. My hobbies include reading and baking. I am told I bake an awesome lemon pound cake worth standing in line for. I am very thankful for and value all the beautiful family, friends, students, and co-workers in my life.