The mission of NTHS to honor, celebrate, and empower the students who will become the leaders of tomorrow's skilled workforce is made possible through the commitment and dedication of our NTHS advisors.
Each month, we recognize one of our outstanding Advisors who has been nominated by their peers, students, family, or NTHS colleagues for the NTHS Advisor of the Month. If you would like to nominate someone to be featured as our Advisor of the Month, click here to let us know!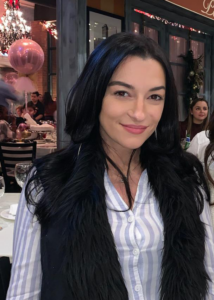 Our December Advisor of the Month is Sheila Baftjari.
Sheila has been teaching for 2 years with and serves as an NTHS Co-Advisor at Ralph R. McKee High School in Staten Island, NY. She is currently teaching U.S. History, A.P. U.S. History and the AVID elective.
Why is Career and Technical Education important to you?
Career and Technical Education is important to me because it gives students an extra opportunity to thrive in their educational careers. They can focus on not only the academic aspect of school, but also the importance of learning a skill which is imperative in life, as it widens your scope of opportunities. This enhances the confidence that students have in themselves, and makes them more passionate about school.
As the leader of your school's NTHS chapter, what accomplishments (yours or your students') are you most proud of?
I am most proud that my students come from very diverse backgrounds (cultural, economic, social), but all manage to treat everyone with respect and do not allow any of their differences to be felt. I've seen a wide range of friendships and a sense of community within my school, which speaks volumes of the administration, staff, and students.
Have you done any activities, projects, campaigns, and/or community outreach with your NTHS chapter that you feel were successful? Tell us about them!
Last year, and this year alike, we encouraged our members to participate in peer-tutoring sessions within the school with the Freshmen body. I had NTHS students come in once every 2 weeks to my AVID elective classes, and assist them with collaborative study groups. The results were great, as students were able to learn from their peers and interact in a way that they would not have been able to do so with their teachers. This year, we placed the focus of our NTHS members more upon community building. We had set up 2 trips; one for Project Hospitality, and one where NTHS members were going to do a "team-building" project via Laser Tag. Unfortunately, both had to be canceled as a result of COVID-19. We also opened a school newspaper, in which several NTHS members became involved, and encouraged the involvement of others around the school.
Tell us a little about you… Your family? Your pets? Your hobbies and interests?
I was born and spent my early years in Albania. I came to America at the age of 5, and had to adapt to the new culture, language, customs, etc., all while helping my parents assimilate. I have an understanding of the different demographics and student population which exists in the New York City public school system, as well as some of their struggles. I focus a lot on building relationships with my students, and I've found that it helps a great deal in being able to educate them. They are more receptive toward you and learning, if they feel that you truly care for them and their needs. I've been teaching for 4 years now, and while it was difficult in the beginning (and still is, at times), I can say that I have truly found my passion in life. Other hobbies I have are reading, writing, hiking, and travelling.