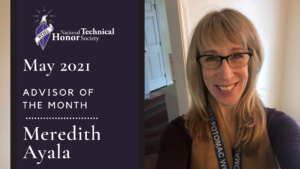 We are so pleased to recognize Meredith Ayala as the NTHS Advisor of the Month for May, 2021.
This is Mrs. Ayala's first year at West Potomac Academy as the Academy Counselor. She has been a professional school counselor for over 8 years.
Mrs. Ayala took some time out of her very busy schedule to share some information with us. Please take a look at the things she is doing with her chapter, and some of her passion for CTE and helping students may inspire you!
Why is Career and Technical Education important to you?
I feel incredibly lucky to work as an Academy Counselor in Career and Technical Education! CTE programs put an emphasis on career-readiness and they teach our students important employability skills that are currently in high demand. CTE courses offer practical applications of knowledge that help students see the relevancy of the instruction. CTE promotes academic and career success beyond one course!
How did you hold an induction ceremony last school year? Was it virtual, in-person or both? What worked and what didn't?
We just held our first induction ceremony this year! Usually new members are recognized during our end of the year Academy Awards ceremony, but I felt it was important to celebrate our members and acknowledge their successes and commitment to personal excellence! With the help of another FCPS Academy Counselor, we used the NTHS virtual induction tool kit and hosted a very special event! Our teachers attended and read their student's names, and we extended the invitation to all our student's family, friends, school counselors and administrators. It was an incredible ceremony! Thank you, NTHS!
What sort of creative solutions are you and your members talking about for your next induction ceremony? Will it be a virtual ceremony, a drive-by packet pick-up, an in-person and distanced ceremony? Please share your ideas and with us so that other advisors and chapters may benefit!
We will see what we do next year when we are in person. Our virtual induction received very positive feedback and since our students come from 13 different high schools, we may consider holding it virtually again so that more people can participate. I will keep you posted!
For your current students who are continuing their CTE education online or in a hybrid model, what advice would you give them on how to make the most out of their CTE experience?
We have all had to think outside the circle this year and push ourselves to learn things and do things in ways we have never imagined. I would encourage students to stay engaged in their classes and their learning. Turn your camera on, connect with your instructor and classmates, and take advantage of extra opportunities to attend office hours or labs. Use what you have at home to simulate hands-on activities, stretch your brain to adapt and imagine… anything is possible and by not being complacent, you will continue to learn and stretch. This year and these experiences are preparing you for high demand careers – there is no doubt in my mind!
As the leader of your school's NTHS chapter, what accomplishments (yours or your students') are you most proud of?
I am proud that we offered students various opportunities to stay engaged and continue to learn about career paths and employability skills. We offered career speakers during lunch, NTHS meetings on different days and times, workshops on asynchronous Mondays. I am so proud that our students participated in these activities and searched for other opportunities on their own. Their passion for CTE and becoming college and career ready has been inspiring!
Have you done any activities, projects, campaigns, and/or community outreach with your NTHS chapter that you feel were successful? Tell us about them!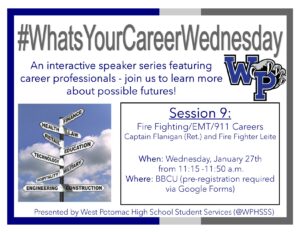 This year I worked with our Student Services team to offer #WhatsYourCareerWednesday – a virtual career speaker series during lunchtime, every other Wednesday for the first six months of the school year. The sessions featured our CTE Academy instructors, all of whom are professionals in their fields. Students had the opportunity to meet CTE professionals, learn more about career paths, as well as CTE courses available to them at West Potomac Academy. #WhatsYourCareerWednesday was very well attended!
Tell us a little about "yourself" Your family? Your pets? Your hobbies and interests?
I live in Alexandria, Virginia with my wonderful husband and amazing son! My husband is a Fire Fighter and my son is a rising ninth grader – a football player who hopes to take Auto Technology (a CTE class) next year! I love my chosen career path and I am inspired by students every day. In my spare time, I enjoy meeting new people, exercising, writing, and spending time with my family and friends.