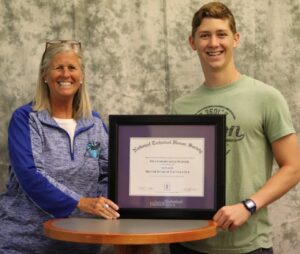 Our January 2021 Advisor of the Month is Ellen Sheehan.
Ellen has been teaching for 20 years with and serves as the NTHS Advisor at Swansboro High School in Swansboro, NC. She teaches Programming and Broadcasting.
Why is Career and Technical Education important to you?
My passion is in media. CTE allows me to take a field that I love and share my knowledge with the students. Students get hands-on experience in high school. When I was heading into college, I didn't have that background. CTE also gives students an opportunity to evaluate potential professions.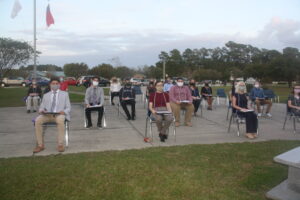 How did you hold an induction ceremony last school year? Was it virtual, in-person or both? What worked and what didn't?
We held a virtual induction ceremony in the spring. Our ceremony is normally a huge event with a former NTHS member as guest speaker, county office personnel, and reception. Once we returned to school in the fall, I just felt like the new inductees deserved some type of ceremony. My principal suggested an outside event. While it took coordination and participation from administration, custodians, students and parents, we pulled it off! I was so thankful the inductees were able to have a ceremony and get the recognition!
What sort of creative solutions are you and your members talking about for your next induction ceremony? Will it be a virtual ceremony, a drive-by packet pick-up, an in-person and distanced ceremony? Please share your ideas and with us so that other advisors and chapters may benefit!
While we all wish we could just wiggle our noses and our current situation would change, we have entertained ideas for this year's ceremony. At this point, we will probably consider our outdoor event again. We were racing with sunset to hold it last fall, so we will probably wait until Daylight Savings Time is back in swing. We used the front of our school. Chairs were placed six feet apart. Parents were set in "families" of two. Inductees were limited on the number to attend, but it was still a beautiful ceremony.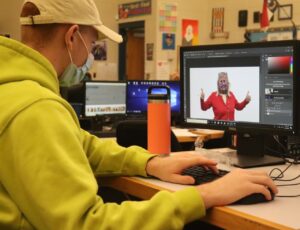 For your current students who are continuing their CTE education online or in a hybrid model, what advice would you give them on how to make the most out of their CTE experience?
I would have to advise all students to ask as many questions as possible. If they don't understand any concept, they need to come forward and ask the instructor for guidance. We are fortunate to have many resources that we can turn to which help students when they are away from school.
As the leader of your school's NTHS chapter, what accomplishments (yours or your students') are you most proud of?
We have held a soda tab drive annually for years. We do a fourth period class competition. At the end of the semester, the class with the most soda tabs (and I do not count them, I weigh them!), receives a Ben & Jerry's ice cream social. The tabs are donated to the Ronald McDonald House. Prior to COVID and the cancellation of field trips, the NTHS officers would load all the tabs on a bus, and we would head to Greenville, NC. They received a tour and became more familiar with the Ronald McDonald House. This has become an event that students plan to participate in by asking neighbors, relatives, friends and team members to begin collecting.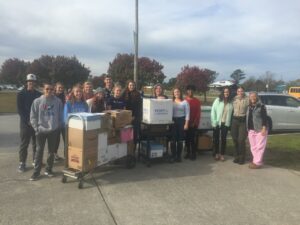 Other community activities have included a SCHOOL SUPPLY DRIVE for an elementary school in Florida that was hit hard by one of the hurricanes. They recognized us in their yearbook and sent a copy to us! Another was a TOILETRY DRIVE (our "Threads of Love") for an organization promoting good hygiene with Onslow County middle school students because they found students were bullied due to hygiene.
We also team with other CTSO's at our school. Right now, we are involved with Angels for Veterans with HOSA. Since NTHS members become a member of another CTSO, we try to pair with a CTSO on various activities.
Have you done any activities, projects, campaigns, and/or community outreach with your NTHS chapter that you feel were successful? Tell us about them!
Our principal reached out to NTHS and asked about sponsoring "Principal List and Honor Roll List" students to celebrate their accomplishments. We will sponsor G4 during this semester with ice cream or popcorn. This is new for us, so I am excited to participate in recognizing these students. It also gives our organization recognition.
Tell us a little about yourself…Your family? Your pets? Your hobbies and interests?
I am truly living my selected career in my class. Upon graduating from East Carolina University, I was a television reporter before becoming a teacher. My husband, Jim, is a University of South Carolina graduate, and is a retired Swansboro High School physical education teacher. We have been married for 37 years! He was the athletic director and coached football, baseball, basketball and tennis. We started the tennis program together at Swansboro High. Our daughter, Morgan, is 25. She was a college tennis player at UNC-Pembroke where she did her undergraduate degree in Communications and master's degree in Sports Administration. She is now the Associate Sports Information Director at UNCP. So you can see that tennis is a huge part of our lives.
I also like to walk, bike, swim, and work in the yard. I call "digging in the dirt" my therapy! My family is extremely important to me from my husband and daughter to my sister and brother-in-law (who happen to be my next-door neighbors) to my niece and her husband and adorable two sons. We do lots of things together, and I cherish the support and time we spend together.