The staff at NTHS is eternally grateful for the hard work, perseverance, and effort all our Advisors pour into their roles as NTHS leaders who are developing and inspiring students on a daily basis. We know that we could not continue our mission to honor Career and Technical Education (CTE) students across the nation without their constant support and dedication.
Each month, we like to recognize one of our outstanding Advisors who has been nominated by their peers, students, family, or NTHS colleagues for the NTHS Advisor of the Month. If you would like to nominate someone to be featured as our Advisor of the Month, click here to let us know!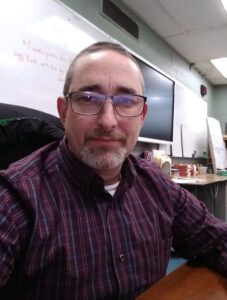 This month, we'd like to introduce you to our friend, Chris Curtis.
Chris has been an educator for 24 years, and he's currently teaching Alternative Education English Language Arts (ELA) and Career and Technical Education (CTE) Integration at Northern Catskills Occupational Center, part of Otsego Northern Catskills BOCES (ONC BOCES) in NY state. This is his very first year serving as an Advisor for his school's NTHS chapter.
Why is Career and Technical Education important to you?
It's where I started (and now I'm back, full circle). When I was with BOCES about 15 years ago, they were just starting to integrate math and science credits, but hadn't started ELA yet. I love getting to learn about all the CTE classes in my building, while highlighting and bringing to life the ELA that's inherently already there.
As you look toward the 2020-2021 school year, what are some of the best resources or strategies you have found to help you stay focused and productive as an educator in an ever changing environment?
It's certainly a tough time, and it's easy to stress out and worry about all the possibilities. As a strategy, I try to keep my focus on where I can be most effective, which is the classroom, my students, and my little corner of the world. Maybe I can shine a little light in the darkness. As an English teacher in a variety of CTE classes, field-specific vocabulary (I've found) is a major and important thread throughout all the classes. Learning and using the terminology of a new field is the foundation of most disciplines. There are several online resources (Quizlet, for example, has lots of CTE specific vocabulary already available) that can assist students in learning new vocabulary.
Has your school started the new school year yet, and how have they decided to move forward with classes for the fall? What does that plan look like for you right now?
I started staff development days on September 1st. We'll have 5 training days this year, which is more than usual, but expected, considering all the new procedures we'll need to learn. We also have a new Learning Management System (LMS) this year, which will account for more training. Our plan currently consists of [health] pre-screening before entering the building, social distancing, and face masks. In the Alternative Ed. program, the class sizes are small by nature, so distance shouldn't be difficult to maintain in the classroom. I worry about face mask use, though, and compliance. Right now, masks are not required while a student is at their desk, only when they leave their distanced "zone." I have concerns, but I really can't wait to get back to teaching. I'm looking forward to it, just like any other year.
For students who are continuing their CTE education online or in a hybrid model this fall, what advice would you give them on how to make the most out of their CTE experience?

Some people can learn in a vacuum, away from other people, from videos and textbooks, but that's not very common. For most people, learning is a very social thing, so . . . for those who are entirely or partially online, take every possible advantage of the formats offered, like Zoom or Google Meet, break-off sessions, and group projects. These are opportunities to satiate that social need and to connect with other like-minded people in real-time. It's not a replacement for in-person learning, but it is a viable substitute. If you have the opportunity to be in the classroom, shop, or lab, make the very most of it. Engage. Ask questions. Be there and be prepared.
As the leader of your school's NTHS chapter, what accomplishments (yours or your students') are you most proud of?
I am the co-advisor with Laurie Sweeney, my building's cosmetology teacher, and I am new to NTHS this year. I'm pretty proud of the Virtual Induction video my team made. As one of the more tech-savvy people on the team, I took a majority of the creative reigns for the project.
Have you done any activities, projects, campaigns, and/or community outreach with your NTHS chapter that you feel were successful? Tell us about them!
Wow. We just put on a virtual graduation ceremony that went very well considering the circumstances. The parents and students I heard from were quite happy – which is what matters. We created a video based on a lot of the ideas from the NTHS website, tuned to our specific needs. I think that video project is the reason I was nominated for the NTHS Advisor of the Month.
Tell us a little about you… Your family? Your pets? Your hobbies and interests?
My wife and I have been married for 21 years. My daughter and son are 15 and 14. I've played guitar since I was nine or ten, and now I DJ for weddings and parties. I've hiked all the Catskill peaks, some solo, but mostly with other educator friends. We've got dogs, cats, and we added six chickens this spring (at the beginning of the COVID-19 pandemic). I'm really "egg-cited" to be getting about 3 eggs a day now!
Thank you for all you do, Chris!