The staff at NTHS is eternally grateful for the hard work, perseverance, and effort all our Advisors pour into their roles as NTHS leaders who are developing and inspiring students on a daily basis. We know that we could not continue our mission to honor Career and Technical Education (CTE) students across the nation without their constant support and dedication.
Each month, we like to recognize one of our outstanding Advisors who has been nominated by their peers, students, family, or NTHS colleagues for the NTHS Advisor of the Month. If you would like to nominate someone to be featured as our Advisor of the Month, click here to let us know!
This month, we'd like to introduce you to our friend, Ernema "Bing" Boettner.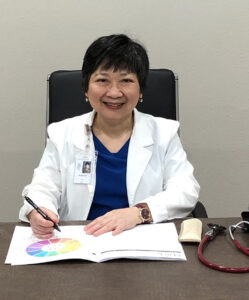 Bing has been teaching for 16 years – 3 of those as a part-time nursing instructor, and the rest as a full-time health science instructor. She has been an NTHS Advisor for 9 of those years at Northwest Technical School in Maryville, MO.
Why is Career and Technical Education important to you?
CTE is important in the preparation of students for post secondary education as well as the work place. It combines the academic, technical, and employability skills needed for success. I can attest to the doors of opportunities that have been opened to me through the years as recipient of a great CTE education in the field of nursing. And now for almost 16 years, I have been seeing students flourish in both their personal and professional lives because of the education and training they have received through CTE.
Someone once said, "One does not need a 4 year degree in order to get a good education and have a good job and provide for himself/herself and a family." And I agree. In my field of nursing, I have seen some of my students do very well after finishing a 3 year associate degree. And some of them went on to become nurse practitioners after a few years of firm footing on the profession.
One of my favorite CTE advocates is Mike Rowe. He is a tireless champion of narrowing what he calls the "skills gap in the work force." He says, "According to the Bureau of Labor Statistics, there are more than 7 million jobs available across the country, the majority of which don't require a four-year degree. Let us not glorify the "corner office job" and forget the ones who helped build that corner office. Yes, I do believe that some students' pathway to success, happiness and a sense of fulfillment is through higher education. But let us not forget that others will aim for the same goals through the pathway of CTE education." (Mike Rowe Works Foundation)
As the leader of your school's NTHS chapter, what accomplishments (yours or your students') are you most proud of?
Our chapter's membership consists of students from 12 sending schools. Communicating with all members, and having business meetings with a majority of the members being present were challenges we faced. Given these challenges and other factors, I am proud that our chapter continues to be an active and thriving one. The chapter's leadership, community service, and cooperative spirit gave way to receiving a Silver Star of Excellence Award from NTHS in 2017.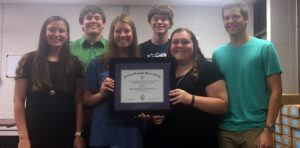 Have you done any activities, projects, campaigns, and/or community outreach with your NTHS chapter that you feel were successful? Tell us about them!
In 2017, our chapter applied for a grant to do plastic recycling in our school district, including a local private school. We were awarded that grant and we have kept it going, expanding to include [recycling] paper. The members have done a good job taking turns collecting the bins on a weekly basis. I am proud of the leadership of our NTHS officers, and the cooperation of all our members. We plan to continue doing this in the next school year.
We also have done a type of "Big Brother, Big Sister" initiative with the students at the Alternative Learning Center. The Learning Center is a school within Maryville Academy, serving students who have behavioral issues and need a little more time managing these behaviors before they go to the regular classroom. Even though we only did this for a couple of years, I have seen good friendships come out of the experience. The Learning Center moved to another building, and due to time constraints, our chapter couldn't meet with the group anymore.
Last year, upon the suggestion of a co-advisor of mine, we started a Give and Take Closet in our Technical School. We used the money that we earn from a few fundraising activities to stock the closet with basic hygiene supplies and smart snack food.
We also did Pennies for Patients fund drive for the Lymphoma and Leukemia Society.
This [past] year, as a fundraiser, the chapter hosted a "Make Someone's Day" on Valentine's Day by selling specially decorated cookies and roses with notes attached to them made by the Special Education students of our home school. It was a very fun day seeing students and staff alike purchasing our merchandise! The members are planning to do it again this coming school year.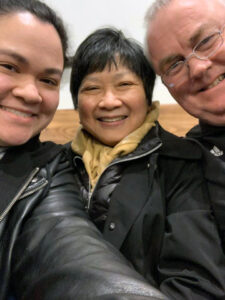 Tell us a little about you… Your family? Your pets? Your hobbies and interests?
I obtained my Bachelors of Science in Nursing from the Philippines and came to the U.S. in 1993. Since then I have worked as a part-time nurse in different nursing homes, as well as a nurse instructor for a LPN program. My husband, Richard and I pastor a small church in his home town that keeps us busily engaged in the ministry to our members and the community. Our daughter works and lives in Seattle, Washington as a youth tutoring program supervisor with the Catholic Community Services.
Teachers have been in my family for a few generations; My paternal grandma was a principal, my dad was a history teacher, my husband is a music teacher, and my daughter is a youth tutoring program supervisor!
My hobbies and interests include yoga and walking, reading, writing, playing the guitar, and working in the kitchen. I am proud to be a member of the Missouri Association for Career and Technical Education (MO-ACTE), my own health science division, Missouri Health Science Educators (MHSE), and PEO International (Philanthropic Education Organization), a national group of women supporting other women through educational scholarships.