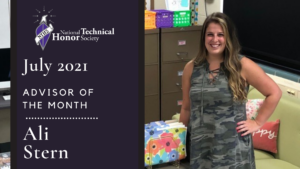 For July, we've selected an Advisor of the Month who exemplifies the importance and impact that Career and Technical education can have.
Ali Stern has been teaching for 7 years at Geneseo High School in Geneseo, Illinois. There she teaches Foods 1, Foods 2, Child Development, Parenting, and Managing Lifestyles.
Ali took some time to answer questions about her experiences as an NTHS advisor and how she believes that CTE is helping her students prepare for the future. Take a look at her answers to learn more about this awesome NTHS Advisor!
Why is Career and Technical Education important to you?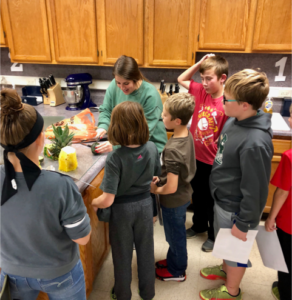 "CTE education has always played a major role in my life. I have seen the importance of this content from a young age, thanks to the women in my family. I am a 4th generation Family and Consumer Sciences teacher. I spent countless hours with my Mom, Grandma, and Great Grandma in the kitchen and at a sewing machine. I was a dedicated 4-H member for many years and worked for the University of Illinois Extension Office in college, running the county 4-H fair. All of these experiences led me to my chosen career and instilled a passion of educating younger generations on the importance of life skills and real-world experiences. I find it so important to show the relevance of these skills and this content knowledge every single day in my classroom. As an educator, I feel that all school courses are important and have a place, but I do believe Career and Technical Education helps students feel prepared in the workplace and in life."
How did you hold an induction ceremony last school year? Was it virtual, in-person or both? What worked and what didn't?
"Unfortunately, last year we had to hold the NTHS ceremony virtually. While this was not ideal, we had to follow current COVID-19 guidelines to keep inducted members and their families safe. The usual information was relayed to students and families by myself and administration, including lists of inducted members, criteria met, and awards to be received. Students had to pick up their awards packets during a designated time to align with social distancing. There were people upset that this was done virtually, only because it is typically such a nice event. Every year prior, we combine our ceremony with the NHS and Illinois State Scholars ceremonies for one big event that we call "Scholars Night". We started this 4 years ago. It is a night full of recognizing outstanding students and their many accomplishments, a night that everyone looks forward to. Another major highlight of the night is the "Distinguished Alumni" that we invite. We invite previous Geneseo High School graduates that have accomplished major milestones in their careers. Previous speakers have included members of the Illinois House of Representatives and Senate, local business owners and company presidents, the Commissioner of the Chicago Department of Aviation, an American painter and sculptor, published authors, and many more. Hearing their stories, struggles, and successes is inspiring for the students. It's important for the students to see successful dreams and careers come from our small town high school."
You've had a successful chapter the past two years, in spite of education being disrupted. How did you promote NTHS to your students and encourage them to join? Please share your ideas with us so that other advisors and chapters may benefit!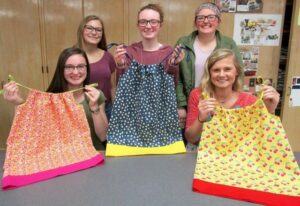 "I have relied heavily on technology and communication to promote NTHS the last couple of years. At the beginning of the school years, I have encouraged all CTE teachers in our building to discuss and promote NTHS in their classrooms. I think the communication and educating them early on gives them the chance to set goals and plan accordingly. I have the three counselors discuss NTHS as an opportunity for students who are on track to meeting requirements and ensure that they are enrolled in the correct courses. I also have made a short video to be sent to the incoming freshman each year, which I think has been helpful. When it came time to apply, I utilized the school websites announcements page, asked CTE teachers to put an announcement in their Google Classrooms, and had school secretaries send out an all school messenger with the my NTHS information (what is NTHS and what are the requirements) and application. This ensures that all students are reached and provided with the same opportunity to be inducted."
For your current students who are continuing their CTE education online or in a hybrid model, what advice would you give them on how to make the most out of their CTE experience?
"The past couple of years have been unlike anything we have ever experienced. It has been tough on everyone. CTE classes are to be engaging and hands-on, and online learning made that difficult. Myself, and many other educators, worked hard to make remote learning as engaging as possible, but we'd all agree it just wasn't the same. I found myself creating new content for students at home and learning new technologies and programs, that will make me a better teacher in the long run. I would encourage students to continue into this next school year with a growth mindset. The online and hybrid lessons are what you decide to make of them. You will get out what you put in. That is how we all need to approach school until "normalcy" returns. I would encourage teachers to keep learning and expanding your knowledge. I feel like I learned more in this last year than I have during my previous 6 years teaching, because there was no other choice. We need to keep learning because we want to, not because we have to. Regardless of your school's learning model this upcoming school year, we need to provide an energy and enthusiasm about CTE that gets students excited about education again."
As the leader of your school's NTHS chapter, what accomplishments (yours or your students') are you most proud of?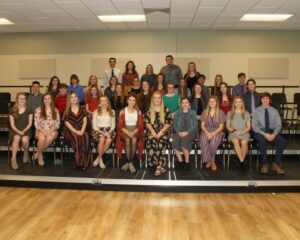 "I am most proud of the number of students inducted into my chapter each year. Students are eager to get enrolled into numerous CTE courses in order to achieve becoming a member of NTHS. I feel proud that NTHS is well known throughout our school and that kids feel accomplished and proud to be inducted."
Has your NTHS chapter done any activities, projects, campaigns, and/or community outreach that you feel were particularly successful? Please share your stories!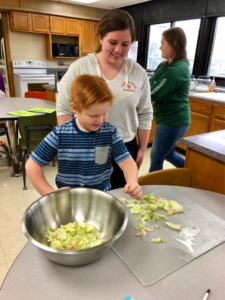 "For obvious reasons, the last couple of years have been fairly quiet. In the past, one of my favorite things we have done is our Little Dresses for Africa project. Members sewed dresses to send to Africa for humanitarian relief. This project taught them many important CTE skills, as well as doing good for those in need. Another favorite was the "Little Chef School" we put on for younger students in our district. We spent the sessions teaching cooking skills and terminology, practicing safety and sanitary measures, and promoting the importance of healthy eating and nutrition. Fun was had by both members and the young kids!"
Tell us a little about yourself…Your family? Your pets? Your hobbies and interests?
"I like to keep busy! At school, I am the sophomore volleyball coach and the 8th grade girls basketball coach. I am a member of the school's leadership team, as well as a class sponsor. I lead the travel abroad program at the high school, providing students an opportunity to see the world. Our last trip was to London, Paris, and Barcelona (pre COVID)! I am incredibly passionate about traveling and do so as often as I can. Outside of school, I spend a majority of my time with friends and family. I love attending sporting events, cooking, sewing, and crafting. I have one pet, a cat named JoJo! She was named after my favorite golfer, Jordan Spieth. I have also recently become an aunt and have been enjoying all the baby snuggles this summer!"
If you're interested in nominating an NTHS Advisor to be our Advisor of the Month, click here.