Who we are
The National Technical Honor Society is an educational non-profit that exists to honor, recognize, and empower students and teachers in Career & Technical Education. As the honor society for Career & Technical Education, NTHS serves over 100,000 active members annually in both secondary and postsecondary chapters across country.
Since its founding in 1984, nearly 1 million students have become NTHS alumni. NTHS honors the achievements of top CTE students, provides close to $300,000 in scholarships annually, and strives to help connect education and industry to build a highly skilled workforce.
Achievement in the Workforce
NTHS strives to bring well deserved recognition, scholarship opportunities, and career opportunities to students who excel in one of the 108 career and technical educational fields as their profession. Not only do NTHS students embody all the attributes and talent which is in demand today, these students also embrace a clear vision for tomorrow's workforce and their role in it. NTHS understands changes in industry within local communities and on a global scale.
The growing demand to fill jobs requiring technical training is one of the hottest topics headlining current news. An article published in Forbes "America's Skilled Trades Dilemma: Shortages Loom As Most In-Demand Group of Workers Ages" demonstrates the need to support career and technical education. Through its scholarships, NTHS encourages students to pursue higher education and training in technical fields and supports members in their lifelong commitment to a skilled trade.
Dr. Genevieve Stevens, interim dean for instruction at Houston Community College's central campus, told the Houston Chronicle, "For two or three generations, the focus has been to go to college, get a degree and in doing so you will ensure a brighter future with more access to employment," she said. "We started focusing on academic instruction, but left behind the notion of work-force education. However, in a two-year institution that costs less, the average work-force student can come out of that program with skills to gain immediate employment." Stevens' profound statement resonates with the vision and mission of the National Technical Honor Society.
Scholarships for Higher Education
The Jon H. Poteat Scholarship Foundation will award $250,000 in the 2020-2021 school year, to NTHS members. It is our belief that CTE students must be supported and encouraged to seek higher education in today's highly competitive global community. Aware of the increasing costs to attend post-secondary schools, NTHS is dedicated to providing scholarships to career and technical education students who choose a skilled trade as their career.
Partnering with other Career and Technical Student Organizations such as SkillsUSA and HOSA, we connect our students to many scholarship opportunities during their educational experience. Membership with NTHS benefits students who choose a direct path to CTE from high school, or adults who return to school seeking a new or more fulfilling career path.
NTHS greatly appreciates corporate partners and welcomes other partnerships who share in the belief that supporting skilled trades is a critical link to healthy economies, thriving communities, and happy employees. Since the G.I Bill in 1944, families have viewed college as part of the American dream, yet the rising costs of attending a postsecondary school often hinder gifted students who wish to pursue a skilled trade.
Support our Jon H. Poteat Scholarship Foundation and support career and technical education students. Let's fill jobs together!
Establish a Chapter today, apply for NTHS scholarship opportunities, and make your mark among the best in career and technical education.
Excellence in CTE
Thousands of schools and colleges throughout the U.S. and its territories have established a NTHS chapter on their campus. Member schools agree that NTHS encourages higher scholastic achievement, awards scholarships, and cultivates excellence in tomorrow's workforce. Education is a critical and integral element that advances economies, and NTHS forges positive relationships with high schools, technical institutions and colleges to promote higher learning. Knowing the need for members to pursue higher degrees, NTHS strives to build bridges between secondary schools, post-secondary technical institutions and colleges.
In addition, NTHS partners with the National Association of State Directors for Career Technical Education Consortium. Through leadership, advocacy and partnerships like the National Technical Honor Society, NASDCTEc aims to support an innovative CTE system that prepares individuals to succeed in education and their careers, and poises the United States to flourish in a global, dynamic economy. Discover NTHS and connect to your global CTE community.
Establish a Chapter today, apply for NTHS scholarship opportunities, and make your mark among the best in career and technical education.
Mission
To advocate for and empower all students to pursue the skills needed to build their careers and the global workforce.
Vision
To be the international leader in providing recognition for excellence in career and technical education.
NTHS Is Committed To Our Global Community By…
Offering scholarship opportunities for its members.
Sustaining growth, innovation and continuous improvement.
Maintaining financial responsibility to meet our membership needs.
Providing the highest recognition for top students in career and technical education.
Supplying excellent services to our diverse, multi-cultural membership and member schools.
Building strong relationships between the educational community and business and industry.
Responding to the ever-changing world and leading edge of technology as a flexible organization.
Humble Beginnings
The Powell and Poteat families spent time together in the evenings discussing the need to give recognition to top career and technical education students. As they sat around the dining room table, they embarked on a journey to chip away at the stereotypical attitude toward vocational education, to honor student achievement and leadership, promote educational excellence, and enhance career opportunities for career and technical students. Allen and Jon applied their knowledge as vocational educators and leaders to formulating an honor society.
Communicating their vision with a logo that embodied their mission was essential. Knowing the plumb used by contractors symbolizes stability and trueness, Jon envisioned this shape as the focal point of the emblem for a new honor society. Allen added the eagle for strength, and the seven stars one for each of the seven attributes that members would embody. Jon's wife, Patricia, then suggested the banner with the initials of the organization. This rendering transpired into the branding symbol recognized today for the National Technical Honor Society.
Allen spent time at the library researching for the perfect motto, and they all agreed that students should embody seven attributes: leadership, scholarship, skills, honesty, citizenship, service and responsibility. Even the children were helpful in pulling the whole idea together, as 10 year old Andi Poteat ran through the room in her purple dance jacket, giving life to the organization's colors of purple, silver and white.
With full hearts and little more than a dream, they filed all the papers to become a non-profit organization the National Vocational – Technical Honor Society had its wings!
Patricia created a small budget and guided the budding organization through each financial challenge. She managed mailings, marketing, and phone calls in the basement of her and Jon's home, while Jon and Allen continued to teach and enlist partners to promote the organization.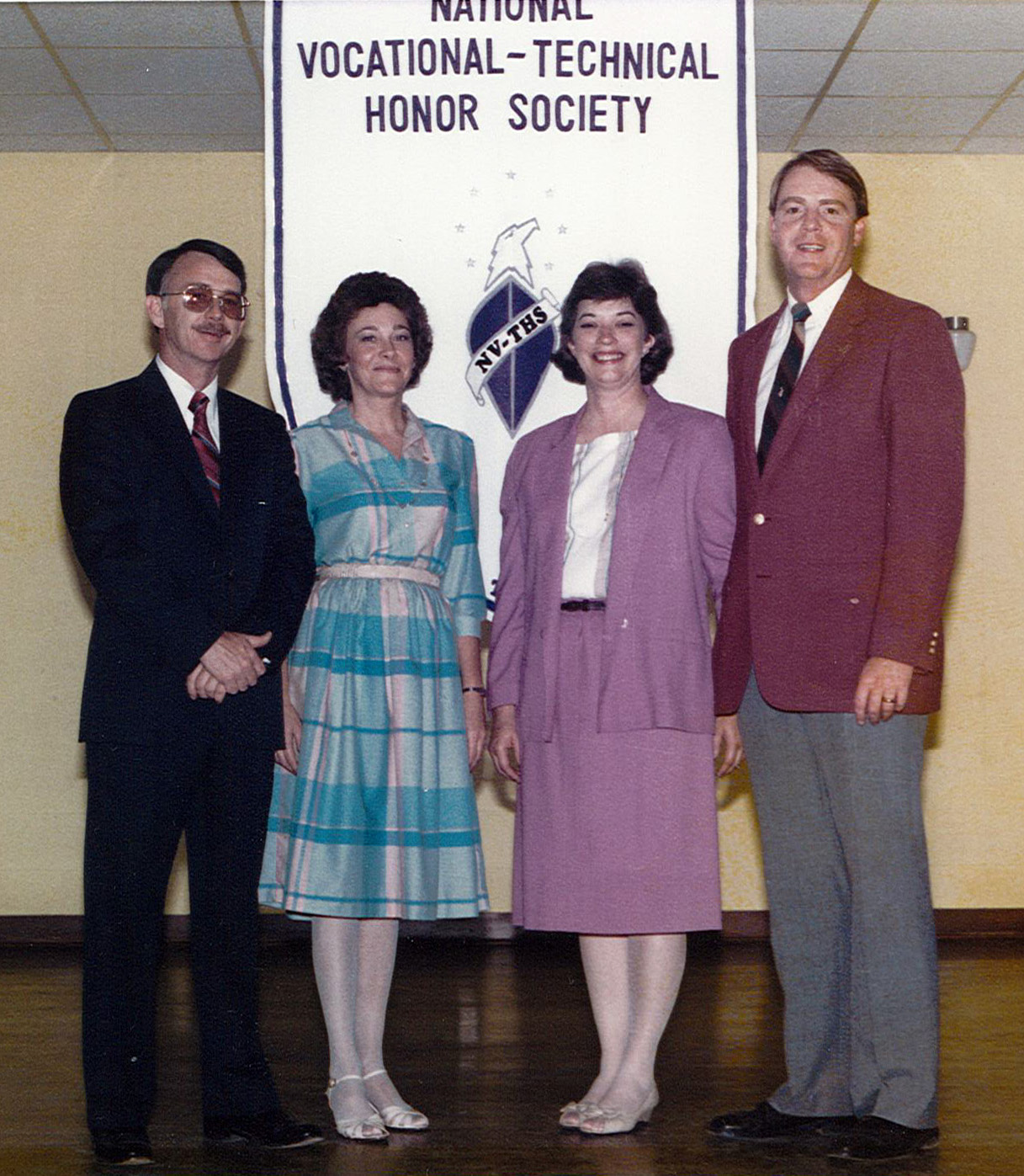 The Powells and Poteats in 1986 at the first induction at Boiling Springs High School, Boiling Springs, SC.
From Vision to Reality
In a short time, fellow educators and business people who shared this vision joined in, lending their names and influence to promote the National Vocational – Technical Honor Society. Educators could see NTHS at work, advancing excellence in career and technical education, and raising the bar for student achievement. No longer would technical education students be cast as a side line to the academic world, but placed in the forefront of education to meet the needs of changing industry. Collaboration with Career and Technical Student Organizations (CTSOs) opened doors and forged partnerships, which still support NTHS today.
In 1997, NTHS Board Member, Steve Greene gave the first $1000 needed to start a scholarship account with the Spartanburg County Foundation. The board named the scholarship program in honor of Jon, who several years earlier had been diagnosed with early onset dementia and was in a nursing facility. For the next eight years, the growth of the fund depended entirely on donations from board, friends and fundraising efforts.
In 2005, NTHS awarded the first scholarships. That year, only four $500 scholarships were awarded, but NTHS was on its way. Realizing more need to provide financial assistance to students, the board of directors agreed that a portion of each membership fee would be budgeted to go to the fund, and in 2007 a total of $25,000 in scholarship monies went to NTHS members.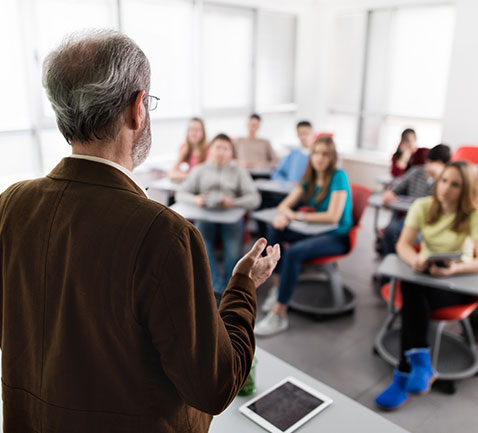 The Powells and Poteats in 1986 at the first induction at Boiling Springs High School, Boiling Springs, SC.