Silver Star of Excellence Winner – South Texas Academy for Medical Professions
For the National Technical Honor Society Silver Star of Excellence Community Service Award for the school year 2015-2016, the South Texas Academy for Medical Professions NTHS chapter focused on a special needs population in our community.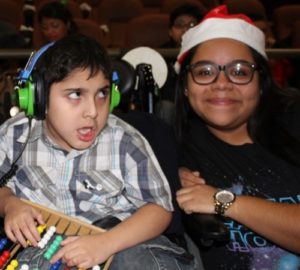 Before starting this community service project we needed to identify a community in need. Brownsville, Texas is one of the poorest communities in the United States. We wanted to be able to serve the people in this community in a very unique way. Every year, with the help of Cinemark and the Brownsville Jaycees, Brownsville ISD takes all of their Special Education students on a field trip to the movies at the same time. With a population of over 2500 Special Ed students with a variety of needs ranging from severely disabled to mildly challenged, we knew we could be of service with this huge undertaking.
Plan of Action. Step 1: An Email and An Invitation. The first step of our action plan was to contact Mr. John Blackburn, Chairman of the Brownsville Jaycees. They were the ones in charge of the volunteers for this event. I sent him an email explaining who we were and that we would like to help in any way with this event. He was very happy to have our help since all of us are trained medical professionals and certified in CPR and First Aid. He saw the value in having us help with this particular population of students. While Brownsville EMS would be on site in case of any emergency, he knew we would be able to recognize a potentially harmful situation and take action. While we all hoped that none of us would be used in this way, we were happy to offer our services.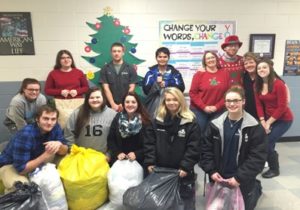 Plan of Action. Step 2: Who Can Participate? As soon as I found out the date of the event was December 15th, I knew we were going to have a problem. This was a scheduled Semester Exam day at our school. I spoke to our advisor, Mrs. Groves, and let her know the issue. She called a meeting to find out how many of us wanted to participate, and as expected ALL of us wanted to help these very special kids. She took our problem to the principal and explained the importance of this volunteer opportunity, not only to our community, but also the value we would receive by helping a special needs population. We would be able to tie in all of the things we have learned about the health care profession – compassion, communication, empathy, patience, responsibility and team work. Our principal agreed that we should be able to volunteer in this way, so he allowed all of us to take our Semester Exams early. Even though we had to study to take our exams early, we were very excited that 100% of our chapter would be able to participate in the planning and execution of this event. We have 31 student members in 10th-12th grade and 2 advisors.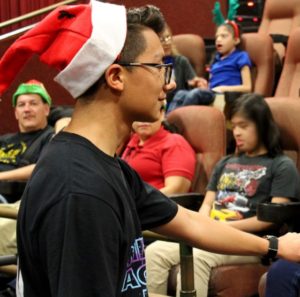 Plan of Action. Step 3: How Can We Help? The NTHS members had a meeting to determine how we could help best during this event. We compiled a list of how we thought we could be the most useful. We decided we could make sure all students were seated in the correct theater, provide booster seats to those who needed it, deliver the popcorn and drinks, stay in the theater during the movie to help supervise the students, help when the students exit, and clean up after the event. We presented our list to Mr. Blackburn and he said it was exactly the help he needed.
December 15th had arrived. All of the NTHS members boarded the bus and put on Santa hats. We were so excited to help these students with their field trip. I don't think we realized exactly how many special needs students were participating in this event until we saw the line waiting to go into the theater. The excitement the students expressed was contagious. We couldn't help but to jump in and get started.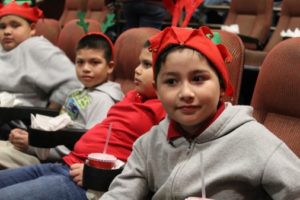 We knew seating 2500 special needs students would be a big task. We needed to help these students get into the correctly assigned theater and make sure they were comfortable in their seat, so we assigned 2-3 NTHS members to each of the 15 theaters to see to the needs of the students. We provided booster seats if necessary and made sure everyone was comfortable. It was not as easy as it sounds as several of the students were in wheelchairs and all of the students were anxious for the snacks and the movie to start!
We enjoyed talking to the students and entertaining them while we waited for everyone to get settled in. Even though these students are considered "special education" we quickly realized they were very smart and attentive.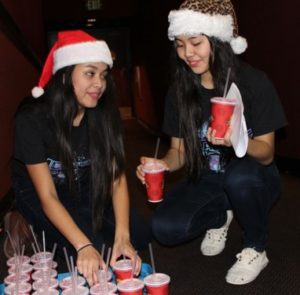 The kids were great! Asking us where we were from and wanting to take pictures with us. We felt a real connection to these special students. We were able to practice our healthcare provider skills including differentiating communication and providing for individual needs.
This is the part of the morning all the students were waiting for – THE SNACKS! The theater provided popcorn and drinks to all of the students. We were given the task of making sure all of the students received the popcorn and drinks. With only 2-3 NTHS members per theater, we were very busy! We were grateful for the help of the teachers that came with the students.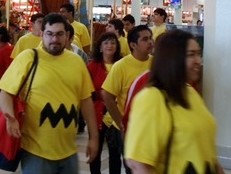 The movie of the day was The Peanuts Movie. One group of students came dressed as Charlie Brown which we thought was very creative. We stayed in the theater and watched the movie with the kids, but we were on alert in case anyone needed anything. We passed out napkins and let the teachers know we were willing to help with anything they needed. It was fun to watch the movie with the kids because they would laugh and talk out loud and just enjoy themselves! No matter what the age, all of the students were kids at heart!
When the movie was over, we made sure the students left the theater safely and we lined up for high-fives! The kids were so happy and excited. We were sad to see them go, but we knew they had fun while they were there.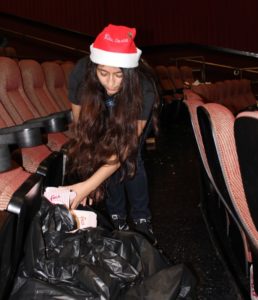 Once all of the students were safely on their bus back to their school, we went into the theaters to help with the clean up effort. We knew that the Cinemark staff was overloaded with so many theaters to clean all at once. While most of us don't clean our rooms at home, we were happy to help in this particular situation!
This event could not have taken place without the support and assistance of Cinemark movie theater, the Brownsville Jaycees, Brownsville EMS, and the teachers and staff of Brownsville ISD. This was a very ambitious event and all of the help and support was necessary to make it such a success.
Taking a group of students to the movies does not seem like it would make much of an impact on the community, but with this particular group, we know we helped so many people. The students who might not get a chance to go to the movies often because of their condition. The parents of these special students who know their child is safe because of the extra effort put into this event and support in place in case of an emergency. The teachers and staff that help these students on a daily basis were grateful to have us there to help so they could relax a little bit.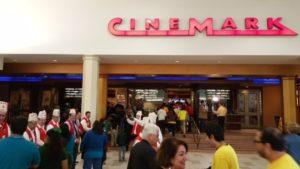 And last, but not least, the impact this event had on us, the NTHS members. We will never forget this experience and these kids. We were helping them, but they were also helping us to become better people, more understanding people, and hopefully to take this experience with us to become better healthcare providers. Mr. Blackburn was very appreciative of our help and has already invited us to participate in next years event. We hope this can become a yearly tradition for our NTHS club.