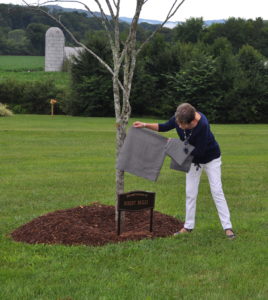 During our Annual Board of Directors meeting last month, we were privileged to spend some time honoring a few of the people that have been instrumental in the founding and supporting our organization. A tree was planted in each person's honor on the grounds at our national headquarters, and with it, a special plaque.
From our Executive Director, C. Allen Powell:
"In reflecting on the positive impact numbers of NTHS National Board members have made in the life of NTHS, Co-founders, Patricia Poteat and Allen Powell made the decision to establish an appropriate, enduring, and living tribute in recognition of their contributions, faithfulness, and love for NTHS. They aspired to recognize and give tribute to NTHS leaders and legends, on the NTHS headquarters grounds.
Known as the harbinger of spring, the eastern redbud's delicate blossoms and buds are one of the season's most dramatic displays. The red bud's irregular branching pattern creates a very handsome, spreading crown. Even in winter, covered with snow, the eastern redbud is stunning, and adds elegance to any space. The eastern redbud is named as the state tree for several states, including the great state of Oklahoma. Pat and Allen agreed this was to be the NTHS Lifetime Achievement Award tree for all who have faithfully served NTHS.
Jon H. Poteat (in memoriam), NTHS Co-founder and first secretary-treasurer, was a proud father, outstanding guidance counselor, friend, and a proud Clemson Tiger. Lost to us far too soon, Jon passed away in 2000, but his love for young people lives on through the NTHS Jon H. Poteat Scholarship Fund, currently awarding over $250,000 annually. Pat and Jon's daughter, Allison, is now the NTHS Scholarship Director.
Mrs. Barbara Orwig (in memoriam), President and Publisher at American Careers, Inc. served as NTHS National Board President 1999-2000. Barbara was a long-time friend of NTHS and provided customized, NTHS editions of the "American Careers" journal to thousands of schools and CTE students at no cost to the organization. An Ohio native, "Barb" was a proud OSU "Buckeye."
Major Robert "Bob" Bailey (in memoriam), Director at Mercer County Technical Education Center, Princeton, WV, served as Board president 1993-1994 and remained a strong advocate for NTHS until his death in 2018. The Major was a highly decorated Army office in four theaters of war – World War II, Korea, Panama, and Viet Nam. The unshakable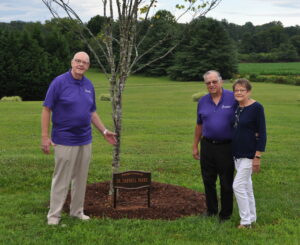 support from Bob Bailey and a number of loyal Board members was critical on our defense during difficult times in our history.
Dr. Darrell Parks of Columbus, Ohio served as NTHS Board President, 2000-2001 and remains actively engaged with the organization as Chair of the NTHS Finance Committee. Dr. Parks is a nationally recognized leader in career and technical education and former Ohio State Director for Career Education, and another proud member of the "buckeye" clan.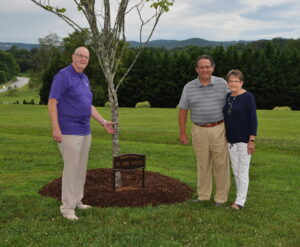 Dr. Greg Winters served two terms as NTHS Board president, 1991-1992, and 1997-1998, and he continues to serve as the NTHS historian. For over 30 years, Greg has been one of the Society's greatest champions and the official "NTHS Evangelist" in Oklahoma and throughout the US. Like Jon Poteat, Robert Bailey, Barbara Orwig, and Dr. Darrell Parks, Greg has demonstrated his love for NTHS in many ways."