Welcome to the new school year! NTHS is excited to help all of our advisors create meaningful and impactful experiences for CTE across the nation. If this is your first year serving as an NTHS Advisor, welcome! If you're a veteran NTHS advisor, be sure to check out some of the new resources highlighted in this blog to help take your chapter experience to the next level.
Planning your year with NTHS is as simple as 1,2,3. Nominate, Induct, and Engage.
Nominate:
Getting new NTHS members nominated and registered is an essential step for a successful year and building continuity for your chapter. The nomination process involves promoting NTHS, identifying your membership criteria, inviting qualifying students, and registering those students through the Advisor Portal. You can find an in-depth walkthrough of this process in the Nominate section of our Advisor Guidebook.
Induct:
The flagship NTHS chapter activity is the Induction Ceremony. This is an opportunity to recognize your students for exhibiting excellence in CTE to an audience of family, school, and community members. We know that planning a reception or ceremony like this can be stressful, so we've developed our Induction Guide to help you every step of the way. From picking the date and time to setting up any visuals, it can all be found in our Induction Guide.
Engage:
Keeping your members engaged with your NTHS chapter throughout the school year creates meaningful learning experiences and lasting impacts on your community. By holding regularly scheduled chapter meetings, you ensure that your members are getting the full NTHS member experience. Consider starting early to engage your returning members before your fall or spring inductions. The NTHS Core Four Objectives serve as the foundation for all chapter activities.
These objectives include: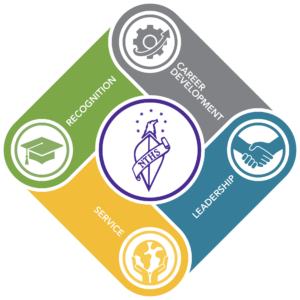 Career Development: Exploring career paths and gaining rich experiences to prepare students to enter the workforce are critical components for success. Engagement in an NTHS chapter should help students develop the knowledge and resources they need to take the next steps in their career path, whatever those steps may be.
Leadership: NTHS members have already proven themselves to exemplify excellence in CTE. Through leadership development activities within a chapter, students will gain authentic leadership experience to help them grow both personally and professionally.
Service: Service is an integral aspect of an NTHS chapter. NTHS chapters are by-products of the communities in which they are located. The skills and abilities that students are learning in their CTE programs provide opportunities for your chapter and its members to serve and build within the community.
Recognition: NTHS strives to recognize the accomplishments of all our members. Through the NTHS induction process and ceremony, scholarships, graduation events, and other activities that your chapter may create, you can help elevate skilled career paths in your community and school, along with the students who have chosen those paths.
By categorizing NTHS chapter activities into the Core Four, you can easily identify the ways each student will develop and the useful skills they will gain by participating. We've developed our Engagement Guide to help you utilize the Core Four throughout the year, including a sample calendar with examples of activities! We also suggest utilizing the NTHS Career Readiness Portal to enhance your chapter's Career Development. From resume-building to interest assessments and micro-credentials, anyone can use CRP tools to better prepare for their future career.
So, as we dive into this new school year, remember that NTHS isn't just an organization; it's a powerful tool that you can use to recognize excellence in CTE and prepare students for success in their careers. With these tools and resources at your fingertips, you've got the chance to make a real impact on your chapter, your students, and your community. Here's to a year jam-packed with growth and achievements with NTHS!