SkillsUSA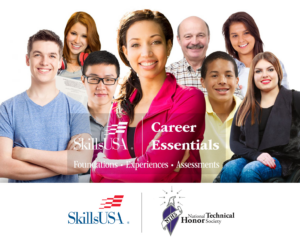 is a long-time partner of the National Technical Honor Society, and has joined forces with NTHS to offer FREE access to the SkillsUSA Career Essentials suite to NTHS Advisors and students.
The current pandemic has forced local administrators and teachers to quickly move their courses to virtual/online environments. SkillsUSA Career Essentials is an online career-readiness resource for students, built to engage learners in defining, implementing, and measuring their personal skills, workplace skills, and technical skills grounded in academics. The curricula is for middle school, high school, college/postsecondary or adult learners, and each curriculum bundle is valued at $25 to $65.
Our friends at CHANNELLOCK®, Lowe's Companies, and Harbor Freight Tools for Schools have helped support this initiative through their partnership with SkillsUSA. "We want to help narrow the skills gap in our country and providing students additional opportunities during this time is critical as they find new ways to study their chosen trade," said CHANNELLOCK® president William S. DeArment. "We want students to know that CHANNELLOCK® has their back."
To sign up to receive the complimentary curriculum, click here. For questions, please contact SkillsUSA.
To participate in a one-hour overview of the SkillsUSA Career Essentials suite resources, sign up using the online registration form .