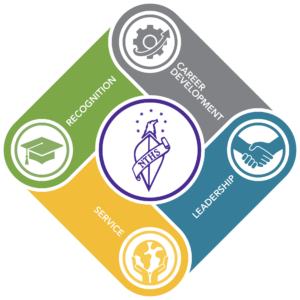 We are so excited to announce this year's recipients of the Silver Star of Excellence Award! This award is given to chapters that have exemplified proficiency in the NTHS Core Four Objectives:
Career Development
Leadership
Service
Recognition
2023 Silver Star of Excellence Schools:
St. Clair TEC Marysville, MI
Central Arizona Valley Institute of Technology Coolidge, AZ
Swansboro High School Swansboro, NC
Steel Center for Career and Technical Education Jefferson Hills, PA
California Virtual Academies Escondido, CA
South Caldwell High School Hudson, NC
Apalachee High School Winder, GA
MOT Charter High School Middletown, DE
Additionally, one chapter is selected as the recipient of the C. Allen Powell Service Award in recognition of the positive impact they have on their school and community. This year's C. Allen Powell Service Award winner is St. Clair TEC!
As we highlight each of these schools, consider how the activities they do could be used at your own school to elevate your NTHS Chapter to the next level!
St. Clair TEC Marysville, MI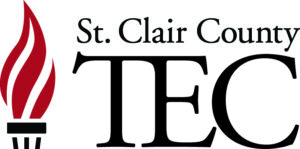 NTHS Advisor, Lane Robinson collaborates with her officer team to plan and conduct highly engaging chapter activities that allow their members to develop the skills needed to be successful in the workforce.
NTHS PM Chapter President, Andrew Johnson writes:
"To help students develop or enhance their technical skills we offer a variety of opportunities for hands-on learning and practical application of knowledge. We organize workshops, challenges, and activities where students can gain valuable insights, learn new techniques, and acquire industry-standard certifications. Students will also learn proper interviewing skills such as how to dress appropriately, compose yourself, give a handshake, and properly answer questions during an interview. We also encourage participation in competitions or skill-based challenges that allow students to showcase their abilities in their field."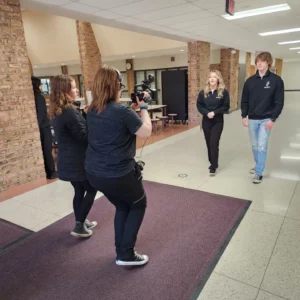 As the winner of our C. Allen Powell Service award, St. Clair TEC has exhibited high levels of community engagement and service orientation. While St. Clair TEC submitted multiple service projects in their Silver Star of Excellence application, we'd like to highlight their student made non-profit PSA's as they not only bring attention to important issues in the community, but also allow students to practice public speaking, professionalism and other important skills. NTHS AM Chapter President Kya Vettraino writes:
"The NTHS officers also made mini PSA's on a non-profit charity of their choice. We had to research a non-profit association, make a script describing our charity of choice, and record a mini commercial for it. We presented these commercials at an NTHS meeting for all the other members to see and then posted them on YouTube for the rest of the students and staff at TEC to watch. This was a great way to raise awareness about non-profit charities either in our community or in the world.
With all the work they do, it is clear to see that the NTHS Chapter at St. Clair TEC does a phenomenal job of embodying the NTHS Core Four Objectives every day.
Central Arizona Valley Institute of Technology Coolidge, AZ

CAVIT has developed strong programs in partnership with their NTHS chapter that allow their students to use their CTE knowledge while also taking in active role in their community. Their Canina Ambassador Program was created to help provide emotional health support for students and to alleviate kennel stress symptoms in shelter dogs. This program helps the CAVIT student body through in-person visits with a Canine Ambassador present.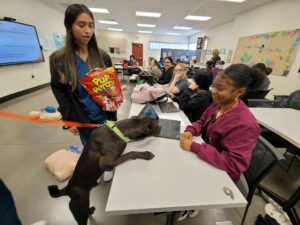 NTHS Advisor, Jenny Davis writes:
"The connection between people and dogs has long been known to help alleviate symptoms of emotional distress and promote health overall. The entire world has suffered through the COVID Pandemic, students are starting to report feeling normal. Student of all ages, instructors at all levels, this exercise was practiced and then delivered to so many more, but it started here at CAVIT, for CAVIT, with CAVIT Programs, with NTHS members leading the profound impact of the Canine Ambassador Program."
We love to see programs that merge service with CTE experience and allow students to use their skills in a meaningful and impactful way!

Swansboro High School Swansboro, NC
Swansboro High School has received the NTHS Silver Star of Excellence award for many years in a row and it is easy to see why! Ellen Sheehan has been teaching for over 20 years and is an NTHS Advisor that we constitnyly hear great things about. She's even been featured as our NTHS Advisor of the Month back in 2021!
Ellen writes about how important it is to have admin support when creating these programs and experiences for NTHS members and CTE students: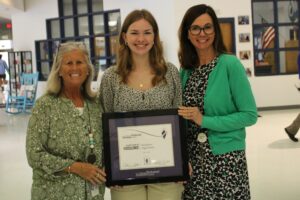 "We are fortunate at Swansboro High School to have an amazing administration. The support for the students, staff, clubs, extracurricular activities, athletics and events is simply unmatched. They allow students to grow, to make mistakes and to learn from them, and to show off their expertise. Our principal is a Rotarian who quickly volunteers our students to participate in conferences, leadership roles, fundraising and other community activities. When Hurricane Florence hit us in 2018, NTHS members rallied with the Swansboro Rotary Club to assist in distribution of basic needs of water and food, cleaning up yards of elderly people, and working at collection centers for donations. The interesting thing is that many of these students who were helping others needed help at their own homes. We had students who lost their entire homes. Debris and fallen trees were everywhere. To watch students come together and to help in such a time of need certainly reminds us of values and the need to spread our abilities to help others. These are lifelong skills of displaying responsibility."
We are so thankful to have advisors and admin like those at Swansboro High School and look forward to seeing all the amazing work they will do in the future!
Steel Center for Career and Technical Education Jefferson Hills, PA
Advocacy is vital to the success of Career and Technical Education across the country, and we believe that CTE students are the best advocates possible! At the Steel Center for Career and Technical Education, NTHS members have the opportunity to visit their state capitol and speak to their representatives about the importance of CTE and CTSO's.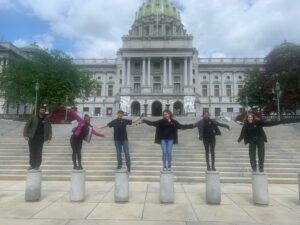 NTHS Advisor Stacey Caudill writes:
"Six members were selected to attend Technical Education Day at the state capitol building in Harrisburg. Students represented Steel Center by talking to legislators about their industry certifications, the Chill Room program which offers a safe space for students to visit when they are having a bad day, and Career and Technical Student Organizations (CTSOs) such as NTHS, BAMP and Skills USA. These students were able to meet several of the representatives and senators from their districts one on one to gain a better understanding of how laws and funding affect their CTE experience."
CTE can only succeed as long as it is supported by local, state and national legislation so the more we advocate for it the better it will be! Students like those at the Steel Center for Career and Technical Education are taking the steps necessary to ensure that CTE is strong for the next generation of students.
California Virtual Academies Escondido, CA
Despite being a fully online school, CAVA is an excellent example of how to create an engaging NTHS chapter in a virtual setting! While some of us may have had some experience with virtual activities during the pandemic, CAVA embraces the flexibility and reach that this setting provides and is able to use it make their NTHS chapter stronger!
NTHS Advisor, Brandi Berba writes:
"The National Technical Honors Society at CAVA celebrated Admin Appreciation Week by creating a virtual collection of cards made by our members. These cards each had kind messages for the Administrators who have made a difference in our lives, and we shared the cards with them at the end of Admin Appreciation Week on April 28th, 2023. These cards were made by leadership team after students submitted their messages through a google form. We also decorated these slides with various colors, elements, icons, designs, and quotes to look like lettercards. This demonstrated citizenship and service because our administrators are the ones behind the scenes of our schooling and education keeping things running smoothly, and it is only right that we show our CAVA Admin how much they impact us, our NTHS members, and students. Our NTHS members were able to give back to Admin and tell them how much we respect and appreciate their hard work."
Whether your school is in-person, online or hybrid, NTHS can help you create strong CTE experiences for your students that will prepare them for the future!
South Caldwell High School Hudson, NC
As one of our Core Four Objectives, Career Development is vital in preparing students for their future and ensuring they enter the workforce prepared to excel. At South Caldwell High School, they work to make sure that their NTHS members gain those neccary skills through their Career Center: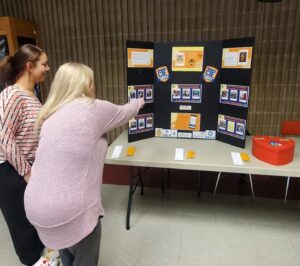 "In the Career Center, students can come get help with resume writing, job applications, mock interviews, how to dress for interviews, FAFSA, scholarships, and much more. The Career Center is mainly run by Mrs. Kincaid throughout the school day. She invites teachers to bring their classes to learn about employment trends and how to prepare for their future. Our NTHS members have opportunities to work in the Career Center daily during our 30-minute FLEX time to help peers with different needs. NTHS members are also in charge of lining up guest speakers for our Career Center. This has been a great way for us to network with community members and local businesses. This provided us with many resources for our recent Career Fair where we had 45 exhibitors."
NTHS Advisor Gina Kincaid has leveraged her NTHS chapter to create a program for her students that will create a huge impact on their future!
Apalachee High School Winder, GA
This NTHS chapter is not even a year old and is already doing amazing work with their students! Reactivated in August of 2022, the Apalachee High School NTHS Chapter has worked closely with other CTSO's at their school to put on events and activities for their community. Collaboration in this way can allow even a brand new NTHS chapter to participate in activities by sharing the responsibilities around planning and management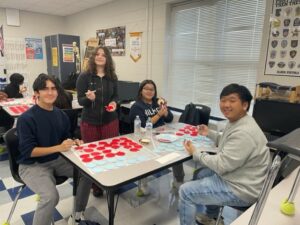 "All NTHS students were invited to participate in a community service event at the Yargo Elementary School Cookies with Santa event. Students from NTHS; SkillsUSA; HOSA; FCCLA and JROTC hosted several workshops and activities for the children and their families. NTHS members painted ornaments as part of their November meeting for our local SkillsUSA fingerprint ornaments workshop at the Yargo event. Our HOSA chapter hosted two blood drives and several HOSA/NTHS members helped with planning and managing that event. Our NTHS chapter hosted a book drive for Adventure Bags. Our NTHS members were able to donate stuffed animals for a community service event hosted by our TSA chapter. The stuffed animals were donated to our local sheriff's office and emergency services to give to children at emergency events. Our FCCLA/NTHS community service hours included various events at a local assisted living home."- NTHS Advisor, Amanda Blackstock Pugh
As an NTHS Chapter you are not alone! It is likely that your school already has other organizations for CTE students that can serve as partners and collaborators. Be sure to consider these partnerships as you plan out your year!
MOT Charter High School Middletown, DE
Our final recipient of the 2023 Silver Star of Excellence Award has created a well rounded chapter that allows student leaders to serve their communities in meaningful ways. MOT Charter High School's NTHS members have exemplified service through their participation in multiple local fundraising events.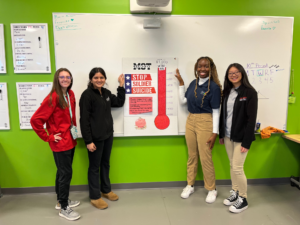 "Their participation in multiple fundraising events for causes such as "Stop Soldier Suicide" and the American Cancer Society speaks of their support and service for their community. For the Stop Soldier Suicide fundraiser, our members created a GoFundMe and contributed to creating promotional materials such as posters and signs to hang around campus, made posts on social media, and presented at other club meetings and school lunch periods. Furthermore, the members educated themselves on the cause and impact of the initiative to promote the fundraiser during school events. Our members promoted and participated in the 5K run, walk and celebration associated with the fundraiser called "Delaware VETFest", which is attended by over 1500 people, helping bring additional awareness to our fundraising efforts. Through their efforts and engagement, the NTHS chapter helped raise over $1,700 for the cause." – Roger Seedorf, NTHS Advisor
Finding opportunities to serve at the local level allows NTHS members to be active citizens of their community and fully understand the positive impact they can have. We are proud of the work they are doing and can't wait to see what the future hold for these students!
All of these schools have gone above and beyond with their NTHS Chapters and we are very grateful to have them! If you'd like to have your chapter recognized for all the hard work you put in be sure to apply for the Silver Star of Excellence when the application reopens in the fall!