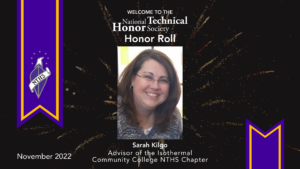 This month we are excited to induct our very first Advisor into the NTHS Honor Roll! Sarah Kilgo has been serving as one of the NTHS Advisors at Isothermal Community College in Spindale, North Carolina for 7 years.
She was nominated by a fellow NTHS Advisor at her school, Tiffany Cooper, who had this to say: "Sarah was instrumental in starting our NTHS chapter many years ago at Isothermal Community College. Because of her excellent working relationship with our local high schools, she recommended that the college and high schools join together and host one large NTHS Induction Ceremony each year at the college. The ceremony is held at our college's Foundation and Performing Arts Center and is always a big success with over 300 people in attendance…..Because of her passion for recognizing students and attention to detail, the ceremony is professional and well managed. Thank you Sarah for all you do."
Sarah answered some of our questions so we could get to know her and her chapter a bit more. Take a look and see what you might be able to take home to your own NTHS chapter.
Why is Career and Technical Education important to you?
Career and Technical Education provides students with career and technical skills, as well as, soft skills for the workplace. CTE plays an important part of the educational system by offering hands-on learning opportunities for in-demand fields which offers a balance to the traditional academic courses.
Why is NTHS important to you?
NTHS recognizes the accomplishments of Career and Technical students. Most CTE students would not be recognized in other honor societies, but NTHS gives these students the recognition they deserve for their hard work.
Please tell us about some of your school's NTHS chapter activities that you've been a part of or supported in some way.
Isothermal Community College chapters hosts an Induction Ceremony for their inductees along with the four (4) local high school chapters. We have a huge celebration for all NTHS inductees each fall.
What advice would you give your current students on how to make the most out of their CTE experience?
Enjoy every minute of your CTE experience. Ask questions, learn a new skill and encourage others to join in the CTE fun!
How has NTHS impacted your chapter members?
NTHS has impacted our members by offering scholarship opportunities. Students often need financial assistance to continue their education and having the opportunity to apply and receive help is awesome.
How has NTHS impacted your school and community?
NTHS has strengthened the partnership with our local public school systems. We work with two different counties and it has helped bond and solidify our work in the CTE field.
Tell us a little about yourself. Your family? Your pets? Your hobbies and interests?
I have been a CTE teacher for over 20 years. I have been married for 25 years to my husband James and we have two children. We also have four dogs, a cat and several chickens. I enjoy reading, cooking, and canning from our garden in the summer.
Advisors like Sarah are the reason that NTHS is able to help change lives for students across the country. We are so proud to have her as one of our advisors! Sarah, we thank you for all you do.
If you know someone who you think deserves to be recognized in the NTHS Honor Roll click here to nominate them!