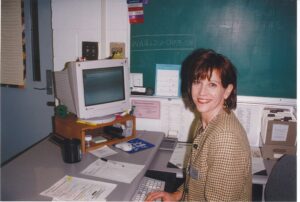 This month we want to honor and recognize someone who has made a tremendous impact on each and every one of our NTHS members since 1999! Kate Allen is the Chief Operating Officer here at NTHS, and after 23 years with the organization, she has recently announced her well-deserved retirement.
Kate came to NTHS in the fall of 1999 when the organization first moved to the campus of Blue Ridge Community College (BRCC) from Spartanburg Co, SC. During her initial year, the first NTHS website was launched, and student rosters were digitized. She has been a part of every technology improvement and upgrade since then. She was there for the move from BRCC to the house and then eventually to our current National Headquarters. During her tenure at NTHS, she has held many titles, from Chapter/Member Services to her current role as Chief Operations Officer. Kate has always been willing to work with any advisor to address a concern or problem, providing excellent customer service. She has committed over 45,000 hours to NTHS and has played an important role in recognizing over 911,000 students during her nearly 23 years of service.
As we look back on Kate's impactful tenure at NTHS, some of our fellow staff members wanted to highlight some of the special memories they share with her: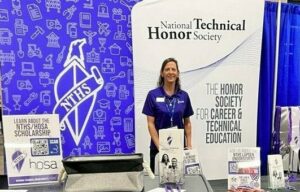 "I was so lucky to get to attend the 2022 HOSA International Conference in Nashville with Kate. We laughed so hard, enjoyed amazing food, admired some outstanding cowboy boots, and bought some crazy socks! Kate, I'm so incredibly lucky to have been mentored by you in my short time here at NTHS. You are an inspiration with your passion and dedication to this organization. I love how positive and kind you always are. Thank you for taking me under your wing and teaching me so much in the little time we've had. I hope you enjoy retirement, and I can't wait to go hiking with you soon!" – Christina Councill, Marketing & Engagement Director
"One day, we had a friendly visitor in the kitchen. He was slithering across the floor at a slow pace. Of course, I went running and screaming because there was no WAY I was going to pick him up. Kate to the rescue! She said, ' awe- he's just a garden snake, he won't hurt you,' then proceeded to pick him and take him outside. That's how I will remember Kate, always willing to tackle anything, even a snake. Here's a little humor for Kate; What do you call a snake that bakes? A Pie-thon! Thank you for being such a wonderful mentor. Your leadership and vision made you a great boss, but your integrity, respect, and compassion make you a great person! Thanks for keeping our team boat afloat. Happy Retirement! Enjoy your time with family, friends, and hobbies- you deserve it!" – Renee Frady, Office Assistant/Customer Service Associate
"What I always think of when I think of Kate is her laughter. I always know she is here when I hear her laughing. Whether it is with one of us here in the office or on the phone. I will miss that! We also share a love for cats!! We have had many conversations about our cats. She did tell me one time that when she retired, she would love to volunteer at an animal shelter. So maybe
she will get her chance."- Lee Ann Corn, Order Processing/Accounting Services
"There are really too many to count, as we have worked together for almost 19 years! I think the first time we traveled to Los Angeles (Anaheim) for a HOSA conference was one of the best… I always learned a lot from how Kate spoke with people… That was my first really lengthy trip with Kate, and though we worked, she made it so much fun! I think we really bonded well on that trip, as colleagues and friends. I will always remember it. Kate – thank you for always being such a great mentor to me, and others, over the years. You're a true professional but also a very compassionate and caring person. You make sure that not only advisors and students are taken care of, but that staff is, as well. I will miss you, but what you have taught me will continue to be practiced. Enjoy your retirement because you have more than earned it!!! Love you!" – Carol Kaczmarek, Chapter Development Director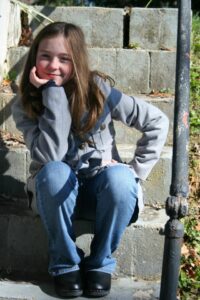 "Some people may not know, but Kate is amazing behind a camera. She was kind enough to offer a fun "photo shoot" with my daughter, Anna Claire when she was 9 years old. I brought her up to the office with me one beautiful fall afternoon and Kate worked her magic. That was 11 years and a million AC photos ago, but they are my absolute favorite and are still hanging in my home today. You and your contagious laugh will be sorely missed! Thanks for pouring your whole self into NTHS for so many years. I hope that your next adventure is full of relaxation, travel, and grandbaby kisses. Oh – and don't forget to take photos of it all. Your someday is here – Enjoy!!" – Allison Upchurch, Scholarship Program Director
"Kate, we have known each other since 1999 when I was a green auditor, and you were brand new to NV-THS. We have both grown and learned so much since then! I appreciate that I have always been able to count on your help and support. I wish you the best on all your upcoming adventures. Keep climbing those mountains!" – Christy Swift, Chief Financial Officer
"We are so blessed to have had Kate as a pillar of NTHS for more than half of our organization's history. The care and passion she has consistently shown to our advisors and members have been a model that has guided us for over two decades. You can never fill the shoes of someone who has left such an incredible mark on an organization, but through her leadership, she has created a culture of service that will continue to drive our organization for years to come." – Peyton Holland, Executive Director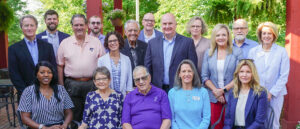 We hope that all of our NTHS members join us in wishing Kate a very happy retirement! Your impact on students across the country can't be overstated, and we are all so grateful to have had the opportunity to work by your side.