The story of the National Technical Honor Society began in South Carolina 32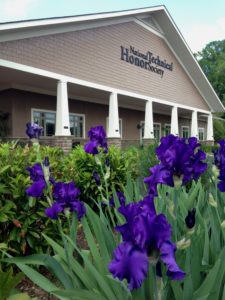 years ago, and I may be the only person still here who fully knows how it all got started. So, on the eve of the 35th Annual Board Meeting this week, and with so many great memories…
In August, 1984, while driving home from a Vo/Tech Directors conference, I had a lot to think about with the opening of school a week away. However, one thing certainly struck home for me at that conference – the endless dialogue and grumbling about the "poor image" of vocational -technical education.
I thought about that on the road home, and it dawned on me that there were honor societies, numbers of them, but none for high-achieving vo/tech students. And then I thought, "I wonder…"
My dear friend and school guidance counselor, Jon Poteat and I acknowledged that the image of vocational education in South Carolina was in decline. Enrollment was down, several programs were facing closure, and we saw the fate of other SC schools confronted with declining numbers.
However, we had many high-achieving and deserving young people attending our career center, and they were our foremost concern. We wanted to lift them up and honor their success, but in a community where academics were held in high esteem, excellence in Vo-Tech education was welcomed but not worthy of recognition or honor.
We thought we could do little to enhance the image of Vo-Tech in South Carolina or in America, but we could honor our own, and that was all that mattered to us. We went to work, fueled by a compelling desire to honor our students and build a stronger, more positive image for our school. We embarked on the journey of a lifetime, a journey of faith, and joy.
The Poteat and Powell families were very close, and we have worked together for years… from dream to vision, and from the vision to reality…the National Technical Honor Society.
Co-Founder, Patricia Poteat became the first NV-THS employee. Pat created a small budget and guided our budding organization through each financial challenge. She managed marketing, mailings, and phone calls from the basement of her home while Jon and I continued to promote the Society, build a Board of Directors, and enlist schools and sponsors.
Gradually, career-tech centers, high schools, and technical colleges joined forces with us. They, too, wanted to lift up their high-achieving students and build a stronger, more positive image for their students and schools.
Today, NTHS member schools and colleges number in the thousands, NTHS has awarded over $2 million in scholarships, and more great things lie on the road ahead.
C. Allen Powell
Co-Founder, Executive Director