The U.S. Presidential Scholars Program was established 54 years ago by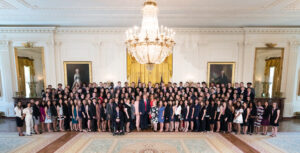 President Lyndon B. Johnson's executive order to recognize and honor some of our nation's most distinguished graduating high school seniors. We are completely beside ourselves with excitement to announce that NTHS member Mikal Goodman from Pontiac, MI was one of the 2018 recipients of this distinctive honor!
Mikal describes his recent trip to Washington, DC:
"Going to DC was an experience I will never forget in any capacity. It was my first trip to the Capitol, and be able to see it in all its glory was not something I expected to do so early in my life. I met a large amount of amazing people; Presidential Scholars, past and present. My advisor, Sage Herrick was probably the highlight of the trip. She was hilarious and I honestly feel she made the experience way better that it would have already been.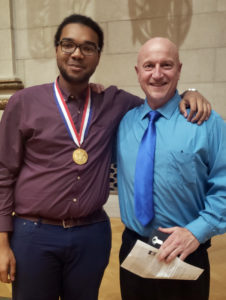 My fellow 2018 Scholars were great people to be around. I really feel they were some of the most intelligent, driven people I have met in my life. I even found my future Secretary of Agriculture while I was there. Not only was she in my group, she was a fellow Scholar from Michigan and a fellow Career and Technical Education Scholar (Coincidence? I think not!).
Besides the people I met, it was an all around great experience. I got to stay in Georgetown, which I must say is a beautiful college with great food. The Medallion ceremony was probably one of the proudest moments in my life so far, and I was extremely thankful that my CTE instructor was able to make it to DC to experience this moment with me.
On day two, I got to enter the White House and take a group photo with the President of the United States and Betsy DeVos (who's hand I got to personally shake). Now while I don't agree with either of them on anything for the most part, it was still an amazing moment in my life that I wouldn't trade for anything. The last night in Washington was the night the Art Scholars put on a performance that I feel could easily rival any musical, play, or Broadway show. The message conveyed was one that was truly needed, a message of acceptance of others and that America's strength and uniqueness comes from the mixing pot of everyone's backgrounds and experiences.
After we got back to campus from the performance, all of the Scholars put on a talent show, which was absolutely amazing, hilarious, and over the top. After we all got back to the dorms, a bunch of scholars and I stayed awake until sunrise, being a bunch of teens.
My trip to D.C was something I am extremely grateful for, and I am glad that I was able to have the chance to experience everything I did and to meet everyone I did. I wouldn't trade it for anything."
Congratulations, Mikal! We're so very proud of you and your accomplishments!