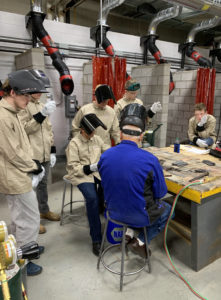 It's pretty hard to talk to Chad Sutton, Career Development Director and NTHS Advisor at Garrett High School in Garrett, IN, and not catch a bit of his excitement and enthusiasm. And there's good reason for that!
Chad has long been a advocate for Career and Technical Education (CTE). Before he began teaching, he owned his own general contracting business where he remodeled and built residential homes. He learned his construction skills by getting his hands dirty and working in the industry when he was younger. "As adults, I think we have done a terrible job of telling our youth what success looks like. "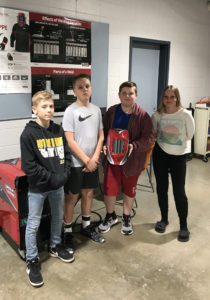 "Telling somebody that they need to go to a 4 year school to be successful is false. I think we need to do a better job of showing kids these opportunities, and I think it starts with us, as teachers and leaders in our community. The community will look to us to define success, and how to make their kids successful. If we're not investigating and researching [for instance] what an electrician's career path can look like, and what skills they need, then we're not doing our students or our community justice, I don't think."
Chad has carried this simple principle through the 11 years he's been an educator at Garrett High School, and he recounts what first began driving him to find a better way to give his students the hands-on learning and career guidance they so desperately they needed. "Kids would graduate, and I'd go pat them on the back and ask them what was next. They'd say 'Well, I don't know. I'll probably just get a job somewhere.' and that just really started to eat at me. I began to think 'We have failed these students!' If that's all they know when they graduate, we have not done a very good job of helping them prepare for life."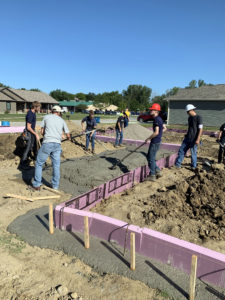 When Lucy Brennan, who lived just across the street from campus, passed away in 2017, she willed her home and the surrounding property to the school's Construction Trades program. "She had visited our open houses that we've had on our [building] projects over the years, but I never really had a chance to say too much to her." Chad says, "She had mentioned that she had always liked the construction program – even way before I got here. She just really wanted to see this happen for our students. It's amazing, really."
This generous gift gave Chad the resources he needed, and set into motion what would become one of the most innovative, hands-on high school learning projects the state of Indiana has ever seen. Garrett High School construction students began by remodeling Mrs. Brennan's existing home. They found pictures of what it looked like when it was first built, and restored the facade to it's original appearance. "On the inside, we completely gutted it. They took everything out, clear down to the studs. Our students put in new mechanicals, reframed everything, gave it a completely new lay out, and really modernized the inside. It took us a year and a half to do, and we sold it at auction. It was a really amazing event."
At the same time, Garrett High School became a part of Indiana's State Earn and Learn (SEAL). SEAL is a customizable work-based program through the Department of Workforce Development, designed to implement various learning pathways for students by including not only an education component, but also an On-the-Job (OJT) training component with local employers. Through the SEAL program they developed, students spend several days a week outside the classroom and on job sites, working as apprentices and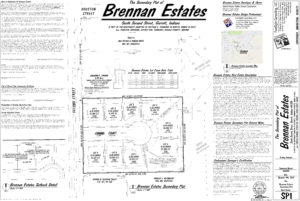 interns for local construction contractors. "It's a very comprehensive program that starts in the 5th grade, and works all the way through their senior year and into an internship. It includes hours of on-the-job training and related instruction, industry recognized certifications, and post-secondary credits that are available to our students." Chad says.
From there, the dream of developing Indiana's first school-owned, student-built subdivision began to take shape. Just a few months ago, the students and faculty members broke ground on what will become Brennan Estates. This coming August, Garrett's construction students will begin building the first of the 9 residential homes that will make up this neighborhood.
There is a ground breaking ceremony this afternoon in Garrett for an entire subdivision of homes that will be student built. Young people building homes in their own community and learning valuable skills.

Posted by ABC21 WPTA on Thursday, December 19, 2019
We are absolutely thrilled to see our NTHS members involved in a project that will not only teach them invaluable hands-on construction skills, but will be a lasting legacy in their community to the wonderful lady who made it all possible!