We've worked hard to add even more value to your NTHS membership, and we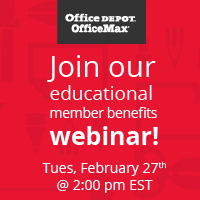 so proud to roll out our new partnership with the national office supply chains, Office Depot and Office Max this past September!
Many of our our members, advisors, and friends have already been enjoying up to 80% off preferred products, free next-day delivery with online orders (over $50), discounted printing prices and much, much more! And the best part of all that has been that for every dollar they've spent through this program, a portion of it has gone towards our NTHS scholarship fund!
We want to make sure everyone knows exactly how to use this fantastic, money-saving program to its fullest, so we're collaborating with Office Depot/Max to offer a free educational webinar on Tuesday, February 27th at 2 p.m. (EST)!
Visit our registration page today to sign up and learn more about how to receive these fantastic discounts on your school and class room supplies!
And for more information on how to start saving now, visit this link today!