We know… December can be an insanely busy and demanding month. Holiday schedules are often packed with activities, as well as a lot of extra financial strain on your piggy bank… Which is why it's the perfect time to begin planning your attack as scholarship season rolls around!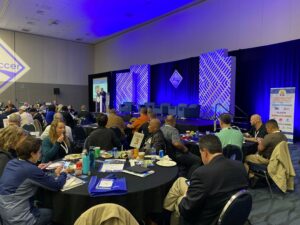 Scholarships don't just provide you with an opportunity for you to go to school; they can connect you to incredible careers. Just this past week, the NTHS team participated in the Construction Pathways Conference hosted by NCCER and Build Your Future in Anaheim, CA. NTHS was joined by over 130 other attendees from education and industry who were present to talk about changing the conversation about the value of CTE and the trades in today's economy.
There are thousands of employers constantly looking for skilled and motivated individuals to become a part of their companies, but they just can't find enough. According to the Society for Human Resource Management, 83% of HR professionals say they have had difficulty recruiting suitable job candidates in the last 12 months. NCCER and Build Your Future are partnering with NTHS to help grow that skilled workforce through five $2,000 scholarships offered annually to students in the construction trades. This scholarship, along with the many others that we offer, will give you the opportunity to learn the skills that business and industry need so that you can find your career today.
NTHS is proud to offer many different scholarship opportunities to our members, and quite a few of those scholarship application periods are currently open. Next month, the remaining scholarship programs we offer will open and begin accepting applications as well.
So don't wait until the last minute! If you're an NTHS member, go ahead and log-in, and get your applications submitted! If you're an NTHS Advisor, encourage your students to apply as soon as possible!
If you have any questions, please email our NTHS Scholarship Program Director, or call us at (800) 801-7090.