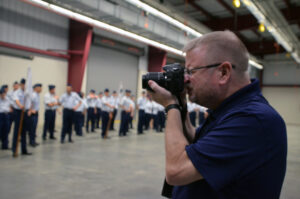 NTHS IT Director, Jeff Parcell, spent his summer vacation volunteering with the cadets of the South Carolina Wing, Civil Air Patrol (CAP). The 2018 Summer Encampment was held at McCrady National Guard Training Center, which is part of Ft. Jackson, near Eastover, SC. The encampment is an eight-day "basic training" for new cadets, and the training is mostly conducted by more experienced cadets. The adult members are primarily present for supervision and transportation.
Jeff served as the Public Affairs Officer (PAO) for the event. With three other photographers, the staff published over 3600 photos of the cadets on various social media platforms during the week. This was the fourteenth consecutive year that Jeff has volunteered his vacation week to serve at this event. "It is important for everyone to find a way to give back to their communities, and this is my way," he said.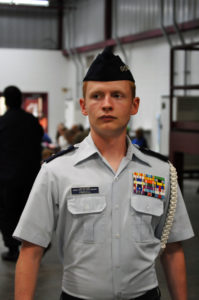 During the week, new cadets are trained in basic military drill, customs and courtesies, were introduced to basic military life and careers in aviation. During the week, the cadets visited Shaw Air Force Base in Sumter, SC, where they toured parts of the base and received an incentive ride on an air force C-17 cargo plane. Later in the week, an air crew flew a Blackhawk helicopter to the base for the cadets to see. The week ended with a formal military dining in and dance.
While there, the chairman of the CAP Board of Governors made her first visit to a CAP encampment. Retired USAF Lt. Gen. Judith Fedder spoke to all of the cadets, and then spoke with female staff members specifically about succeeding in a traditionally male-dominated environment like the military. Jeff even wrote an article about her visit that was featured on the national CAP news website. Read his story here.
Civil Air Patrol, the longtime all-volunteer U.S. Air Force auxiliary, is the newest member of the Air Force's Total Force. In this role, CAP operates a fleet of 560 aircraft, performs about 90 percent of continental U.S. inland search and rescue missions as tasked by the Air Force Rescue Coordination Center and is credited by the AFRCC with saving an average of 80 lives annually. CAP's 60,000 members also perform homeland security, disaster relief and drug interdiction missions at the request of federal, state and local agencies. In addition, CAP plays a leading role in aerospace/STEM education, and its members serve as mentors to over 25,000 young people participating in CAP's Cadet Programs.
To learn more about this program, visit their website. And for current news and information, visit their online newsroom.