From SWVA Today in Wytheville, VA: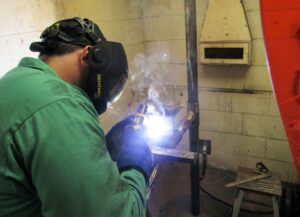 "During her junior year at Patrick Henry High School, Madison Booth, a student athlete with numerous accolades, took advantage of an educational opportunity that not all college-bound students are willing to try.
Madison enrolled in a pharmacy tech program at the Washington County Career and Technical Education Center.
"It was great. I learned a lot," Madison said.
"I'm using my pharmacy tech credential as a job opportunity during college because there are a lot of pharmacies around here, and it's a good way to pick up a few work hours while I'm away at school," said Madison, who is being considered for a job at a local pharmacy while attending Virginia Tech in Blacksburg, Virginia.
Madison is among numerous students who are discovering that their local career and technical education center is not the same vocational school their parents attended decades ago.
Educators no longer refer to the skill-based education as "vocational." Instead, the name "career and technical education" is a better fit for all students, particularly those who may want to further their education after high school.
"Career and technical education is for everyone, whether you're a college-bound student or not," said Brian Johnson, principal at Washington County Career and Technical Education Center. "We have many students who have intentions of going to college."
Johnson explained that programs at the center were more vocational decades ago.
"We had the basics — things like plumbing, welding, electricity, auto body and masonry. It was primarily designed to prepare students to find jobs as soon as they graduated from high school.
"While those important skills are still offered, we've added programs that are increasingly sophisticated and prepare our students for science and technology careers that often require education after high school," he said."
To read more, click here.