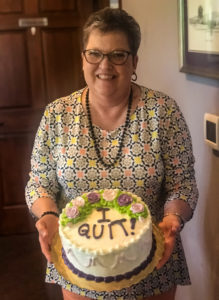 It is with both joy and sorrow that we announce the impending retirement of our Order Processing Specialist, Gayle Van Der Wiele.
Gayle has been an outstanding addition to our staff for almost five years now, and her priceless contributions in that time have been integral to our success and continuity as an organization. Her last day is planned for Friday, August 30th.
She intends on spending her well-deserved retirement with her husband, Charlie, traveling the country (and possibly even Canada), visiting family and friends all across the Southeast, and spending some quality time as a caretaker to her elderly parents in Tennessee.
"I have really enjoyed working with our Advisors and students, helping them with their orders, and making sure they're processed correctly. I believe in NTHS and its mission to honor CTE students, and I'm grateful for the opportunity I had to work here." Gayle says.
"And purple is my favorite color… So it's been nice to have been around a lot of purple!" She adds.
We will forever be grateful for Gayle's dedication, hard work, and commitment here at NTHS, and we celebrate with her as she moves on to this new and exciting step in life.