It's the final week of Career and Technical Education (CTE) Month®, we're continuing to highlight the life-changing work our partners in CTE are doing across the country. This last week of CTE Month® we're shining the spotlight on our partners at HOSA-Future Health Professionals.
HOSA's mission is to promote career opportunities in the health care industry, and to enhance the delivery of quality health care to all people. They work to empower their members to become leaders in the global health community through education, collaboration, and experience. With over 245,000 members since 1976, they strive to develop leadership and technical HOSA skill competencies through a program of motivation, awareness, and recognition, which is an integral part of the Health Science Education instructional program.
We are proud to be partnered with HOSA, and we're honored to offer an exclusive scholarship opportunity to our mutual members who are seeking further education in a Health Science career field.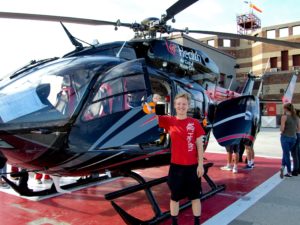 Ryan DeNoma was in high school when he realized he wanted a career in medicine. "I went on a field trip my sophomore year of high school to a career technical school, Butler Tech, to learn about the medical field. I will admit, I just went on the trip because in my eyes, it was day away from school. But I soon found it to be anything but that. I was immediately captivated by all the interesting equipment, stories, and the idea that I could help people in their most vulnerable moments. " Ryan eventually transferred to Butler Tech, and now he is working towards his degree in nursing at the University of Cincinnati.
He was proud to have served as the President of his NTHS chapter in high school, and currently, he's the Vice-President of the American Association for Men in Nursing chapter at his school. Ryan credits his involvement and education in CTE for the person he's become. "Being involved in CTE, and being a member of NTHS was when I really broke out of my shell in high school. I chose to leave what was familiar – all my friends, teachers, even my own twin – to go to a school that I believed was right for my academic future. I made new friends with fellow students who shared my interests of the medical field, was welcomed by the teachers with open arms, and I was given opportunities to shadow staff and interact with patients in a hospital setting. In the National Technical Honor Society, I was able to strive for goals that I otherwise would have never thought possible. I also learned persistence, and to remain determined when my goals appear untouchable."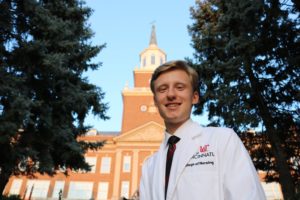 "CTE is important because it is a hands-on learning environment where you can find your calling. I learned discipline, time management, and professionalism in my program. I landed a job right out of high school with the State Tested Nursing Assistant certification that I earned in my CTE [courses]. I used that job to learn more from the nurses I worked with… I know of fellow juniors in college who still don't know what they want to do as a career. With the help of CTE, I knew before I even graduated high school."
Ryan firmly believes that involvement in organizations like NTHS and HOSA allows students to not only grow as professionals, but also helps them lead and advocate for their fellow students. "We were given a voice to what happened in our school. We worked with the staff leaders and the principal to create events and new initiatives to improve student life."
Ryan fondly remembers a "buddy system" he helped create for incoming students. In this program, new students transferring from traditional high schools to his CTE school were matched up with older students, to help create an easier transition for them, and to provide them a friend right as they arrived at their new school.
"NTHS made being successful at CTE rewarding. NTHS gave me a sense of accomplishment."
In 2017, Ryan was a fortunate recipient of the NTHS/HOSA Scholarship. "Receiving a scholarship from NTHS helped financially relieve the pressure of college tuition, but it also helped me believe that I could be successful in the next chapter in my education. Knowing that I was selected for my accomplishments in high school gave me the feeling I could overcome anything I had in store in nursing school."
Students like Ryan are the reason NTHS and our partners at HOSA do what we do, and we're honored to be a part of his journey as he works to change the world!
The NTHS/HOSAScholarship is currently accepting applications until March 15th, 2020. For more information on this scholarship, as well as our other scholarship opportunities, click here.