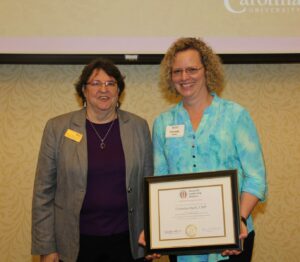 We're so proud of our Chief Financial Officer, Christy Swift, who was part of Western Carolina University's first graduating class in their Certified Non-Profit Program a few weeks ago!
From WCU's website:
"Josh O'Conner, director of Buncombe County Recreation Services, and Christy Swift, CFO of the National Technical Honor Society, were honored for completing the year-long Certified Nonprofit Professional Program offered through Western Carolina University during a ceremony held Aug. 2 at the Hilton Asheville Biltmore Park.
O'Conner and Swift are the first two graduates of the program.
"We are very proud of Josh and Christy for their commitment to the nonprofit community," said Susan Fouts, executive director of WCU's Division of Educational Outreach. "WCU is committed to serving WNC, and sharing educational resources with the nonprofit sector is critical to the economic development of the region."
Kevan Frazier, executive director of WCU's Biltmore Park Programs, said the university has been committed to Western North Carolina since its founding. "Today, we are celebrating that commitment – especially in the nonprofit community," he said."
To read more, visit their page.