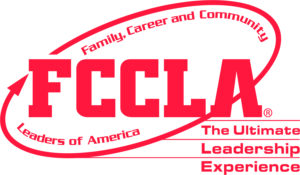 It's week number two of Career and Technical Education (CTE) Month®, and we're honored to continue shining the spotlight on the life-changing efforts our many national Career and Technical Student Organizations (CTSO's) do across the nation. So this week, we're celebrating our partners over at Family, Career and Community Leaders of America (FCCLA) by commemorating FCCLA Week!
FCCLA serves over 175,000 members in more than 5,300 chapters across the country. They offer intra-curricular resources and opportunities for students to pursue careers that support families. Their mission is to help students and teachers focus on a variety of youth concerns, including parenting, family relationships, substance abuse, peer pressure, sustainability, nutrition and fitness, teen violence, and career preparation in four specific Career Pathways.
We are very proud of the fact that many of our NTHS members are also active members of FCCLA, and we are thrilled to offer an exclusive scholarship opportunity to our mutual members through our partnership with them.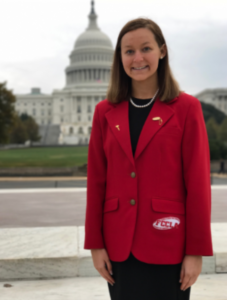 Madison Comer is not the kind of gal that shies away from a challenge. We're pretty sure that's why she's currently a sophomore at Connecticut College, double majoring in Classical Studies and Philosophy . "During my first semester of college I grew fond of learning about the ancient world, while taking two different classics courses: The Roman World and Socrates. I became fascinated in comparative analyses of ancient issues, and how they are reflected by the modern world, and the examination of arguments using the Socratic method. Not only are these two fields fitting for each other, but they will also equip me with the necessary knowledge and skills to one day attend law school."
She has been on the Dean's High Honors list for the past three semesters straight, and she loves to run, hike, bake, read, travel, and play ultimate frisbee. "Prior to college, I attended a small, rural public school. I was concerned that my academic experience would not be able to compare or compete with other students who attended rigorous private schools. Nevertheless, I have found that the work ethic and enthusiasm I developed through Career and Technical Education (CTE) has taught me how to advocate for myself as a student, and instilled confidence in the work I produce."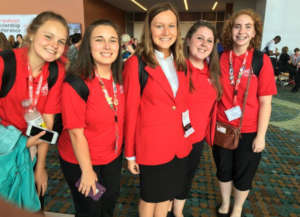 "Being involved in CTE has equipped me with life skills that cannot be achieved through a standard education system. My experience in CTE has better prepared me for the workforce by teaching me skills such as: networking, professionalism, interpersonal communications, and teamwork. NTHS enhanced my experience with CTE by giving me a reputable platform to speak out for CTE within and outside of my community. As a result, these experiences have helped me develop into a stronger leader and advocate, which has opened many opportunities for me… Without CTE and NTHS, I would not be able to take on the challenges I face in college and the workforce and I would not have developed into the well-rounded leader I am today."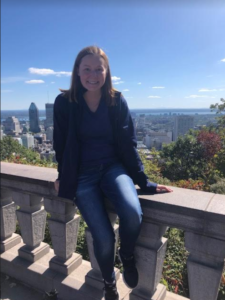 In 2018, Madison was one of the fortunate students to receive the NTHS/FCCLA Scholarship. "My scholarship from NTHS helped further my education by allowing me to take part in educational experiences such as studying abroad. This past summer I was offered the opportunity to study abroad in Greece to further my education in Classical Studies. I spent a month living in Athens and traveling around the mainland of Greece, to learn more about ancient civilizations and the effect that they have on our lives today by, examining archaeological sites and architecture. Without my NTHS scholarship, I would not have had to resources and opportunity to participate in this program and enrich my knowledge in a subject that I am passionate about."
Students like Madison are the reason NTHS and our partners at FCCLA do what we do, and we're honored to be a part of her journey as she works to change the world!
The NTHS/FCCLA Scholarship is currently accepting applications until March 1st, 2020. For more information on this scholarship, as well as our other scholarship opportunities, click here.