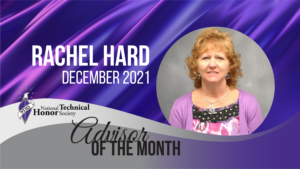 Rachel Hard, the Work Based Learning (Co-op) Coordinator at Branch Area Careers Center in Coldwater, Michigan has been an NTHS advisor for nearly 20 years! Rachel works hard to ensure that her CTE students feel recognized for the hard work they're doing in and out of the classroom! As our Advisor of the Month for December 2022, Rachel took some time to answer some questions about her time as an NTHS advisor. Take a look at her answers below!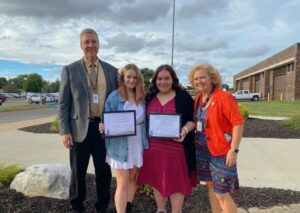 Why is Career and Technical Education important to you?
Career and Technical Education is important to me on so many levels. First of all, I love to watch students engage in their CTE program and discover their passion for a trade they never even knew existed or didn't understand the depth of the career. Many times our students have not found great success in the traditional classroom, but when they come to the BACC, the opportunities for hands-on learning and the facilitation of learning from the CTE teacher help the student bloom. As the Placement Coordinator, I get to coordinate a culminating CTE step; which is employment in the student's selected field. The students are so excited to show me the tasks they perform on their job and the success and praise their employer bestows upon them. CTE is the bridge from high school to careers and I am so proud to be a part of it!
You've been an NTHS advisor for nearly 20 years, which is awesome! What are your keys to successfully managing your chapter and keeping your members interested in and engaged with NTHS? We welcome your ideas so that other advisors and chapters may benefit!
I think our biggest success is due to the reputation and prestige that our NTHS Chapter holds. Students know it is an honor to be inducted and they take their NTHS membership very seriously. I believe this is because we treat each membership application process with seriousness and professionalism. Our induction ceremony is semi-formal and we invite parents and other VIP's to watch. We also publicize our induction through our printed newspaper, social media, and through announcements at all of our local schools.
NTHS is so grateful for your tenure as an advisor. What advice would you give to our newer advisors who may be just starting out with their chapters?
My advice is to always consider the ways you can honor the deserving students in your student body. Many times our CTE students are not considered for the typical high school accolades. We purposely seek ways to lift up our students with their successes in the CTE classroom and corresponding job sites. And, publicize your chapter! It is so easy to post photos and articles to newspapers and social media.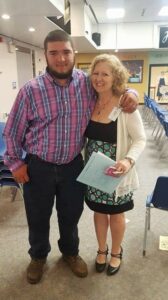 What advice would you give your current students on how to make the most out of their CTE experience?
I advise students to always try something first before making a judgement on the activity or task. And, I encourage students to participate in Career & Technical Student Organizations (CTSOs) and embrace the opportunities that those youth clubs offer. Also, I encourage students to establish career goals and strive to achieve them.
As the leader of your school's NTHS chapter, what accomplishments (yours or your students') are you most proud of? These can be chapter activities, campaigns, community outreach, etc. Please share your stories!
I am most proud of our community service. Our chapter has helped food pantries, stuffed backpacks for schools, and assisted at community events. Also, our NTHS members are the Ambassadors of our school. So our members host Parent Teacher Conferences and Open Houses. The students assist by greeting parents and the public, giving tours, and answering questions.
Tell us a little about yourself…Your family? Your pets? Your hobbies and interests?
I have been a teacher for 33 years and my husband and I are blessed to have raised four children who were all inducted into NTHS when they were in high school! All four are now successful in their respective careers and I am so proud of each of them. We are also blessed with six grandchildren and I am so lucky that they live close by and we share an active grand parenting part in their lives. My husband and I constructed our log home in 1994 on a 120-acre farm in Southern Michigan. My husband and sons farm 600 acres of field corn and soybeans. When our children lived at home, we were active in 4-H by showing livestock animals. I am still a 4-H leader today. I am also a member of the Branch County United Way, Branch County Community Foundation, and the Quincy Union Church. I love spending time with my family and friends.
If you're interested in nominating an NTHS Advisor to be our Advisor of the Month, click here.