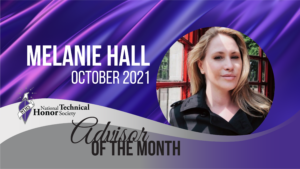 Melanie Hall is our Advisor of the Month for October 2021! She currently serves as the Director of Marketing and Community Engagement at Davis Technical College in Kaysville. Utah and has been an NTHS advisor for over 6 years! Her chapter has been bringing some large membership numbers in recent years so we wanted to learn more about how Melanie utilizes NTHS at her school. Take a look at her answers and see what you might be able to use in your NTHS chapter!
Why is Career and Technical Education important to you?
"Traditional college pathways can often be a barrier to some students.Technical Education is one of the most accessible education options, where students can start and finish a high-wage, high-demand career pathway in about a year."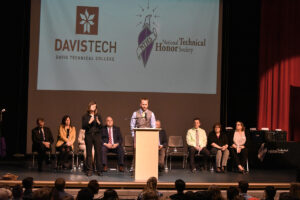 You've had large groups of NTHS members the past several years. What are your keys to successfully managing your chapter and keeping your members interested in and engaged with NTHS? We welcome your ideas so that other advisors and chapters may benefit!
"The key to high participation at our college comes down to our faculty promoting the importance of NTHS membership. Our students know that to be nominated is a recognition of their hard work and efforts. They are proud to become members. Even in a challenging pandemic year, where we have had to hold our induction ceremonies virtually, we have had higher rates of membership than ever."
October is Careers in Construction Month, and Davis Technical College has several construction programs. Do you regularly induct students in the construction trades?
"Yes, our construction programs are frequently inductees. As apprenticeship students, they work on the job and take classes at night. They know the value of their skill in the workforce, and excel in our programs because of it."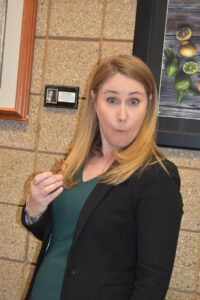 What advice would you give your current students on how to make the most out of their CTE experience?
"Show up, work hard, go far. Make the most of the opportunities that come to you. Your faculty are here to ensure you have the solid foundations to build a successful future."
As the leader of your school's NTHS chapter, what accomplishments (yours or your students') are you most proud of? These can be chapter activities, campaigns, community outreach, etc. Please share your stories!
"I am most proud of our students. The only event I love more that the NTHS Induction Ceremony is a graduation ceremony. I love to see their faces when their loved ones stand and honor them for all of their hard work and success. I absolutely love that moment!"
If you're interested in nominating an NTHS Advisor to be our Advisor of the Month, click here.