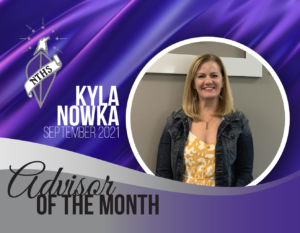 Kyla Nowka is our Advisor of the Month for September 2021! Kyla is starting her 4th year as an advisor at Warren Tech, which has 3 campuses in Colorado. Her chapter has an amazing structure that includes various different CTE programs and they've been able to put to on some awesome activities! Take a look at Kyla's answers to our questions and see what you can use back at your own NTHS chapter!
Why is Career and Technical Education important to you??
"I began my career as a social studies teacher in a traditional high school. I had very little knowledge or understanding of CTE until I began teaching at Warren Tech. After my first day, I was in awe of what these students accomplish, their skills, knowledge, and ambition. We all have different gifts and many students have fallen through the cracks in traditional education. We need to continue to invest in and amplify these programs to highlight the value they add to our educational system. Our CTE students are eager to learn and see the application and purpose of school. They take what they are passionate about and turn it into a career and a future. I wish every student could experience a CTE education because it changes people's lives."
How do you kick off a new school year with NTHS? Does your school have a "Club Rush" Day or something similar where you have a booth to promote NTHS? Are there posters around your campuses and do other CTE teachers have brochures on hand? Do you have informational meetings for students who wish to join?
"Warren Tech has three campuses – Central, North, and South, boasting 37 different programs. Because of this the best way to kick off the school year is with an informational meeting on all three campuses. Students are invited via email and their program instructors are given a list of their students that are eligible for membership. After our informational meeting, we follow up with emails, announcements, and posters around the school. Once students have made the decision to join, we have set monthly meetings. Students join a Google Classroom where we post reminders, announcements, and communications between our set meeting dates. "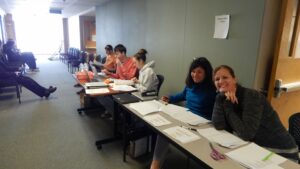 You've had successful chapters at two of the Warren Tech campuses the past few years, and have just added a chapter to the third campus! How do you successfully manage three chapters and keep all your members interested and engaged with NTHS? We welcome your ideas so that other advisors and chapters may benefit!
"I am the teacher-librarian at all three campuses, and this year, we had over 800 students that were invited to learn more about NTHS and join the organization. Every year I work with my colleagues and co-advisors Frances Johnson and Patty Robertson to go over what worked, what didn't, and how we can better organize, plan and manage all of the students in NTHS. We use Google Classroom, our school website, and email to get information out to all of our students. We hold monthly meetings at each campus to discuss and plan our service project opportunities. This year, we plan to have set projects to help our NTHS students practice their leadership skills and support the neighboring communities."
What?advice would you give your current students on how to make the most out of their CTE experience??
"Don't take this opportunity for granted. Not everyone gets the chance to learn in an environment that fosters creativity and allows you to pursue your dreams. Your teachers are experts in their field and can offer you the hands-on experience that you need to succeed after graduation. Don't be afraid to make mistakes, that is how we learn. Share your knowledge and experience with others and let them know the value of what you are learning in your program."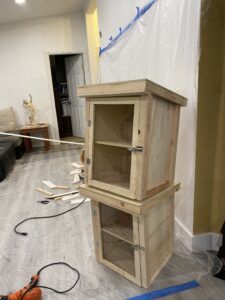 As the leader of your schools' NTHS chapters, what accomplishments (yours or your students')?are?you most proud of??
"Last year due to COVID restrictions, students chose a passion project and created presentations highlighting what they completed. We met with them virtually and supported them throughout the year with their projects. We were in awe of the ingenuity and dedication our students put into these projects. We had students building free little libraries, holding clothing and food drives, volunteering their time at local nonprofit organizations, tutoring, making dog toys for a local animal shelter, organizing letter-writing campaigns for those that were isolated during the pandemic, just to name a few."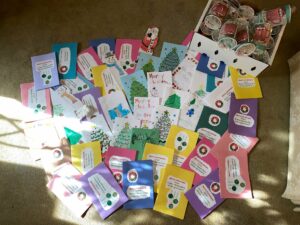 Tell us a little about yourself…Your family? Your pets? Your hobbies and interests??
"I taught for 18 years as a high school social studies teacher before leaving the classroom to become a digital teacher librarian. At Warren Tech my role is an education technology instructional coach. I have been married for 17 years and we have three wonderful boys ages 15, 13, and 9. I love to travel and explore the world, cheer on my three boys at their football, basketball, and lacrosse games, and taking trips up to the mountains to enjoy the crisp Colorado air and do some fly fishing."
If you're interested in nominating an NTHS Advisor to be our Advisor of the Month, click here.