The staff at NTHS is eternally grateful for the hard work, perseverance, and effort all our Advisors pour into their roles as NTHS leadership, and into their students on a daily basis. We know that we literally could not continue our mission to honor high-achieving Career and Technical Education students all across the nation without their constant support and dedication.
But every once in a while, we're just dazzled by an Advisor that truly goes above and beyond to engage and enrich their NTHS members… And these people are truly our shining stars!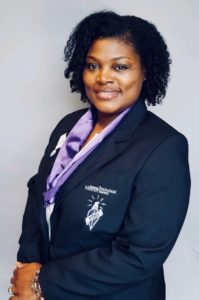 So this month, we'd like to introduce you to our friend, Katrice Taylor.
Katrice has been an NTHS Advisor for 9 years at South Georgia Technical College in Americus, GA, where she teaches English.
We asked her a few questions so we could get to know her a little better…
Why is Career and Technical Education important to you?
Career and Technical Education is important to me because a university setting is not suitable for everyone but this population still needs to be able to receive some form of education if they choose. Technical education allows for people who don't want that university environment to receive some form of education to be ready for the workforce.
As the leader of your school's NTHS chapter, what accomplishments (yours or your students') are you most proud of?
We are most proud of our community service projects like our Holiday Mail for Heroes which sends Christmas cards to our men and women serving overseas for the holiday. We also have been the recipient of the NTHS Silver Star of Excellence for numerous years running now.
Have you done any activities, projects, campaigns, and/or community outreach with your NTHS chapter that you feel were successful? Tell us about them!
We have done various projects with the chapter. We do a back to school supply drive to help a local tutoring center in the area. We have a Domestic Violence Awareness Program in October to bring awareness to the men and women who have to go through this ordeal. We bring awareness to Earth Day by setting up a table and handing out materials to students so that they will realize that we need to take care of our Earth and we bring awareness culturally by highlighting Hispanic Month and Black History Month. We also hold book drives to provide books for and read to the local Pre-K in our area. Recently we had a gently used stuffed animal drive to provide comfort toys for the kids of trauma for the local EMT program at our school.
Tell us a little about you… Your family? Your pets? Your hobbies and interests?
I have been married for 10 years. I am married to my husband Shon and we have three boys, Tyjae, Jalen and Jakari. We have a Shih Tzu named Malachi and I love to read and watch the ID channel and various real life crime shows. I am currently serving as the Vice Chair for the Dooly County Board of Education and I am a member of Delta Sigma Theta Sorority, Inc.
Thank you for all you do, Katrice!!!
---
If you know of an NTHS Advisor that you'd like to nominate to be featured as our Advisor of the Month, email tblack@nths.org and let us know!