The staff at NTHS is eternally grateful for the hard work, perseverance, and effort all our Advisors pour into their roles as NTHS leaders who are developing and inspiring students on a daily basis. We know that we could not continue our mission to honor Career and Technical Education students across the nation without their constant support and dedication.
Each month, we like to recognize one of our outstanding Advisors who has been nominated by their peers, students, family, or NTHS colleagues for the NTHS Advisor of the Month. If you would like to nominate someone to be featured as our Advisor of the Month, just email Carol K. and let us know!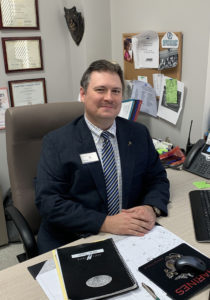 This month, we would like to introduce you to our friend, Duke Wallin.
Duke has been working in education for 21 years, and has been an NTHS Advisor for more than 11 of those years. He is currently the Career and Program Development Coordinator at Southeast Area Technical High School (SEA-Tech) in Castle Hayne, NC.
We asked him a few questions so we could get to know him a little better and, given that it is CTE Month© some activities he and his students may be participating in to help spark ideas for your local chapter.
Why is Career and Technical Education important to you?
Career & Technical Education is important to me because it provides relevance to students and what they are learning, both in and out of the classroom. CTE helps people be productive in society, and promotes citizenship. It makes the world work (pun intended). As a product of vocational education myself, when I was in school I went to a vocational-technical school. Here I learned first-hand about doing something I love, and finding my passion. CTE includes relevance and real world experiences that keeps kids in school. The benefits of a career tech education are endless.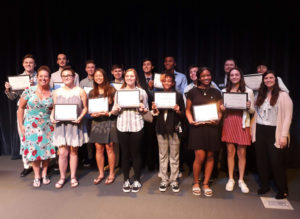 Is your school or chapter planning anything special for CTE Month©?
Students at SEA-Tech in New Hanover County are giving back to their school and their community as part of a celebration behind national CTE Month©. Besides a number of other CTE related events happening on campus, members of NTHS will participate in hosting and serving breakfast to both their high school and college instructors from Cape Fear Community College. This is the first time some of the college instructors will visit the new school location since SEA-Tech left the North Campus of the community college this past summer.
For the last two years, the PTA has supported an appreciation breakfast for the CTE staff of both the high school and CFCC. Now there are students enrolled in the college level Culinary Arts program on campus, so while those students prepare breakfast treats, the NTHS students will act as hosts and servers for the event. NTHS members will also serve as ambassadors, giving guided tours of the campus to visitors.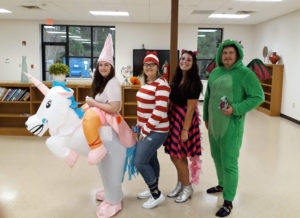 Also this month, members of NTHS will attend a planning meeting for Work on Wilmington, a service learning project for the community. This is an event that happens later this spring, but takes weeks of planning ahead of time to run smoothly. Hundreds of community members and organizations get together to beautify the Greater Metro-Wilmington area by planting trees, putting a fresh coat of paint on a park benches, and cleaning up debris from a vacant lot. This model is active in more than 50 cities across the United States.
As the leader of your school's NTHS chapter, what accomplishments (yours or your students') are you most proud of?
Three years ago, we opened a new technical high school in New Hanover County, and just now had an opportunity to engage our students (1st time junior class) in the National Technical Honor Society. Out of 42 juniors, 16 were eligible for induction based on our standards. Of those 16, fifteen decided to join because they believe in the philosophies of the organization, and found they too would like to belong to an established group with NTHS guiding principles. SEA-Tech looks forward to continuing to have increasing membership goals as well as represent our school in a positive way. I've been a NTHS advisor at other schools; the students here find more relevance in a membership with NTHS than just being a resume builder or something that looks good on a college application, because the school has a technical education theme. I'm very proud of the student/members. The average GPA of our members is 3.82.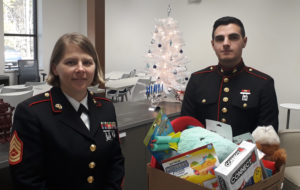 Have you done any activities, projects, campaigns, and/or community outreach with your NTHS chapter that you feel were successful? Tell us about them!
After completing a district wide induction into NTHS (6 of our district schools), SEA-Tech had the most representation at the event. This included student participation, membership, teacher presence, and we were the only school with administration attending. This happened in late November. After Thanksgiving recess, the kids came back and asked, "What can we do for the holidays as part of NTHS, and giving back to the community?" My co-advisor, Brandi Barry helped to come up with ideas from the students. We decided to team up with the US Marine Corps, and organized a "Toys for Tots" campaign. One hundred percent of our students participated, bringing in multiple unwrapped gifts for the children. We were both extremely proud of our school and members, pulling an event off so new to NTHS. The students are already asking what our next event/project will be.
Tell us a little about you… Your family? Your pets? Your hobbies and interests?
I dislike this question…telling about myself. But, honestly school is my life. I love my job, and I love the kids! There is nowhere else I'd like to be, despite the politics, no state budget, and low pay; education was my calling. My immediate family includes my cat Abby. She can kind of take care of herself on long school days, but is a good companion when I am home relaxing. The rest of my family are back in New York and Pennsylvania. My parents are Rick and Colleen, who have supported me and my endeavors over the years. I also have an aunt and uncle, another aunt and my grandpa; who turns 94 this March. I try to get up there to see family about once a year. To their blessing, I've made my co-workers like Brandi, Edie, Heather and many of my former students my southern family. Hobbies include sports, camping, hiking, fishing, Netflix originals, music, weekend travel, dinners out, cookouts, and because I live in Wilmington… the beach (whenever I can get there). Thank you for the opportunity for our school to be recognized. I/we look forward to being a part of NTHS as we grow.
Thank you for all you do, Duke!!!