The staff at NTHS is eternally grateful for the hard work, perseverance, and effort all our Advisors pour into their roles as NTHS leaders who are developing and inspiring students on a daily basis. We know that we could not continue our mission to honor Career and Technical Education (CTE) students across the nation without their constant support and dedication.
Each month, we like to recognize one of our outstanding Advisors who has been nominated by their peers, students, family, or NTHS colleagues for the NTHS Advisor of the Month. If you would like to nominate someone to be featured as our Advisor of the Month, click here to let us know!
This month, we'd like to introduce you to our friend, Dr. LaJoyce Weatherspoon.
Dr. Weatherspoon has been teaching in high schools, middle schools, and post-secondary schools for over 22 years. She's currently teaching Personal Finance at Northeast High School in Clarksville, TN, where she's been the NTHS Advisor for 10 years.
We recently caught up with Dr. Weatherspoon, and asked her a few questions so we could get to know her a little better…
Why is Career and Technical Education important to you?
As a CTE instructor, Career and Technical Education is and has been my passion for many years, even before it was called CTE. CTE is important because it teaches essential, employable skills, prepares our students for career and college-readiness through real-world experiences, and gives opportunities for hands-on instruction/projects/simulations, work-based learning, industry certifications. It gives students opportunities that no other curriculum can ever match. It is a phenomenon that is worthy for others to emulate.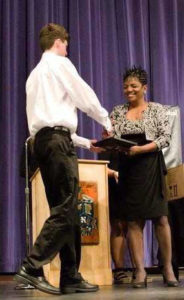 Millions of students across the country have had their education disrupted over the last few weeks. What advice would you want your students, and other students across the nation, to hear most right now, and what can they be focusing on during this time?
Focus on protecting yourselves, your families, and your friends. Be cautious—wash your hands, use hand sanitizer, cover your coughs, wipe down surfaces, don't drink after others, and avoid shaking hands and touching your face. Stay informed, follow social distancing requirements, continue learning, and check your school resources to ensure your education continues. Build up your immune system. Eat healthy, exercise daily. More importantly, pray and keep a positive outlook on life. Don't be discouraged. Instead, think of ways to encourage others. Hold on, trust God and know that we will get through this together. Always remember, we are working hard on your behalf, and we look forward to positive news soon. May God bless you and your families, and keep you and your families safe.
As the leader of your school's NTHS chapter, what accomplishments (yours or your students') are you most proud of?
Our Induction Ceremony this year, where we inducted 29 new members and retained 20 second-year members.
Have you done any activities, projects, campaigns, and/or community outreach with your NTHS chapter that you feel were successful? Tell us about them!
Our NTHS students assist our elementary schools and community throughout the year: volunteering and mentoring younger students, assisting with reading nights, fall festivals, field days, and parents' workshops. For 2 years, our NTHS chapter has sponsored a community toy drive for children whose parents are in prison, and for over 5 years, we've planned food drives for our community's impoverished population.
Tell us a little about you… Your family? Your pets? Your hobbies and interests?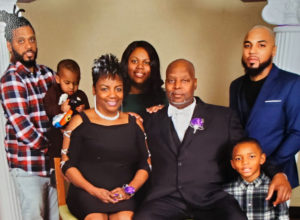 I'm a Clarksville native, blessed with a supportive family (my husband, awesome adult children, and grandchildren). I am proud to be a CTE instructor, a licensed administrator, and a NTHS Advisor for over a decade. I implemented the first NTHS chapter in our school district. My passion is education, and I have an Associate of Science degree in Office Management, a Bachelor of Business degree, a Masters of Science degree in Public Health, an Education Specialist degree in Education Leadership, and a Doctor of Education degree in Instructional Leadership. My dissertation was called "An Analysis of the Career Technical Education Students' Performance on CTE Courses, Non-CTE Courses and the ACT," and it focused on CTE. I have had the opportunity to serve as Director of After-School Programs, Administrator, Summer School and the Coordinator, Service Learning and Banking and Finance programs. I will continue to do my part to promote student achievement, empower faculty and staff, embrace the whole child concept, and prepare students for post-secondary opportunities.
Thank you for all you do, Dr. Weatherspoon!