The staff at NTHS is eternally grateful for the hard work, perseverance, and effort all our Advisors pour into their roles as NTHS leaders who are developing and inspiring students on a daily basis. We know that we could not continue our mission to honor Career and Technical Education (CTE) students across the nation without their constant support and dedication.
Each month, we like to recognize one of our outstanding Advisors who has been nominated by their peers, students, family, or NTHS colleagues for the NTHS Advisor of the Month. If you would like to nominate someone to be featured as our Advisor of the Month, email tblack@nths.org and let us know!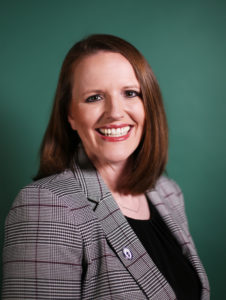 This month, we'd like to introduce you to our friend, Andrea Verser.
Andrea has been a certified teacher in Advanced Mathematics for 15 years, and she's also more recently been certified as a school counselor and as a mild to moderate disabilities educator. She's been teaching at Canadian Valley Technology Center (CVTECH) in Chickasha, OK as an Instructional Math Coach for 9 years now, and has served the past 5 of those years as the NTHS Advisor on campus.
Looking for a little inspiration on how to get your NTHS members more engaged? All the NTHS chapters on CVTECH's various campuses are highly involved in their schools and their communities, and they've been recipients of NTHS's Silver Star of Excellence Award in the past. We asked her a few questions so we could get to know her a little better, and maybe hone in on the methods she uses to lead her chapter with such fantastic involvement and success!
Why is Career and Technical Education important to you?
CTE is important to me, because it prepares students for success. As an instructional coach and an NTHS Advisor, I not only get to help students get a job, but I share with them the academic and soft skills to keep a job. CTE allows students to make jobs their careers. I tell every student, "Once a CTE student, always a CTE student." I love education, and watching students become successful employees.

As the leader of your school's NTHS chapter, what accomplishments (yours or your students') are you most proud of?
As an Advisor my biggest success for our 3 chapters at CVTECH was being honored with the Silver Star of Excellence Award for the 2018-2019 school year. Personally, my biggest accomplishment with NTHS is being able to serve the great state of Oklahoma as the Chair on the Oklahoma NTHS Executive Council for the 2019-2020 school year. My biggest accomplishment with my campus chapter is getting to know every student personally, and watching them grow as a professional.
Your schools have been recipient of the Silver Star of Excellence Award in the past. Why is applying for this award important to you?
All three NTHS chapters at CVTECH were awarded the Silver Star of Excellence Award in 2019. It was important to me as an Advisor to apply because I wanted to highlight the outstanding work of our students. Applying for the Silver Star of Excellence Award allowed CVTECH to gather data on the Seven Attributes of NTHS – Skill, Honesty, Service, Responsibility, Scholarship, Citizenship and Leadership. The data showed CVTECH's students are focused on the Seven Attributes of NTHS, and it also revealed to me as an Advisor where we need to focus and grow. It was an honor to win the award, but what the data revealed was the true reward. The Silver Star of Excellence Award highlights your NTHS chapters' successes and acknowledges your areas of need.
What do you hope your students will gain by working for and receiving the Silver Star of Excellence?
I hope my students will gain success in the workplace by working for, and receiving the Silver Star of Excellence. My goal as an educator is to create successful employees. I know focusing on enhancing their Skill, Honesty, Service, Responsibility, Scholarship, Citizenship and Leadership in my local NTHS chapter is key for my students to experience success in the workplace.
Tell us about your past and/or upcoming induction ceremonies. Do you do anything special during these events? When you're planning them, what is it that you're hoping your students will experience?
Our NTHS induction ceremony takes place in the Spring of every school year. I am excited to share CVTECH Chickasha is inducting 78 students into NTHS this year! All members of the NTHS are responsible for the success of the NTHS induction ceremony. The ceremony is special because it is student led and student centered. After students have received the congratulatory letter, they have a meeting to organize the NTHS induction ceremony, and they choose the parts they would like to perform during the ceremony… All the local CVTECH NTHS Advisors believe the students' ownership in the ceremony teaches them responsibility. Our NTHS chapters create opportunities for students to gain responsibility with high standards, and the expectation of these standards are maintained throughout their education at CVTECH.
Have you done any activities, projects, campaigns, and/or community outreach with your NTHS chapter that you feel were successful? Tell us about them!
NTHS students at CVTECH are busy both in the fall and the spring. They are making CVTECH proud year round.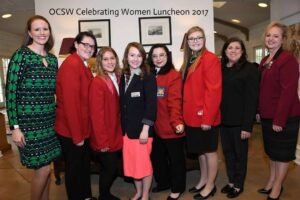 The NTHS members have been honored to serve as junior hostesses for the past three years at Oklahoma Commission on the Status of Women's (OCSW) events. The OCSW is a strong, recognized, and respected voice for the women in Oklahoma. Young women of the NTHS Chickasha chapter have met amazing women from Oklahoma such as the respected Governor Mary Fallin, the talented Grammy award winning Leona Mitchell, and the graceful Jane Jayroe, Miss America 1967, just to name a few. The ladies have been exposed to women in leadership in the great state of Oklahoma. As an Advisor, it has been an honor to watch the young women display the core values of service and honesty while participating in the OCSW's events.
The NTHS students attend the Oklahoma NTHS State Leadership Conference each fall. The CVTECH students start the day at 5:15 am, when they leave the Chickasha campus and travel north to the Tulsa Tech Owasso campus. They spend most of the day learning the importance of leadership in their communities with 400 other fellow NTHS members..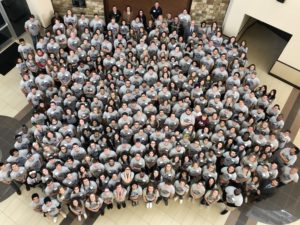 The NTHS Student Fall Leadership Conference has been special in 2018 and 2019 to CVTECH Chickasha. The NTHS State Council holds a t-shirt design contest each year, and for both the 2018 and 2019 conferences a CVTECH student won. The Leadership Conference allows students time to learn, lead, and follow.
The NTHS chapters across the state of Oklahoma also came together to support the Toby Keith Foundation in 2019. The NTHS chapters of Oklahoma participated in a coin drive, and they raised almost $400 in coins in one day. The Toby Keith Foundation supports and operates OK Kids Korral, a home for children battling cancer. NTHS members across the state learn the importance of the core values of service and leadership during the OK NTHS State Leadership Conference.
In the Spring, the NTHS chapters are involved in the Oklahoma NTHS Day at the Capitol. NTHS members from CVTECH receive a tour of the state capitol from NTHS Board of Directors member, Dr. Greg Winters. They then meet with state legislators, and attend a presentation led by local legislators, the OK NTHS State Council members, NTHS Board of Directors members, and state leadership in CTE. NTHS students from across the state of Oklahoma spend the day gaining knowledge about the core value of citizenship on the local and state level.
Locally our chapter has supported the Toby Keith Foundation. The Chickasha campus led a paper towel drive for the foundation the past two years. After the students deliver the paper towels to the foundation, they enjoy lunch at the Oklahoma Festival of the Arts. Service is a core value NTHS students learn in their first months as members here.
Tell us a little about you… Your family? Your pets? Your hobbies and interests?
I am married to my high school sweetheart. In our 18 years of marriage, we have been blessed with a beautiful 9-year-old daughter, and a handsome 11-year-old son. We love traveling together, spending time outside, and playing board games. The center of my life is my faith and my family. My hobbies include reading and community service. I love reading non-fiction, and helping make a difference in the career tech district I call home.
Thank you for all you do, Andrea!!!