The staff at NTHS is eternally grateful for the hard work, perseverance, and effort all our Advisors pour into their roles as NTHS leaders who are developing and inspiring students on a daily basis. We know that we could not continue our mission to honor Career and Technical Education (CTE) students across the nation without their constant support and dedication.
Each month, we like to recognize one of our outstanding Advisors who has been nominated by their peers, students, family, or NTHS colleagues for the NTHS Advisor of the Month. If you would like to nominate someone to be featured as our Advisor of the Month, click here to let us know!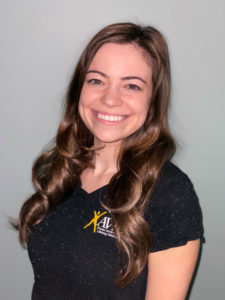 This month, we'd like to introduce you to our friend, Alyssa Morganti.
Alyssa has been teaching for almost 2 years now. She's currently teaching English (her specialty) and co-teaching Earth Science to 9th, 10th, and 11th grade students at Ralph R. McKee Career and Technical Education High School in Staten Island, NY, where she's been the NTHS Advisor since she first started.
We recently caught up with Alyssa, and asked her a few questions so we could get to know her a little better…
Why is Career and Technical Education important to you?
Career and Technical Education is important to me because I want my students to know that there are more options than college for life after high school. Of course college is a wonderful means of intellectual advancement, but for many it may not be the right path. By promoting Career and Technical Education, we offer opportunities for all types of learners to excel and advance themselves, and provide a specific skill set for life beyond the classroom. It is also important to note that having these skills and interests, and choosing college as a next step after high school opens even more doors for our students. Career and Technical Education has made me realize how it really is possible to reach every individual student.
The situation with the COVID-19 pandemic and the subsequent school closures our nation is currently facing are unprecedented. How are you and your school making efforts to continue engaging and educating your students while they are home?
As a school, McKee has adapted to online learning very quickly during this tough time, from staff and students. We worked our hardest to ensure each student has a device, as many of our students did not. Everyone is pitching in to do their part; Secretaries are doing outreach, paraprofessionals are working closely with their students, guidance counselors are still providing remote counseling services, and teachers attempting to meet our students' needs in a variety of ways through Google Classroom. While our students are home, we remain open and available to them at all times and have established multiple means of communication (Google Classroom, the Remind app, Google Voice, emails, PupilPath, etc!). As a teacher, I ask my students a fun, engaging question each day of the week to check in. I am learning so much about my students—from what superpower they would want to have, to what their favorite song is, to how they feel that day! The daily check-ins are meant to take our minds off the reality of how serious this pandemic is for a few minutes, and although it's something in addition to their assignments, I am still feeling so close to my kids right now!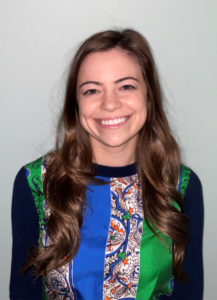 Millions of students across the country have had their education disrupted over the last few weeks. What advice would you want your students, and other students across the nation, to hear most right now, and what can they be focusing on during this time?
I would like to start off by saying I am sorry that this how the second half of your 2019-2020 academic year is going. It is so rough for everyone. Some advice for my students, and those across the nation, is to pace yourself and try not to stress. I know I speak with every educator when I say that we are here to help you during this time, not to add any additional stress. If you need help or extra time, or do not understand something, reach out!!! Now more than ever! Take it one assignment at a time and use the teachers you feel closest to as the resources we are. Together, we've got this!
Our nation is for the most part, being encouraged to stay home and isolate ourselves. Do you have any advice about what students could be accomplishing or focusing on during this time?
The main thing students could focus on now is themselves. Schoolwork is important, but your health comes first right now. Enjoy yourself as much as you can! Watch your favorite movie, read a book, play video games, make a TikTok, learn how to do something new, whatever it is that you enjoy, do it! Try to stick to a schedule of waking up, doing some work, and making time to enjoy yourself, and most of all—move around! The little things matter most right now.
As the leader of your school's NTHS chapter, what accomplishments (yours or your students') are you most proud of?
Each and every accomplishment as an NTHS Advisor is shared with my students and my co-advisors, Mr. Sarno, Ms. Baftjari, and Ms. Del Re. I am most proud of my NTHS students mapping out their 2018-2019 school year of community service projects they wanted to accomplish. This is something they did completely on their own, and worked to implement in the past academic year. One of the items on this detailed agenda was for our NTHS students to stay after school and participate in peer to peer tutoring in preparation for upcoming Regents exams. Many juniors and seniors dedicated their time and efforts to help freshman and sophomores and address any academic concerns with these students, serving as mentors and a resource for the ninth and tenth grade students of McKee. A handful of students also attended McKee's open house and freshman orientation to welcome incoming freshman and their parents and spoke about how prestigious it is to be an NTHS member. They provided insight such as what to do as freshman to be nominated as an NTHS member in the years to come. Although we did not complete all of the items on the student generated community service project outline last year, we are continuing to thoroughly work through this agenda. For example, this year, McKee's NTHS students planned to volunteer at Project Hospitality and wanted to run bake sales to raise funds for our NTHS members to celebrate their accomplishments by attending interdisciplinary supported school trips of their choosing and more. Unfortunately, due to COVID-19, this will not happen until the following school year, but nonetheless, we are working through that student-generated agenda!
Have you done any activities, projects, campaigns, and/or community outreach with your NTHS chapter that you feel were successful? Tell us about them!
McKee's NTHS chapter has made successful outreach within the Staten Island community. Just last year, our students attended an event titled, "Borough President Oddo's BP Assist Live!" in which the students got to interact with Staten Island's very own Borough President James Oddo by asking him questions about the Staten Island community—addressing political issues and concerns, asking thought provoking questions, and most impressing of all, offering opinions and advice to solve community based problems. A new project we are working on this year, and are hopeful will set a legacy, is the debut of our school newspaper headed by NTHS members. Our first edition was published in February of 2020, and it successfully captured the attention of the student body, and gained the interest of other students, who have since submitted monthly articles. This will again enable NTHS members to serve as mentors to other students, for when the staff of the school newspaper grows, our NTHS chapter members envision themselves taking on the role of editors and assisting writers and artists to make the school newspaper a vital source for our students to refer to and creatively express themselves.
Tell us a little about you… Your family? Your pets? Your hobbies and interests?
I am recently engaged, soon to be Mrs. Dedja. I love to read all genres of literature. I am going back to graduate school at night to obtain a second Master's degree—this time in English! I truly love learning and I am so excited to continue to do so through my favorite subject of study. I also love all genres of music (my Apple music playlist has everything from hip hop to country to eighties hits and more). I love to run to and exercise to it! I love to travel and learn about different cultures/experience life through other peoples' eyes. I am thankful for all of my wonderful family, friends, and students for shaping me into the person I am today.