The staff at NTHS is eternally grateful for the hard work, perseverance, and effort all our Advisors pour into their roles as NTHS leadership, and into their students on a daily basis. We know that we literally could not continue our mission to honor high-achieving Career and Technical Education students all across the nation without their constant support and dedication.
But every once in a while, we're just dazzled by an Advisor that truly goes above and beyond to engage and enrich their NTHS members… And these people are truly our shining stars!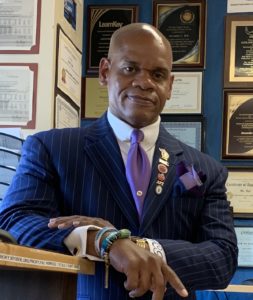 So this month, we'd like to introduce you to our friend, Alex Bell.
Alex has been an NTHS Advisor for 6 years and has also served on the NTHS Board of Directors since 2016. He teaches global IT certification programs at Thomas A. Edison Career and Technical Education High School in Jamaica, NY.
We asked him a few questions so we could get to know him a little better…
Why is Career and Technical Education important to you?
Because it dramatically changed the course and trajectory of my life during my junior year in Eli Whitney Vocational high school, Brooklyn, NY. To date, I am very proud to say so many lives have been impacted in progressive ways via my programs over a period of 3 decades. One of many examples is when a former certified student (Mark) of 19 years ago, who is currently a managing partner of a technology firm in the Wall Street area of NYC, contacted me two weeks ago to meet regarding an industry partnership. The discussion was, I would produce current and recently graduated students for he and his partner to produce paid full and part time internships, leading to full time employment. THAT'S the power of Career and Technical Education! For those of extreme low income and or urban areas, as I was, CTE can be the great equalizer for the American dream. To date, CTE has provided a magnificent life for me and I remain tremendously grateful to my high school shop teacher Joe Licata and my apprenticeship administrator Dwight Threepersons (Founder of the NYC SVA program) for guiding me, nurturing me and providing me with a technician skillset and leaderships abilities for life.
As the leader of your school's NTHS chapter, what accomplishments (yours or your students') are you most proud of?
The accomplishments are shared and there are many. There is absolutely no way, however, that I could have achieved my personal or Chapter accomplishments without my students and the membership demonstrating excellence and engagement. The accomplishments I am proudest of during my tenure as NTHS Advisor is winning two teachers of the year awards, becoming a Board member with the NTHS organization, producing the celebratory annual Induction ceremonies to honor our very best technical students, and our events to better serve/inform community and society. In August of 2015, I received a letter from the NTHS organization stating that I was elected to serve on the Board of Directors. In the fall of 2015, after winning the ACTE Region I teacher of the year award, I was sent to New Orleans for a national teacher of the year nomination. In the Fall of 2017, the NBA's Brooklyn Nets acknowledged me with the teacher of the year award, presented on the arena floor at the Barclays center, Brooklyn, NY. Additionally, our Chapter has responded to multiple causes that directly affect society and their local community.
Have you done any activities, projects, campaigns, and/or community outreach with your NTHS chapter that you feel were successful? Tell us about them!
Absolutely!!!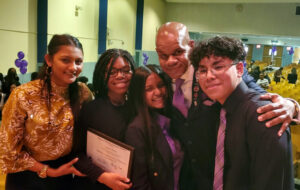 THE ANNUAL NTHS INDUCTION CEREMONIES (May 2013 – May 2019): I believe this is the #1 activity because it provides a space and atmosphere to celebrate the outstanding progress for the Technical students, their parents and friends. Six years consecutively, our chapter has won numerous Jon H. Poteat NTHS scholarships for its members. These students deliver speeches to the membership and the Cabinet celebrates them on stage.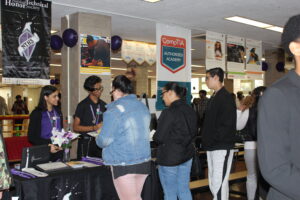 NTHS OPEN HOUSE EVENTS (Spring 2014-2018): These Open House events were the collaboration of Principal Ojeda and I with the outstanding assistance of the Thomas A. Edison CTE HS National Technical honor Society Chapter to give our surrounding middle school parents and their children the opportunity to make the best informed decision(s) before making a high school definitive choice.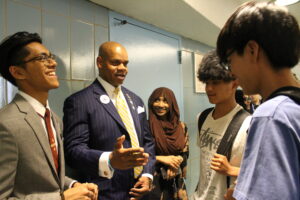 VOTER EDUCATION, VOTER REGISTRATION AND VOTER PARTICIPATION EVENT (May 2018): On this day, NTHS worked in sync with The League of Women Voters to register multiple students at our high school so our membership would be "ready to make the difference" on election day. I humbly thank LWV's for working with me and traveling to our school to make this event a reality for our students. Since our event, the NYC DOE has implemented a city-wide initiative for voter registration in NYC high schools.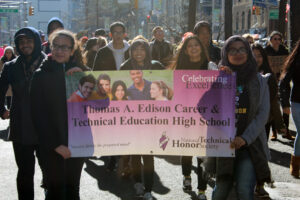 THE WOMEN'S MARCH FOR EQUALITY (January 2018): I believed it was my obligation to not only be there, but also to be certain that I do my best to expose many of the young leaders that I advise at Edison to the "real-world" of "front-and-center" advocacy and political action that would take place to meet the stated goals of the day. This was also a day for these NTHS members (as I expressed to them prior to the event) to be seen and heard in the space of activism for multiple causes to enhance their personal awareness, their community and their country.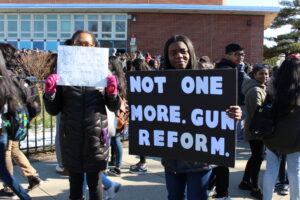 MARCH FOR OUR LIVES CITY-WIDE WALKOUT (March 2018): The NTHS President worked closely with our school administration to have a safe and peaceful walkout demonstration to advocate for gun control across the nation. This protest was in direct response to the February 14th 2018 Stoneman Douglas High School shooting in Parkland, Florida, killing 17 people and injuring 17 others.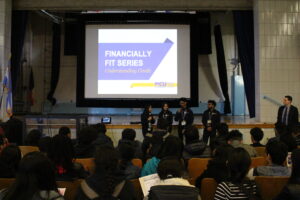 THE ANNUAL NTHS FINANCIALLY FIT PRESENTATION (Spring 2015 – 2019): On this day, our NTHS Chapter hosted our guests, NYC Municipal Credit Union Bank, to school, to do a presentation for the NTHS membership on being "Financially Fit". The primary goal of this day was to provide facts and scenarios of credit cards, purchasing a car with credit, student loan debt, and credit reporting agencies, among many others to the NTHS membership so they may begin to plan a strategic focus to refrain from credit pitfalls as they venture into "the real world" after high school.
Tell us a little about you… Your family? Your pets? Your hobbies and interests?
I come from a family of six, four boys and two girls, including me. I am next to the youngest boy. I do not have pets, primarily because I am frequently away from home and do not want to neglect them (I love cats and dogs though!). I totally love my career and I actively enjoy my social life. I am single, have never been married and I do not have children. Reading and exercise are my primary hobbies.
Thank you for all you do, Alex!!!
---
If you know of an NTHS Advisor that you'd like to nominate to be featured as our Advisor of the Month, email tblack@nths.org and let us know!