It's Beginning to Look a Lot Like...
Scholarship Season!
We know... The holidays are upon us, and your mind is a bit preoccupied. You're probably busy reviewing your final holiday gift list, and wrapping presents. Or maybe you're cramming for those finals, and worrying about whether your nephew is going to ask you if Santa is real again. Whether you're trying to juggle making an appearance at both your friend's holiday potluck, and your cousin's ugly Christmas sweater party at the same time, or you're busy wondering if Aunt Edna is going to bogart all the pumpkin pie again this year, December can be an insanely busy month.
Along with those seasonal scheduling woes, the holidays can also potentially include a lot of extra financial strain on your piggy bank... Which is why it's the perfect time to be planning your attack as scholarship season rolls around!
NTHS is proud to offer many different scholarship opportunities to our members, and quite a few of those scholarship application periods are currently open. Next month, the remaining scholarship programs we offer will open and begin accepting applications as well.
So don't wait until the last minute! If you're an NTHS member, go ahead and log-in, and get your applications submitted! If you're an NTHS Advisor, encourage your students to apply as soon as possible!
If you have any questions, please email our NTHS Scholarship Program Director, or call us at (800) 801-7090.
Are you attending the ACTE's CareerTech VISION conference in Anaheim, CA that's happening right now? We are too!
Make sure to swing by exhibitor's booth #630 to say hello!
A Word from Our Executive Director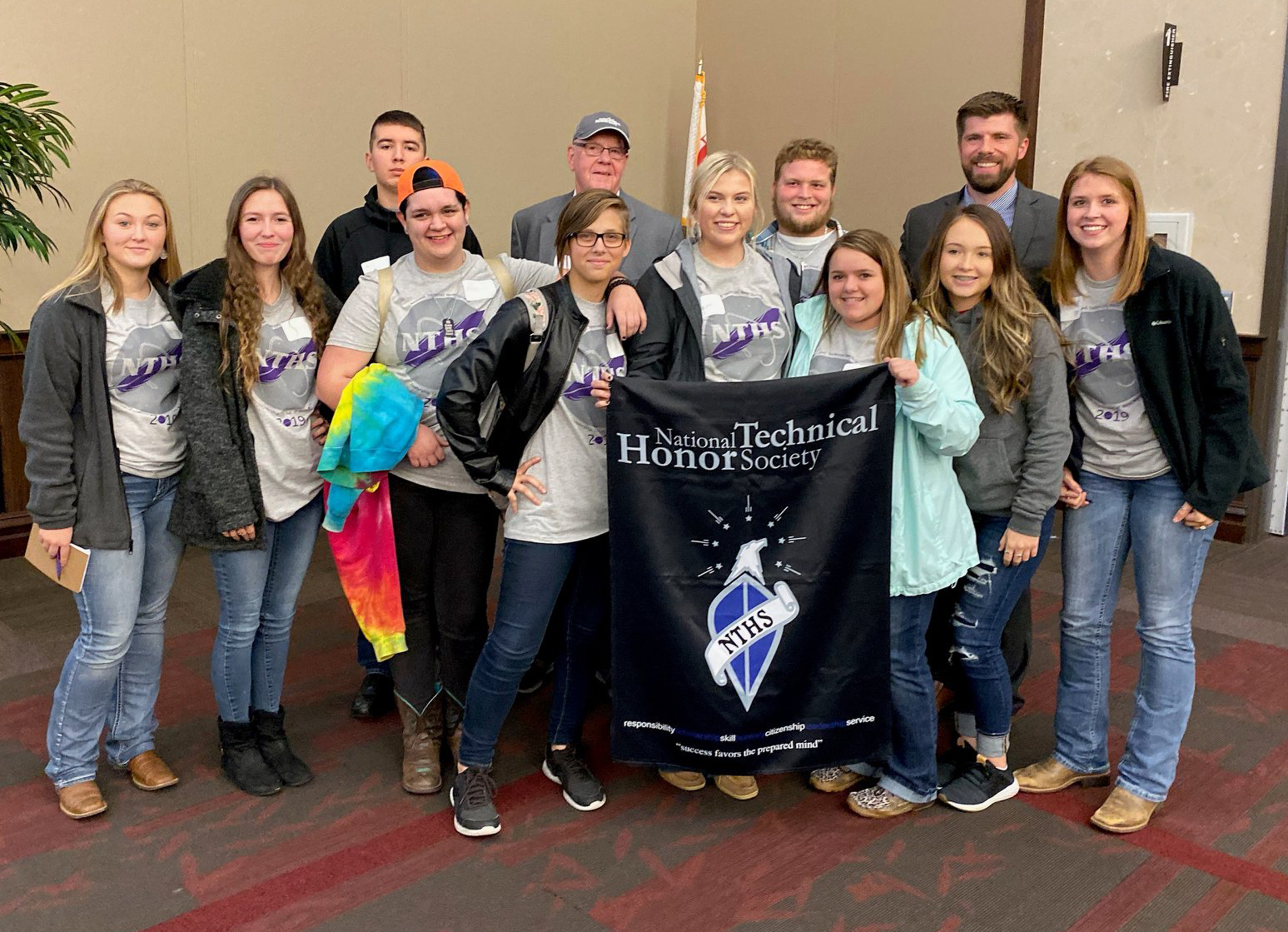 It's hard to believe that my journey with this wonderful organization as Executive Director started only two months ago. In that time I've had the opportunity to travel to several NTHS events to see our members in action.
In my second week on the job, Mr. Powell and I had the chance to hang out with over 400 incredible NTHS members at the Oklahoma NTHS State Leadership Conference. 
Seeing students from every corner of the state, and from a variety of Career and Technical Education backgrounds, working and growing together was amazing. I was most excited to see how each of those students began building a plan of how they would use their craft and their skill to accomplish the goals that they have set for their lives. My father taught me that the combination of knowledge, skill, and imagination can help us achieve incredible results in life. I am eager to see the results that come from the work these students were doing.
On our way to Oklahoma, we crossed paths with a gentleman in the airport who recognized our NTHS logo. He shared with us that his son was a member of NTHS in high school. That gentleman works in video production for ESPN, and his son is the lead show technician for a major concert venue now. The two of them also run their own production company together. The technical skills that those two gentlemen have gained have led them into careers that they are both passionate about and are excelling in.
They are entrepreneurs, problem solvers, experience creators, and entertainment generators. The possibilities that exist for those who not only seek knowledge, but who also seek skill are limitless.
As I look back over the Thanksgiving holiday that we just celebrated, I am constantly reminded of how thankful I am for the opportunity we have to learn in classrooms across this country. Our CTE teachers are helping prepare our members to gain the knowledge and skill they need to be successful in life. Our members are investing in their futures by seeking knowledge that can help them embark on a career path that is more than just a job for them, but an avenue where they can use their talents to the fullest. Thank you all for being committed to excellence in CTE.
Knowledge and skill... They are the foundation to success in any career, and in life. Advisors and members, we'd love it if you'd share with us some of the knowledge and skill that you have learned, that's had an impact on your career or life recently! Was it learning how to cut a rafter? Maybe it was how to balance a checkbook? Or was it learning how to prioritize the tasks needed to complete a project? Share your stories by emailing us today!
Advisor of the Month:
Carla Yonk
The staff at NTHS is eternally grateful for the hard work, perseverance, and effort all our Advisors pour into their roles as NTHS leadership, and into their students on a daily basis.
We know that we literally could not continue our mission to honor high-achieving Career and Technical Education students all across the nation without their constant support and dedication.
But every once in a while, we're just dazzled by an Advisor that truly goes above and beyond to engage and enrich their NTHS members… And these people are truly our shining stars!
This month, we'd like to introduce you to our shining star, Carla Yonk! To read more about Carla, click here.
Copyright © 2019, National Technical Honor Society. All rights reserved.

You are receiving this email because of your expressed interest in NTHS.
If you do not wish to receive further communication, please click unsubscribe.