Your Connection to Excellence in CTE.
Member Benefits Extended for Class of 2021!
The National Technical Honor Society is extending member benefits for the Class of 2021 for one full year beyond their graduation date!  Any student graduating in 2021 will be eligible to apply for the JHP Scholarship, request their letters of recommendation, and more into 2022! This means that even if a student is inducted just before their graduation, they will have one full year beyond that graduation date to access their member benefits.  
We hope this helps celebrate and honor the Class of 2021 as you prepare to be the next generation of leaders in the workforce. Read the full announcement here.    

Jon H. Poteat Scholarship Deadline Extended - May 31, 2021
The 2021 Jon H. Poteat Scholarship deadline is now May 31.  Any member registered prior to May 31, 2021 may apply for the 2021 JHP Scholarship.  Members registered after May 31, and anyone in the Class of 2021, will also able to apply for the 2022 Jon H. Poteat Scholarship when the application window opens up this September.  Applications must be submitted by 11:59:59 PM on May 31, 2021. Read the full announcement here.   
Don't forget to remind your students to apply for the following scholarships before the deadline!
BPA - DUE APRIL 1st
Three $1,000 scholarships awarded to NTHS members who are also members of BPA. 
FBLA-PBL - DUE APRIL 1st
Two $1,000 scholarships awarded to NTHS members who are also members of FBLA-PBL.
SkillsUSA - DUE APRIL 2nd
Four $1,000 scholarships awarded to NTHS members who are also members of SkillsUSA.
HOSA - DUE APRIL 15th
Seven $1,000 scholarships awarded to NTHS members who are also members of HOSA.

GEICO offers two $1,000 scholarships to NTHS Premium Alumni each quarter.  Any graduated NTHS member can become an NTHS Premium Alumni and apply today!  
NTHS members, alumni & advisors could also get a special discount on auto insurance through our partnership with GEICO. Get your quote today! 
We want photos and videos of you, your advisor, your class, any and every one, showing their skill!
Use the form to upload a picture or video of you demonstrating your skill to be entered to win an NTHS gift bag valued at over $40 dollars!  
One NTHS advisor and one NTHS student will be randomly selected at the end of April.  
Gain bonus entries by sharing the #NTHSShowUsYourSkill giveaway on our social media pages.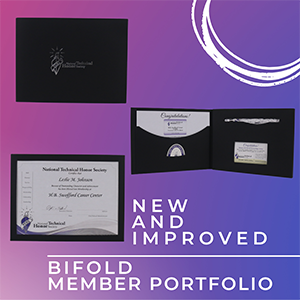 With feedback from our chapters, the membership portfolio has received some slight modifications. It now features a bi-fold design with a larger back window pocket for membership certificates and easy open front cover for quick access. All contents have remained the same.  

NTHS Career Readiness Portal
Launch Date:  March 23 
Look for the official launch email on March 23 for the new NTHS Career Readiness Portal Powered by Major Clarity.  Members will have the opportunity to add portal access to their membership and be able to:

LAPSEN Endorsement
for Law & Public Safety Members
The Law & Public Safety Education Network has partnered with NTHS to offer the LAPSEN Endorsement to NTHS members in the Law, Public Safety, Securities and Corrections Career Cluster. Reach out to your advisor about adding the LAPSEN Endorsement today.  Some benefits include:
LAPSEN Endorsement Seal on your NTHS membership Certificate
LAPSEN Endorsement Diploma Seal
Automatic Scholarship Entry 
LAPSEN/NTHS Bumper Sticker 
Ability to wear LAPSEN Regalia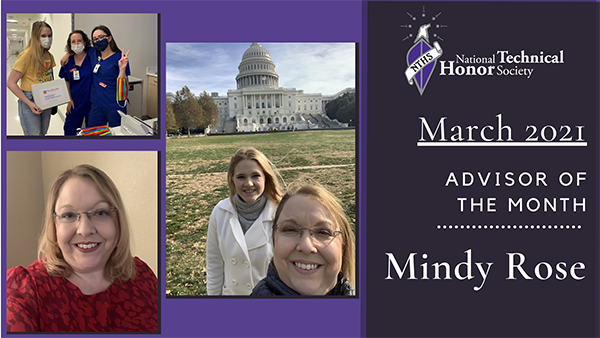 Advisor of the Month: Mindy Rose
Ms. Rose is going into her 3rd year as the NTHS advisor at University View Academy in Baton Rouge, Louisiana. She's been a teacher for 10 years and currently teaches Entrepreneurship 1 and 2 and Intro to Social Media. Ms. Rose took some time out of her schedule to answer some questions for us. 
If you would like to nominate someone for Advisor of the Month, click here to let us know!
Our monthly eNews is sponsored by our corporate partners,
and a portion of all proceeds help support our scholarship programs.
GEICO NTHS Member Discount
Did you know Advisors, Members, and friends of NTHS could qualify for a discount on auto insurance with GEICO?  Get your FREE quote today, and start saving! Must be 18 years old or older.  
Office Depot NTHS Member Discount
Get up to an EXTRA $50 OFF with these coupons. Receive up to 75% off preferred products when you use your exclusive NTHS discount card. Office Depot and Office Max carry all your school supplies, so get yours today!  
Copyright © 2021, National Technical Honor Society. All rights reserved.

You are receiving this email because of your expressed interest in NTHS.
If you do not wish to receive further communication, please click unsubscribe.