Your Connection to Excellence in CTE.
This month will be packed with events and recognition of all the amazing work happening in our Career and Technical Education classes across the country. Throughout the month NTHS will be highlighting all our awesome Career and Technical Student Organizations as well as the great work that's happening at our local NTHS chapters from around the country. As we get CTE Month started, we want to answer some questions that you might have. Check out the NTHS Blog to learn everything you need to know about CTE Month! Also, be sure to tag us on social media as you all share your activities and use #NTHScteMonth.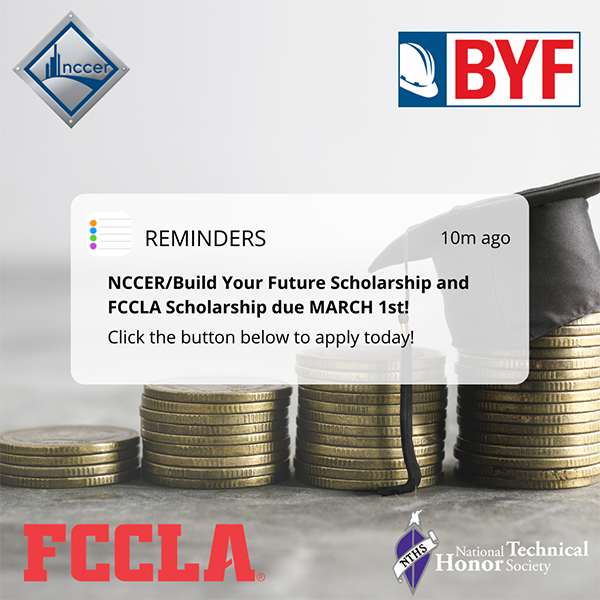 The NCCER/Build Your Future Scholarship and the FCCLA Scholarship are both due March 1st! Visit the link below to apply! 
SHARE THE HONOR FOR CTE MONTH
Celebrate CTE Month by recognizing an impactful individual in your CTE community with Honorary Membership into NTHS.  
You can recognize:
Industry Partners
Teachers
Community Leaders
Administrators
Local Businesses
Parents
Education and Government Leaders
and more! 
Awarding someone with Honorary NTHS Membership is a great way to thank them and bring awareness to CTE, your chapter, and your programs.
Honorary members receive this custom certificate and frame and honorary member pin.
To recognize an honorary member in your community during CTE month, ask your advisor to log in to the advisor portal and register your Honorary Members.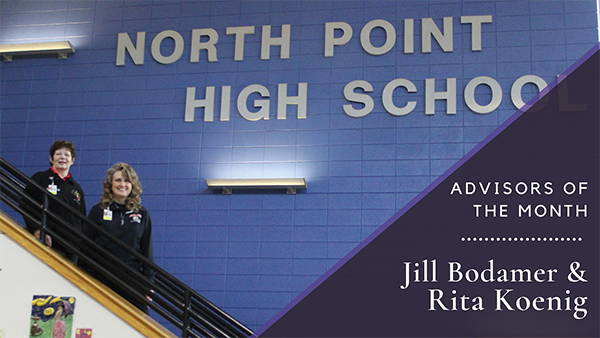 Advisors of the Month: Jill Bodamer & Rita Koenig
To celebrate CTE Month, we've chosen two Advisors of the Month – Jill Bodamer and Rita Koenig. They've been co-advisors for their NTHS chapter for the past 6 years. Mrs. Bodamer has been teaching for 12 years and Mrs. Koenig has been teaching for 11 years. They co-teach at the Academy of Health Professions at North Point High School in Waldorf, MD. If you would like to nominate someone for Advisor of the Month, click here to let us know!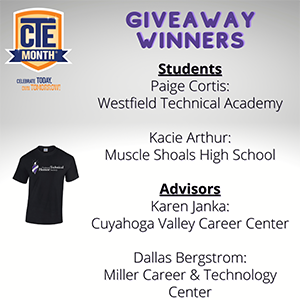 Last month we asked you to let us know how your school was planning to celebrate CTE Month for a chance to win a free T-Shirt. Congratulations to our 4 winners!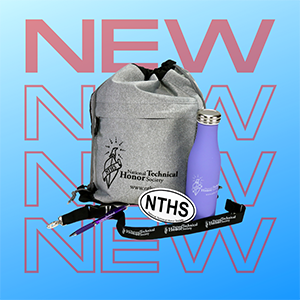 Get this NTHS bundle and be ready for trips to class, the gym, or anywhere else.  Includes 17 ounce, stainless steel, double-walled water bottle, drawstring backpack, NTHS lanyard, NTHS bumper sticker, and NTHS pen. Only $18!
Our monthly eNews is sponsored by our corporate partners,
and a portion of all proceeds help support our scholarship programs.
GEICO NTHS Member Discount
Did you know Advisors, Members, and friends of NTHS all qualify for a discount on auto insurance with GEICO?  Get your FREE quote today, and start saving!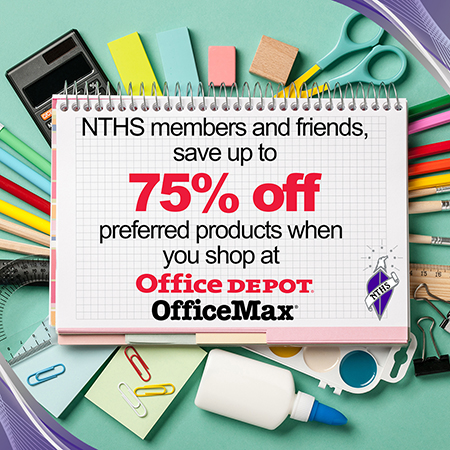 Office Depot NTHS Member Discount
Receive up to 75% off preferred products when you use your exclusive NTHS discount card. Office Depot and Office Max carry all your school supplies, so get yours today!  Get up to an EXTRA $50 OFF with these coupons.
Copyright © 2021, National Technical Honor Society. All rights reserved.

You are receiving this email because of your expressed interest in NTHS.
If you do not wish to receive further communication, please click unsubscribe.