Your Connection to Excellence in CTE.
YOU Are the Key Ingredient to Social Media Success
Social media can be so much more than just sharing hilarious cat memes and those artistic pictures of your dinner. The real value truly is being able to connect with other people across the world who also share in similar interests and career paths. During the past months of pandemic lock downs and stay at home orders, this connection has never been more important.
Allow Us to Make Your Recommendation!
Whether you're applying to continue your education, to seek a scholarship, or even a job, having the written recommendation of a recognized CTE leader is a powerful personal endorsement! Providing letters of recommendation is a benefit we offer all our active NTHS members so log in to our website, and request yours today!
Final 2020 Scholarship Winners Announced
Over the past few weeks, it has been our honor to announce the recipients of all of our 2020 scholarship programs. We're thrilled to make our final announcement of the recipients of our partner scholarship with FBLA-PBL as well. Visit our website, or click the button below to see a full list of all of this year's fortunate scholarship winners!
Advisor of the Month: Libby Cole
Each month, we like to recognize one of our outstanding Advisors who's been nominated by their peers, students, family, or NTHS colleagues. Libby's been busy gearing up for the new school year, and she has some great insight for both students and Advisors!
Would you like to submit your NTHS Advisor to be featured as a future Advisor of the Month? Click here to send us your nomination!
Scholarship Applications Reopening
One of the most important benefits we provide to you as an NTHS member is the opportunity to apply for various exclusive scholarship programs. Those application periods have been closed over the summer, but will begin reopening as soon as September 1st! Visit our scholarship page for more information, and be sure to keep an eye on our Facebook, Twitter, and Instagram pages for reminders as well!
Our monthly eNews is sponsored by our corporate partners,
and a portion of all proceeds help support our scholarship programs.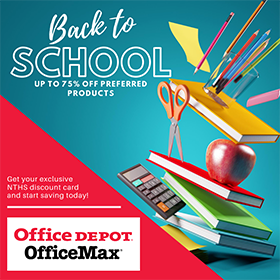 Receive up to 75% off preferred products when you use your exclusive NTHS discount card. Office Depot and Office Max carry all your school supplies, so get yours today!
Copyright © 2020, National Technical Honor Society. All rights reserved.

You are receiving this email because of your expressed interest in NTHS.
If you do not wish to receive further communication, please click unsubscribe.