Your Connection to Excellence in CTE.
Prepare Your Students For Their Future - 
Scholarships, Career Readiness, & Induction Preparation
Many of you are getting ready to induct new members or have members that are getting ready to take their next step to either further their education or enter the workforce.  This month, we provide you with some quick induction tips/resources, introduce you to the NTHS Career Readiness Portal to help your students prepare for their next step, and cover our upcoming scholarship deadlines.  
The NTHS Career Readiness Portal is an outstanding member benefit add-on that will help students prepare for their next step, be it college or career.  For just $5 annually, students get access to the incredible benefits listed here.
Chapter Purchase
The Career Readiness Portal is a great tool to use as a career development component for your chapter meetings and classroom.  With access for your chapter, you get access to advisor tools including:
112 career readiness/exploration lesson plans  

Reporting on student progress in micro-credentials, career pathways, scholarship applications and more.

Survey & messaging tools for chapter communications
Individual Purchases
Students can easily purchase individual access as well through this link.
Information Sessions 
Learn more by signing up to attend one of the following information sessions:
Resources for Inducting New Members
HOSA - DUE APRIL 15th
Seven $1,000 scholarships awarded to NTHS members who are also members of HOSA.
C. Allen Powell - DUE May 1st
Two $1,000 scholarships are available to NTHS Premium Alumni.  
Jon H. Poteat - DUE May 31st
Two hundred fifty $1,000 scholarships are available to currently enrolled members.
Show Us Your Skill Giveaway
Whether it's carpentry, hair coloring, robotics, lawn mowing and everything in between, we want to see YOUR SKILL. Be entered to win an awesome prize just for submitting!
We want photos and videos of you, your students, your class, any and every one, showing their skill!
Use the form to upload a picture or video of you demonstrating your skill to be entered to win an NTHS gift bag valued at over $40 dollars!  
One NTHS advisor and one NTHS student will be randomly selected at the end of April.  
Gain bonus entries by sharing the #NTHSShowUsYourSkill giveaway on our social media pages.  

This month we honor three outstanding advisors from Adams 12 Five Star Schools. Read more here.  Click here to nominate an advisor you would like us to recognize.  

NTHS has extended member benefits for anyone graduating in the class of 2021 for 1 full year beyond their graduation date.  Read more here.
Our partners at SkillsUSA are hosting their "Connect to My Future" conference May 5th and 6th and ANY STUDENT at any school with a SkillsUSA Chapter is invited to attend (this includes our NTHS members)!  
This virtual career conference is unique in that it puts SkillsUSA members (and students at their school) together with employers to hold important conversations that connect students with their future.  
There are three tracks to Connect to My Future:
Explore (Middle School students) - Wednesday, May 5 
Aspire (High School students) - Wednesday, May 5
Connect (High School seniors and College/Postsecondary students) Thursday, May 6
The cost is $25 per SkillsUSA school and covers all students.  Registration closes Friday, April 23.  Learn more or register today.  
For more information, visit the Connect to My Future website or reach out to the SkillsUSA Customer Care team by email or at 844-875-4557.
Our monthly eNews is sponsored by our corporate partners,
and a portion of all proceeds help support our scholarship programs.
GEICO NTHS Member Discount
Did you know Advisors, Members, and friends of NTHS could qualify for a discount on auto insurance with GEICO?  Get your FREE quote today, and start saving!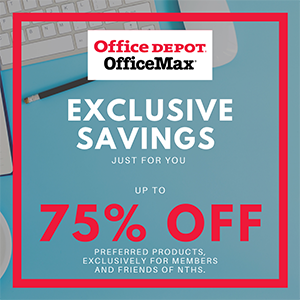 Office Depot NTHS Member Discount
Receive up to 75% off preferred products when you use your exclusive NTHS discount card. Office Depot and Office Max carry all your school supplies, so get yours today!  
Copyright © 2021, National Technical Honor Society. All rights reserved.

You are receiving this email because of your expressed interest in NTHS.
If you do not wish to receive further communication, please click unsubscribe.